Bitcoin Broker Bets on Digital Change
INTERNET: ExpressCoin sees real returns from virtual currency.
Monday, February 24, 2014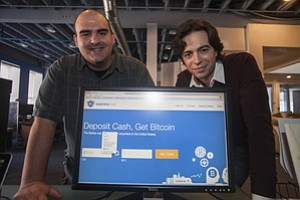 The first thing Will Wheeler does every day is check the market. Once he gets to the office, he places orders and manages other traders in the office. When things slow down, he gets on the phone with some of his bigger clients to give them a little personal attention.
Wheeler isn't a stockbroker or a hedge fund manager. He trades bitcoins.
When he started, Bitcoin was considered "fake, magic Internet money," he said. Today, Wheeler is chief executive of ExpressCoin, a Santa Monica Bitcoin brokerage, and he turns that funny money into hard cash. In the nine months since the firm started processing trades, ExpressCoin has bought and sold – mostly sold – more than $6.5 million worth of bitcoins.
Wheeler's business, which operates from creative office space near the Santa Monica Promenade that it shares with other Bitcoin businesses, is basically a currency exchange firm. It buys and sells bitcoins, charging a 3 percent commission on each transaction.
Wheeler first heard about bitcoins in June 2011, when he was working for an electronics recycling company in the Seattle area and a customer requested to pay with the virtual currency. At the time, one bitcoin traded for about $15.
Within weeks, Wheeler began "mining" bitcoins. A bitcoin miner uses computers to solve equations that verify trades on the Bitcoin network and reaps a modest amount of the currency as a reward.
He soon transitioned into buying and selling them. He opened the first version of ExpressCoin, CashIntoCoins.com, in April and only quit his software developer job in October to focus full time on the business and move to Los Angeles.
ExpressCoin typically trades between 70 and 200 bitcoins a day. It moved 250 bitcoins on its best day – Nov. 18 – when the Senate held a hearing to discuss potential uses and regulations for the currency. Bitcoin's reputation was tarnished because it was the currency of choice on Silk Road, an online marketplace where illicit drugs and other contraband were traded until it was shut down in October. The currency remains controversial due to allegations that it's used for money laundering and that the technology can be tricked into placing the same coins into many different accounts.
About 95 percent of Wheeler's customers are in the United States. The business is not yet profitable, but he expects to start making money within the next three months.
The company's near-term plans include launching a mobile application, expanding payment options and growing his 12-person team. Wheeler is also working on establishing an office in Canada.
A turning point came late last year, when Wheeler met Damian Greco, a managing partner at Santa Monica financial advisory firm Promenade Capital Partners. Greco has traditional corporate finance chops, having worked as an investment banker at Citigroup Inc. and director of finance at L.A. makeup company Smashbox Cosmetics. But he also has an unorthodox background investing in virtual currencies used to purchase items within video games, which can be sold for cash.
Using real-world money to buy in-game items or currency from another player is prohibited by major online games, such as World of Warcraft, which work to make sure such transactions do not take place. Buyers and sellers who are caught usually have their game accounts cancelled and are banned.
Greco acknowledged working at a company, Affinity Media, which sold the currencies through a Hong Kong-based operation knowing that World of Warcraft, which made up about half of the company's virtual currency sales, prohibited such transactions. According to Greco, who "was not an executive" and said he had no influence in the decision to pursue this line of business, the company's board went ahead with these sales in spite of the game's banning of the practice because of worldwide demand.
Greco quickly joined forces with Wheeler, calling it a natural fit. Promenade now acts as ExpressCoin's corporate office and investor relations department. Wheeler runs the trading storefront, while Greco takes the lead on fundraising, structuring deals, negotiating terms with banks and forming strategic partnerships, such as a planned bitcoin credit card the company hopes to launch soon. ExpressCoin is currently raising a Series A investment round, which Greco is spearheading.
"Working with Damian and Promenade, you get that extra validation of guys who have been doing it for a long time," Wheeler said.
Passing buck
One of bitcoin's biggest risks is its extremely volatile price. In the past 12 months, one bitcoin has traded for as little as $24 and as much as $1,147. When China's central bank banned financial institutions from dealing in bitcoins, and technical questions arose over the digital currency's reliability, massive selloffs followed, driving down the price.
Japan-based exchange Mt. Gox recently suspended withdrawals of bitcoins for what it claimed were security issues with the Bitcoin software, causing the price to drop 19 percent Feb. 10, hitting a low of $568. In another sign of uncertainty in the bitcoin market, Bitstamp, an exchange in Slovenia, stopped withdrawals Feb. 12 after it was hit by a denial-of-service attack on its website.
Wheeler has chosen to manage the volatility risk by limiting the extent of ExpressCoin's direct exposure to bitcoins. The company does not keep a large inventory, preferring to hold on to about 10 to 50 overnight, which Wheeler said is "just enough for the next day's orders."
"There's no reason that you need to hold value in Bitcoin," he said. "You can if you choose to, but the value of the Bitcoin system isn't inherent in its long-term stored value."
The Bitcoin system might not rely on the currency itself holding a relatively stable value, but it needs individual bitcoins to be worth something. The current volatility may be exciting for speculators, but if bitcoins were to go on an extended slide, it would become much less appealing for people to hold over any length of time or even overnight, which could trigger continued selloffs and send the currency into a death spiral.
Eventually, Wheeler believes bitcoins could also be used as an interbank transfer currency – for example, to send money from a bank in Los Angeles to a bank in Guatemala, or for other uses.
"If people like me and Damian do our jobs right, the user never has to see that they used Bitcoin," said Wheeler. "The big thing moving forward is to continue to make it easy for customers. To make it as easy and as fast as possible."
Wheeler said the goal of ExpressCoin was to "propagate bitcoin" and has no real interest in actually carrying more of the virtual currency himself. He used the recent Mt. Gox crash to illustrate why.
"We're still a small company," he said. "We don't have $25 million in funding. If I had held too many bitcoins – it would be bad news."
And if ExpressCoin were to get $25 million in funding, what would Wheeler do with it?
"Hire more engineers and customer service staff," he said, "not buy bitcoins."
Related:
For reprint and licensing requests for this article, CLICK HERE.