Still No Takers For Dodgers TV
TELEVISION: Time Warner wants rivals on channel's team.
Monday, February 17, 2014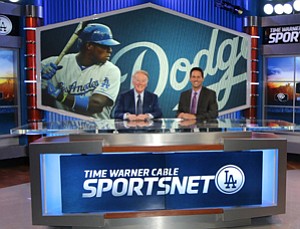 All cable and satellite operators contacted for this story indicated they are interested in carrying the channel, but there are some differences of opinion.
For example, Time Warner Cable wants the channel to be carried on basic cable packages for all customers in the area, but a spokesman for the Verizon FiOS service said the company hopes to put SportsNet LA in a tiered sports package, so not everyone will have to pay for the channel.
"There remain some significant differences," said Jarryd Gonzales, a Verizon spokesman in downtown Los Angeles.
"We're trying to give our Fios customers some choice."
The stakes are high for Time Warner Cable given the huge price it paid for the Dodgers broadcasting rights, said Matt Harrigan, an analyst who follows Time Warner Cable at Wunderlich Securities in Denver.
"It was an extremely poor deal," he said. "The conventional wisdom is that they overpaid. The thinking was contingent on being able to get other operators to take the channel."
Still, he acknowledged, "everyone's interested in it at a price."
But Time Warner Cable's bargaining position may be strengthened if it is acquired by cable company Comcast Corp., which announced its plans last week for a $45 billion takeover of Time Warner Cable, pending regulatory approval.
The launch of the channel is just the latest example of innovation under the Dodgers new owners, Guggenheim Baseball Management, an affiliate of its namesake New York financial services giant. The partnership includes Kasten, Ervin "Magic" Johnson and others and has made lavish spending the norm, first by blowing away other suitors with a winning bid of $2.15 billion for the team in 2012.
The owners then made $100 million in improvements to Dodger Stadium last year, and during this off-season offered the largest contract ever to a pitcher – a seven-year, $215 million deal to two-time Clayton Kershaw, who has been honored as the National League's best pitcher twice.
The blockbuster Time Warner Cable sports rights deal fed the team's big-spending strategy – providing steady, long-term income and silencing many critics who wondered how the new owners could justify the team's high price tag.
Kasten said the launch of a Dodgers channel has been in the works since the initial purchase, but was just one piece of the equation rather than the primary motivation.
"Clearly the potential for a locally owned regional sports network went into the valuation and went into the cost of what we finally spent," he said. "But that was not the primary motivation. Our goal was to own and run the Dodgers and make them successful."
For reprint and licensing requests for this article, CLICK HERE.