Still No Takers For Dodgers TV
TELEVISION: Time Warner wants rivals on channel's team.
Monday, February 17, 2014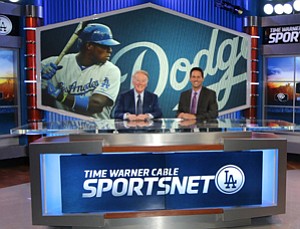 Less than two weeks before the high-stakes launch of SportsNet LA, the all-Dodgers channel last week still had not reached carriage deals with any pay-TV companies aside from its operator, Time Warner Cable.
The El Segundo-based channel will begin broadcasting Feb. 25 – the day before the first spring training game of the season – with wall-to-wall Los Angeles Dodgers content, including game broadcasts, behind-the-scenes coverage and documentary-style features, all year-round.
The channel hopes to make most of its money from distribution deals with the likes of DirecTV, Cox Communications and Charter Communications, though the high price of the channel has made striking those deals a challenge.
Dodgers and Time Warner Cable executives say the deals will get done, that it's just a matter of time. As the season draws near, they're banking on the resurgent popularity of the team, considered a legitimate World Series contender this year, to ratchet up pressure on pay-TV distributors.
"This is the filling of a demand," Dodgers President Stan Kasten told the Business Journal. "I speak to fans every single day of my life. We know empirically (that there's demand)."
The channel is owned by the Dodgers and operated by Time Warner Cable. In a bidding war, the cable provider beat the team's previous local cable channel, Fox Sports Prime Ticket, for broadcast rights a year ago. Time Warner Cable reportedly will pay $8.5 billion for the rights to broadcast 25 years of Dodgers games, starting with this season. After revenue sharing with Major League Baseball, the Dodgers will reportedly net about $6 billion from the Time Warner Cable broadcasting deal.
Time Warner Cable will try to recoup that money through advertising revenue on SportsNet LA and distribution deals.
Such deals are crucial. That's because distribution fees typically make up about 80 percent of revenue for so-called regional sports networks. The networks cover territories where the population would be interested in the teams, on a demand-driven sliding scale. For example, the Dodgers channel is to be featured in cable packages from Hawaii to Nevada. Cable operators will be charged less for viewers in far-flung areas compared with those in Los Angeles.
Ratings Up
Ratings for the Dodgers games jumped considerably last season, especially after the team called up outfielder Yasiel Puig in June and went on a playoff run. As of late August, an average of 153,000 households were tuning in to Prime Ticket's Dodgers broadcasts in the L.A. market, up from about 109,000 the season before.
Prev Next
For reprint and licensing requests for this article, CLICK HERE.