Still No Takers For Dodgers TV
TELEVISION: Time Warner wants rivals on channel's team.
Monday, February 17, 2014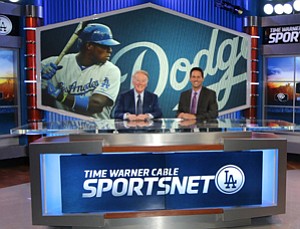 Less than two weeks before the high-stakes launch of SportsNet LA, the all-Dodgers channel last week still had not reached carriage deals with any pay-TV companies aside from its operator, Time Warner Cable.
The El Segundo-based channel will begin broadcasting Feb. 25 – the day before the first spring training game of the season – with wall-to-wall Los Angeles Dodgers content, including game broadcasts, behind-the-scenes coverage and documentary-style features, all year-round.
The channel hopes to make most of its money from distribution deals with the likes of DirecTV, Cox Communications and Charter Communications, though the high price of the channel has made striking those deals a challenge.
Dodgers and Time Warner Cable executives say the deals will get done, that it's just a matter of time. As the season draws near, they're banking on the resurgent popularity of the team, considered a legitimate World Series contender this year, to ratchet up pressure on pay-TV distributors.
"This is the filling of a demand," Dodgers President Stan Kasten told the Business Journal. "I speak to fans every single day of my life. We know empirically (that there's demand)."
The channel is owned by the Dodgers and operated by Time Warner Cable. In a bidding war, the cable provider beat the team's previous local cable channel, Fox Sports Prime Ticket, for broadcast rights a year ago. Time Warner Cable reportedly will pay $8.5 billion for the rights to broadcast 25 years of Dodgers games, starting with this season. After revenue sharing with Major League Baseball, the Dodgers will reportedly net about $6 billion from the Time Warner Cable broadcasting deal.
Time Warner Cable will try to recoup that money through advertising revenue on SportsNet LA and distribution deals.
Such deals are crucial. That's because distribution fees typically make up about 80 percent of revenue for so-called regional sports networks. The networks cover territories where the population would be interested in the teams, on a demand-driven sliding scale. For example, the Dodgers channel is to be featured in cable packages from Hawaii to Nevada. Cable operators will be charged less for viewers in far-flung areas compared with those in Los Angeles.
Ratings Up
Ratings for the Dodgers games jumped considerably last season, especially after the team called up outfielder Yasiel Puig in June and went on a playoff run. As of late August, an average of 153,000 households were tuning in to Prime Ticket's Dodgers broadcasts in the L.A. market, up from about 109,000 the season before.
All cable and satellite operators contacted for this story indicated they are interested in carrying the channel, but there are some differences of opinion.
For example, Time Warner Cable wants the channel to be carried on basic cable packages for all customers in the area, but a spokesman for the Verizon FiOS service said the company hopes to put SportsNet LA in a tiered sports package, so not everyone will have to pay for the channel.
"There remain some significant differences," said Jarryd Gonzales, a Verizon spokesman in downtown Los Angeles.
"We're trying to give our Fios customers some choice."
The stakes are high for Time Warner Cable given the huge price it paid for the Dodgers broadcasting rights, said Matt Harrigan, an analyst who follows Time Warner Cable at Wunderlich Securities in Denver.
"It was an extremely poor deal," he said. "The conventional wisdom is that they overpaid. The thinking was contingent on being able to get other operators to take the channel."
Still, he acknowledged, "everyone's interested in it at a price."
But Time Warner Cable's bargaining position may be strengthened if it is acquired by cable company Comcast Corp., which announced its plans last week for a $45 billion takeover of Time Warner Cable, pending regulatory approval.
The launch of the channel is just the latest example of innovation under the Dodgers new owners, Guggenheim Baseball Management, an affiliate of its namesake New York financial services giant. The partnership includes Kasten, Ervin "Magic" Johnson and others and has made lavish spending the norm, first by blowing away other suitors with a winning bid of $2.15 billion for the team in 2012.
The owners then made $100 million in improvements to Dodger Stadium last year, and during this off-season offered the largest contract ever to a pitcher – a seven-year, $215 million deal to two-time Clayton Kershaw, who has been honored as the National League's best pitcher twice.
The blockbuster Time Warner Cable sports rights deal fed the team's big-spending strategy – providing steady, long-term income and silencing many critics who wondered how the new owners could justify the team's high price tag.
Kasten said the launch of a Dodgers channel has been in the works since the initial purchase, but was just one piece of the equation rather than the primary motivation.
"Clearly the potential for a locally owned regional sports network went into the valuation and went into the cost of what we finally spent," he said. "But that was not the primary motivation. Our goal was to own and run the Dodgers and make them successful."
Kasten touts the substantial increase in demand for season tickets as evidence that the team's popularity is on the rise under its new owner. The Dodgers have been able to raise season ticket prices as a result. That leads Kasten to believe that there's also an increasing demand for Dodgers TV programming.
"We knew there was also demand for when we're not at the ballpark – when people are at home on their couches or when it's in the winter," he said. "They still want to support the Dodgers."
But will that demand be enough to persuade the pay-TV companies to spend big on a Dodgers-only channel?
The channel launches as cable and satellite companies are looking to reduce their programming costs so they can keep their customers' bill in check and better compete with lower-cost digital alternatives.
The outcome depends on negotiations that might stretch into the coming weeks or even months and take on more urgency as the regular season approaches. The satellite and cable companies are trying to keep costs down and SportsNet LA is trying to get as much money as possible.
Time Warner Cable is the largest cable provider in Los Angeles, covering much of Los Angeles County. Charter has a large presence in some parts, including Long Beach and the San Gabriel Valley. Cox also covers parts of Los Angeles, for example, in Marina del Rey.
In response to an inquiry from the Business Journal, Cox issued a statement that crystallizes the conflict: The company wants to keep its prices low while providing customers with the Dodgers channel.
"We will continue to work through the negotiations process with SportsNet LA to fight on behalf of all our customers, not just sports/Dodgers fans, and protect the value of the products and services we provide," the statement said.
'Broken' structure
The negotiations might become intense.
DirecTV is known for its aggressive tactics in carriage disputes. In 2012, the company blacked out MTV, Nickelodeon and others for nine days in a fee dispute.
Michael White, chief executive of the El Segundo cable giant, has said the structure of regional sports networks is "broken" because of the high costs imposed on carriers. The company also played hardball with Time Warner Cable's Los Angeles Lakers-focused channel in 2011.
Other pay-TV providers have expressed similar displeasure with the high costs of regional sports networks. Avoiding those fees is one major reason Time Warner Cable bought the Dodgers rights.
The spread of regional sports networks – Los Angeles now has six – has also created hard feelings among viewers who don't follow sports and feel they are being charged higher monthly cable bills for channels they do not watch.
Nonetheless, Jim Goss, a media analyst at Barrington Research Associates in Chicago, said live sports programming is particularly valuable for cable operators, in part because it hasn't been upended by time-shifted viewing with DVRs. That's makes it attractive to advertisers, since people are less likely to skip the ads.
"It is viewed as must-have-type programming," he said, "even if on a pure dollars and cents basis it might seem challenging to justify."
SportsNet LA is expected to be almost as pricy to carry as ESPN, which is considered the most expensive cable channel of all – reportedly charging more than $5 to cable providers for each subscriber that gets the channel every month. By contrast, the FX network reportedly charges about 46 cents per subscriber.
SportsNet LA is planning to charge other cable companies as much as $5, according to media reports. A Time Warner Cable executive said that price is inaccurate, but wouldn't say how much the channel is asking. Another Time Warner Cable executive acknowledged the new channel "is not the cheapest."
The Dodgers channel comes on the heels of a previous negotiation for Time Warner Cable's Lakers-focused cable channel, Time Warner Cable SportsNet, which reportedly charges cable providers $3.95 a subscriber.
The Lakers channel has managed to reach carriage deals with almost all of the local pay-TV providers, though prolonged negotiations with DirecTV made subscribers to that service miss some early regular season games in 2012.
One operator, Dish Network, balked at the high price of the Lakers channel, and still does not carry it. A spokesman for Dish said the satellite provider is interested in the Dodgers channel, at the right price.
"We are interested in carrying high-quality content at an appropriate value. If that balance can be struck, we are willing to consider it," the company said in a statement to the Business Journal.
The channel will broadcast the majority of home and away games, aside from those that were previously picked for national TV coverage, including playoff games.
The Dodgers are hoping they can reach deals by opening day March 22, when the team will play the Arizona Diamondbacks in Sydney, Australia. That game, and the channel's broadcasts from California and Arizona this season, will be called by the legendary Vin Scully. Other programming will by hosted by John Hartung, former KABC (Channel 7) sports anchor. The programming will be produced and distributed from new studio space in El Segundo, with a smaller facility at Dodger Stadium.
In the meantime, SportsNet LA has enlisted Dodgers fans to apply the pressure on their cable and satellite providers.
Last month, the channel launched an awareness campaign called "I Need My Dodgers" that encourages cable and satellite customers to tell their providers they want the channel. The channel has also given out free Dodger dogs from a SportsNet LA-themed food truck that has been driving around Los Angeles in an effort to prod fans to put pressure on their cable providers.
"We hope that all the Dodgers fans out there who have been clamoring for more depth and access around the Los Angeles Dodgers – we hope they express that by calling their video providers and demanding that they provide this network," said David Rone, president of sports, news and local programming at Time Warner Cable.
For reprint and licensing requests for this article, CLICK HERE.