Internet Platform Seeks Lift From New HQ, Exec
EXPANSION: Airpush adds Google vet Matt Shaw to newly opened Venice office.
Monday, February 17, 2014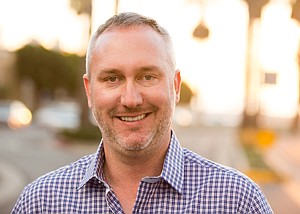 Mobile advertising platform Airpush Inc. continues its growth with the opening of its Venice headquarters and the hiring of former Google Inc. exec Matt Shaw.
Shaw, Airpush's first chief revenue officer, previously served as Google's global head of mobile display.
He said that he chose Airpush for an opportunity to join a startup that's reached more than an estimated $100 million in revenue with a network of more than 120,000 mobile apps.
"The last three years (at Google) were fun and exciting but in a different way," said Shaw. "I wasn't on the street. I didn't have the sort of speed and agility that I'd like at startups."
Shaw said his goal is to help expand Airpush's clients from app developers to brand advertisers. As reported in December by the Business Journal, the company's recent acquisition of Hubbl in New York gives it additional data targeting tools for advertisers.
"Airpush has grown up as a performance network, helping people drive downloads of applications," said Shaw. "My job here is to continue to grow and maintain that core business, but also figure out how we activate that third-party data layer to build a brand network."
Airpush was founded in 2010 and has a staff of about 230. Founder Asher Delug managed the company from his home in Malibu, but moved headquarters last week to an office in Venice. It also has an office in Bangalore, India.
The company said it is profitable.
New Click
Internet ad company ValueClick Inc. has shed its name to transform its image. The Westlake Village company has rebranded itself as Conversant Inc. and combined its five separate digital marketing operations into one unit.
John Giuliani, the company's president and chief executive, said the move was designed to make things easier for its clients.
"We're really trading the old ValueClick for conversations," he said. "And that's why Conversant is really an apt name for us."
ValueClick Media, Greystripe, Dotomi, Mediaplex and Commission Junction are now on one advertising platform. Commission Junction, the marketing business acquired by the company in 2013, will be known as CJ Affiliate.
Conversant has been making several changes, last year selling its owned and operated websites, including Investopedia and PriceRunner, to New York media company IAC. It recently acquired SET Media, a digital video tech company in San Francisco.
When Giuliani took over as chief executive more than a year ago, he said that he realized the company's websites were no longer core to its strategy.
"We feel the normal pressures that we always have competed against," he said. "Where we see is really the opportunity to help make it easier for our customers to buy from us and focus on getting them better results."
Conversant has a staff of about 500.
Agencies & Accounts
Public relations firm Blaze in Santa Monica has a new client, Famous Brands International in Broomfield, Colo., parent company of TCBY Frozen Yogurt and Mrs. Fields. Blaze will handle public relations and promotion of store openings and new products. ... Blaine Group Inc., a public relations firm in Beverly Hills, has been retained by relationship advice website Twoology.com in Superior, Colo. … Communications firm Sitrick & Co. in Beverly Hills has named Seth Lubove as a member of the firm. Lubove was previously a reporter at Bloomberg News. The firm also promoted Brian Glicklich to chairman of global digital practice, and hired Matthew Fern as director of media and analytics, Jim Bird as director of client software and development, Allen Roman as manager of SEO and project lead, Chris Wagner as creative director and Renee Say as research specialist. … Arcade Edit, a creative agency in West Los Angeles, has launched, Timber, another company specializing in branded content. … Ad agency TBWAChiatDay LA has named Luis DeAnda general manager. DeAnda was global managing director for TBWAMedia Arts Lab, where Erica Hoholick has been named president. … Pitch, an ad agency in Culver City, has promoted Xanthe Wells to chief creative officer from executive creative director. It also hired Gage Clegg as group creative director. Clegg served as group creative director at TBWAChiatDay LA. Public relations executive Mary Beth Sales and tech entrepreneur Rayyan Islam have launched communications firm Wilshire Austin in downtown Los Angeles.
Staff reporter Subrina Hudson can be reached at shudson@labusinessjournal.com or (323) 549-5225, ext. 251.
For reprint and licensing requests for this article, CLICK HERE.