Work/Life: David Dressler
The co-founder of Tender Greens on hamster wheels, 50 hour work weeks and having it all.
Tuesday, December 23, 2014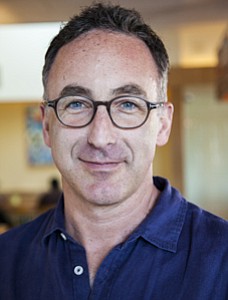 Before David Dressler co-founded Tender Greens, the Culver City fast-casual chain, he had almost every conceivable food and beverage management position at prominent hotels across the country, including the Regent Beverly Wilshire in Beverly Hills. In 2001, he became director of food and beverage at Shutters on the Beach in Santa Monica, where he met Erik Oberholtzer and Matt Lyman, both chefs and soon-to-be business partners. Inspired by a shared vision of creating a place where "a chef would eat on his day off," Dressler, Oberholtzer and Lyman opened Tender Greens in June 2006. The company now has more than 1,000 employees and 17 California locations in Los Angeles, San Diego, Orange County and the Bay Area, with plans to open 30 restaurants by 2016. We spoke with Dressler about how his attitude toward work/life balance affects the company.
Question: Describe your morning routine.
Answer: At least three days a week, I go to the gym. I get there by 5 a.m. and I'm at work by 7 a.m. I live in West L.A., and our office is in Culver City. It's about an eight minute drive at 7 a.m., which would be a half hour ordeal if I left later – still good by L.A. standards. On days when I don't make it to gym, I like to wake up and spend time with my daughter, who is almost two. We have milk together, hang out and play.
What is your breakfast routine?
I eat well. My breakfast routine is somewhat on fly. I have coffee before leaving the house, before the gym. We have granola and that kind of stuff at work.
How do you achieve work/life balance?
My partners and I come from the burnout hamster wheel approach and know it doesn't work, so we made the decision that work/life balance is not just an aspiration but a requirement for our team. We believe that people work better and achieve more if they are not burned out and stressed out. For me, it's about going to the gym. If I am not working out, I don't feel good and my brain follows suit. It's about doing morning centering rituals and taking time to be with my family. I don't think work/life balance happens by accident. It's something you have to keep working on, and be constantly planning ahead. I end and start each day by looking at my calendar and then periodically I look two weeks ahead so I can make sure I am taking care of self, relationships and family. I think we can have and deserve to have all that we want in life. It just requires more effort, self-awareness and accountability, whether that means I have to go to bed late or get up early to manufacture more time. At end of day, if I'm leading a purposeful life where I am fitting in what is meaningful to me, rather than selling those things out, I am a better man and the people around me benefit from it.
Work/life as a requirement for your team: What does that entail?
We shoot for a 50 hour work week, which in our business is a great achievement. We don't ask people to do more than that. There are exceptions, like during openings, when all hands are on deck. But during the normal course of things, we insist on it and bring it up when someone gets crisp around the edges. We have a paid time-off policy and encourage people to take trips. We try to teach people to be organized and proactive so that when they go away, their work doesn't fall apart.
How do you make time for your family?
It's more important for me to get to work early and to get home for dinner time and bath time and stories because I only get those moments one time. It's less of a strategy and more of a commitment. Someone told me parenthood makes for long days and short years. I don't want to be the dad that looks back and says, "I wish I had been more present." I want to be present now.
For reprint and licensing requests for this article, CLICK HERE.