Games Run Up Scores for Movies
ENTERTAINMENT: Studios see mobile tie-ins giving films legs.
Monday, December 22, 2014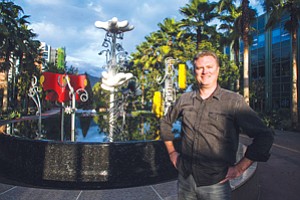 If you haven't seen Walt Disney Co.'s animated blockbuster "Frozen" by now, you've probably heard about it.
It has done nearly $1.3 billion in box office worldwide and sold more than 3.2 million copies of its soundtrack. Countless young girls went trick-or-treating this Halloween dressed up as the film's popular Princess Elsa character.
Those numbers are impressive, but consider that more than 4 million daily active users have spent more time playing a mobile game based on "Frozen" than they have watching the 102-minute film.
That sort of immersion is prompting studios to turn their attention to mobile initiatives not only to promote films but to generate additional revenue. What's more, mobile devices are evolving into the primary way fans interact with their favorite entertainment brands – and the means by which people hear about them in the first place.
"We really feel that mobile can be a fantastic platform for us and be the tip of the spear for some of these products coming out over the next few years," said Scott Humphries, an executive producer at Disney Interactive who oversaw production of the game, Frozen Free Fall.
Though company officials wouldn't comment on specific numbers related to mobile and interactive products, in its annual report for the fiscal year ended Sept. 27, Disney said 2014 revenue derived from games exceeded $1 billion, a 30 percent increase from the year earlier.
That jump came thanks to a 24 percent spike in console game sales, but also a 10 percent increase in revenue derived from social and mobile games.
"The increase in social/mobile games revenue was driven by performance of Tsum Tsum and Frozen Free Fall," the annual report said.
The Frozen Free Fall app is free to download and play, but users can pay from 99 cents to $3 each for virtual items that enhance game play and allow them to unlock levels.
Disney also released a nearly identical game in conjunction with the release of "Maleficent" earlier this year.
"Mobile has now become a much more important part of the mix than it was ever before," said Andrew Stalbow, co-founder and chief executive of Seriously Digital Entertainment, a mobile game studio in Santa Monica. Stalbow launched Seriously after stints as senior vice president for mobile at Fox Digital Entertainment, a division of 21st Century Fox, and Espoo, Finland's Rovio Entertainment Ltd., maker of the wildly successful Angry Birds game.
"When I started at Fox, the revenues were small, but then it grew like a weed," Stalbow said.
Brand awareness
But money isn't the only reason studios are betting heavily on mobile. Whereas television commercials and print ads were once the main ways to build buzz in advance of a film's release, nowadays mobile is often the first touch point for many people.
The nearly 37 minutes a day Frozen Free Fall players spend on the app appears modest when you consider that Android and iOS users in the United States spend nearly 52 minutes playing games on their smartphones and tablets each day, according to numbers released in April by San Francisco mobile analytics firm Flurry. That kind of engagement lights up the eyes of movie studios.
Before leaving for Rovio, Stalbow inked a deal with the company to develop Angry Birds Rio, a game tie-in with Fox's animated film "Rio," released in April 2011.
When Fox conducted exit polls of "Rio" viewers at movie theaters across the country, individuals in the studio's most coveted demographics responded that they first heard about the movie after downloading and playing the game.
It was then, Stalbow said, that the studio fully realized the marketing potential of mobile devices.
"At that point," he recalled, "Fox knew a mobile product could really cut through and be a main awareness driver for one of their movies."
Different models
Though it handled publishing in-house, Disney Interactive co-developed the "Frozen" and "Maleficent" titles with Genera Games of Seville, Spain.
Other studios choose to license their properties out to third-party developers that develop and publish the game themselves and share revenue with the studio.
Humphries, the Disney Interactive executive producer, described the company's model as a hybrid approach that benefits both sides.
"We can work with some of the best developers in the industry to make games on Disney properties," he said. Plus, "it empowers the developer to work with Disney properties that they might not be able to afford from a licensing scenario."
One gaming studio active on the licensing side is San Francisco's Kabam Inc., which worked on the recent mobile spinoff of "The Hunger Games" film franchise produced by Santa Monica's Lions Gate Entertainment Inc. Kabam has also created game tie-ins for "The Hobbit," among several other film properties. The company has received funding from both Warner Bros. Entertainment Inc. and Metro-Goldwyn-Mayer Studios Inc.
For its part, Lions Gate is betting that mobile games will represent a big part of its business down the line. The company brought in Peter Levin, a co-founder and former chief executive of Nerdist Industries, as its president of interactive ventures and games in April. It also invested in Helsinki game studio Next Games in July and has several more games in the works based on its library of more than 15,000 films and TV shows.
Company officials did not return calls seeking comment, but in the announcement of Levin's appointment, Lions Gate Chief Executive Jon Feltheimer made clear the studio's interest in exploiting digital gaming opportunities.
"Gaming has become one of the most explosive growth areas of the content business," he said in the announcement. "Peter's mandate will be to build a portfolio of premium digital properties as we expand our leadership in films and television programming into digital content as well."
And the business model of Seriously, Stalbow's company, shows that the tail might be starting to wag the dog. Rather than working with intellectual property created by other creators, Seriously aims to produce mobile games and characters that studios can adapt for film and TV.
"In two to three years," Stalbow predicted, "all the big Hollywood studios will be looking at building their next animated intellectual property through mobile first."
For reprint and licensing requests for this article, CLICK HERE.