Online Ads Not Looking So Good
INTERNET: Industry steps up to track, counter fraudulent views.
Monday, December 15, 2014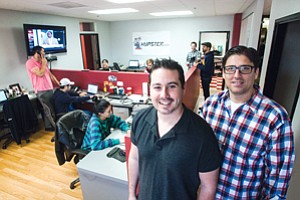 Client Connections Media, a Web publisher in Florida, operated hundreds of websites, generating ad revenue that by some estimates hit $1.5 million a month based on voluminous traffic.
The sites were real enough. The traffic, it turned out, was not.
CCM, now defunct, masqueraded as a legitimate website publisher and generated nonhuman traffic on its sites using robotic programs known as "bots," according to a report released earlier this year by Telemetry, an Internet forensics firm in London that referred to the company's actions as "fraud."
CCM convinced advertisers – and many in the ad tech business who place ads for them – that ads were being viewed by people, when in fact they were not.
The problem is, as soon as one bot network is uncovered, the fraudsters figure out new ways to fool the system.
"It's a cat-and-mouse game," said Jim Larkin, chief executive of Burbank ad network Barons Media, one of the companies caught up in the alleged scam. "Every time something like that happens, they're able to adapt."
Barons places ads on thousands of websites a day, according to Larkin, including sites operated by news outlet Al Jazeera.
The company's business with CCM amounted to a small fraction of the roughly $10 million to $20 million CCM probably earned as a result of its fake traffic, according to Larkin, who also said Barons never charged the brands and agencies who bought the ad space on CCM sites.
With $15 million in annual revenue, Barons is a small fish compared with some of the other companies caught up in the CCM mess.
"We realized they were shady after the fact, just like everyone else did," Larkin said.
According to the Telemetry report, several other businesses were impacted either directly or through business with a partner. They include large-scale video ad platforms Adap.tv of San Mateo, which is owned by AOL; San Francisco's BrightRoll, a division of Yahoo Inc.; and New York's Defy Media, the company formed by the merger of L.A.'s Break Media and New York's Alloy Digital last year.
Defy, which became involved as the result of a former relationship with an unnamed ad network partner, still maintains a large presence in its Miracle Mile office.
The report found advertisers affected by the CCM scam include the Mercedes-Benz division of German carmaker Daimler, fast-food chain Burger King and Walt Disney Co.'s Touchstone Pictures.
Persistent problem
Online ad fraud, sometimes referred to as "click" fraud, just won't go away.
Thirty-six percent of all Internet traffic is generated by robots rather than humans, according to 2012 data from Reston, Va., analytics firm comScore Inc.
New York Web security firm White Ops released a report last year suggesting online advertisers, including some of the biggest brands in the world, have lost a total of $6 billion due to online ad scams.
These frauds are facilitated by the automated nature of ad buying online. While traditional person-to-person buying and selling still goes on, an entire industry has evolved in which "programmatic" ad exchanges have developed automated processes for what's known in the industry as real-time bidding. This allows vast amounts of ad inventory to be auctioned off to buyers through a sophisticated computer program.
Programmatic networks, which sell massive amounts of ad inventory across hundreds, or even thousands, of different publishers every second, are especially vulnerable to fraud due to the high number of Web publishers using their platforms.
"What ends up getting sold off (on programmatic exchanges) is lower-quality or less prestigious inventory," said Andrew Lipsman, vice president of marketing and insights at Reston, Va., Web analytics firm comScore Inc., which sells a fraud detection service.
Though executives of Playa Vista ad exchange Rubicon Project, a programmatic ad placement firm, did not respond to an interview request, the company in its latest quarterly report did acknowledge fraud is a problem on its platform.
"During the year ended Dec. 31, 2013, as a result of our screening and detection efforts, we terminated relationships with over 50 sellers that appeared to be engaging in such activities, resulting in fewer paid impressions in the year than would have otherwise occurred," it said. Each seller could account for hundreds or thousands of individual pages with ad inventory on them.
John Murphy, vice president of marketplace quality at Pasadena ad exchange OpenX, said his company has weeded out a number of sellers from its platform for failing to meet its traffic quality requirements.
Additionally, OpenX has doubled its bot detection team since last year, bringing the total to around 20. Murphy said the company also rejects between 30 percent and 40 percent of the sellers of ad space who ask to be included on the exchange.
As a result, OpenX was named the most trusted real-time bidding platform in terms of inventory quality, and second most trusted in terms of fraud levels, in rankings released last week by Santa Monica programmatic analytics platform Pixalate.
"We're feeling very good about our traffic quality right now," said Murphy, adding, "Fraud rates are extremely low, single digits."
Rubicon tied for second in inventory quality, which measures how much of the inventory sold is legitimate based on several factors. It placed sixth out of 20 companies in terms of fraud levels on its platform.
Brand adoption
Meanwhile, ad dollars keep flowing to the Internet.
Companies spend roughly one-quarter of their advertising budgets in the digital realm, according to a November survey of marketing executives conducted by Stamford, Conn., research firm Gartner Inc. More than half said they planned to increase their digital marketing budget in 2015 by an average of 17 percent.
So brands are also taking it upon themselves to ensure their money is not being wasted, and that's put pressure on ad networks to find solutions as well.
"Ultimately, the demand comes from the brands, because they're the ones spending the money," said David Sendroff, founder and chief executive of Forensiq, a fraud detection firm in New York that was hired by Barons after the CCM fraud was uncovered.
Barons also hired two additional quality assurance analysts to watch for invalid campaign traffic, bringing its total to three. The company has also eliminated a number of publishers from its network.
Apparently, it's paying off.
"We're seeing very low fraud traffic, like 3 percent," said Daniel Kornblit, vice president of operations at Barons.
Varying standards
But with the flurry of entrants into the fraud-detection market, it's become difficult to establish industrywide standards because each company measures things differently. And many refuse to share how they reached their results, citing concerns that fraudsters would then figure out how to work around their technology.
While that's a legitimate concern, it leaves many mainstream publishers in the dark as to why some inventory was flagged, causing them to take a markdown on certain ad inventory.
"There's no concrete standard. Every vendor is going to produce different results," said Brian Fitzgerald, co-founder and president of Ladera Heights lifestyle Web publisher Evolve Media.
"It's extremely difficult to be held to a third-party standard when you have no visibility into what the measurement criteria is and there's no ability to audit that finding," Fitzgerald added.
Larkin, Barons' chief executive, agreed that third-party vendors should be more open about their measurement standards in order to help the industry as a whole.
"They need to give the information back to the publishers," he said. "If you can have transparency in the ecosystem, the whole industry would get better."
For reprint and licensing requests for this article, CLICK HERE.