Cars Hit Road With Cheap Leases, Easy Credit
Monday, December 15, 2014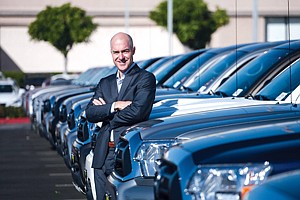 If it seems like everyone you know is getting a new car, it's not your imagination. Cars are selling at a torrid pace and it's not just because of easy financing.
A shortage of late-model used cars on the road has made leasing cheap, and manufacturers are offering aggressive deals to move metal and put to use the factories they've built or expanded recently.
Warren Browne, an automotive industry consultant in Northville, Mich., is projecting total car sales to hit 16.4 million this year. This would be the fourth straight year of growth and highest number since 2006. Since 1960, car sales have never expanded nationally for five consecutive years.
According to data from the Greater Los Angeles New Car Dealers Association, total local sales this year are projected to hit 459,600, which would be the sixth straight year of expansion.
Sales through the first nine months of the year have jumped 10 percent over the same period last year. And luxury makes are setting the pace: BMW sales in Los Angeles County are up 11 percent year over year, Porsche is up 16 percent and Lexus a whopping 39 percent.
With low rates making expensive cars more affordable, manufacturers and dealers are going after new customers who suddenly can get into the BMW or Mercedes they've dreamed about.
"We're able to see people get into brands they've never really had on their shopping list because they were too expensive," said Victoria Rusnak, the president of Rusnak Group, which operates 15 dealerships in the L.A. area.
Brendan Harrington, president of Longo Toyota in El Monte, has seen lots of those dream-car buyers, who have found it's especially attractive these days to lease pricey cars rather than buy.
"It actually is cheaper to lease a car now than it was 10 years ago," said Harrington, whose dealership is the country's largest seller of Toyotas.
Lower leases
Leases have gotten cheaper, dealers say, thanks to both low interest rates and, oddly, a big slowdown in auto sales seen during and after the recession.
Lease payments essentially cover the value a car will lose over the course of the lease, plus interest. But cars are holding their residual value better these days and interest rates are low, meaning customers now have to pay a smaller share of the sticker price than ever before.
Harrington said residual values are higher because the economy is coming out of a trough when fewer customers were leasing cars or buying new and trading in used vehicles, creating a paucity of used cars.
"It used to be that three-quarters of our customers would have a trade-in," Harrington said. "Now it's more like 25 percent."
Mike Sullivan, who owns the L.A. Car Guy group of dealerships, said these forces effectively cut out much of the price premium on luxury cars. On a three-year lease, cars are expected to hold well more than half of their sticker price. That means even if two cars have a sticker-price difference of, say, $10,000, less than $5,000 of that will factor into the lease payments.
But as prices continue to get more competitive, there can be some blending of brand identity. Upscale manufacturers such as BMW and Mercedes-Benz see an opportunity to add to their customer base, but going too far down market could alienate their core customers.
"There's a little bit of danger with BMW and Mercedes coming too far down," Sullivan said. "If the guy in the Maybach is waiting in line for service at the dealership behind the guy who paid $299, he's not going to be happy."
Factory frenzy
Car buyers aren't the only ones looking to capitalize on this sizzling market. Auto manufacturers and companies that make car parts are all too eager to keep moving metal while things are humming.
Dealerships usually buy their cars from manufacturers through what's called floor-plan financing, in which the manufacturer extends dealerships credit to buy cars for their lots. With low rates, keeping a big stock of cars on the lot doesn't cost dealerships much. That makes it easier to absorb what the automakers push toward them.
There's also the fact that many auto manufacturers have built or added to their factories in recent years and are ready to cash in on that investment. Volkswagen opened a plant in Tennessee, while Nissan Motor Co. and Daimler, corporate parent of Mercedes-Benz, have significantly expanded their operations in Tennessee and Alabama, respectively. And with Europe and China slowing down, the consumer market they're targeting is the United States.
Sullivan, for one, isn't thrilled to see car dealerships bursting at the seams with inventory.
"An oversupply as we're seeing today is always dangerous," he said. "That's what we saw at the start of the recession. Manufacturers are cranking it up, building a lot of cars."
Rusnak shares similar fears and pointed out that as the recent bumper crop of leases come due, that could exacerbate any oversupply issues.
"I believe supply might outweigh demand for those brands that do not provide high-quality products," she said. "Furthermore, leasing portfolios will flood the market and potentially drive values down."
But analyst Browne, who spent several years at General Motors Co., said automakers don't see the world that way. He expects them to keep pumping out cars until a critical mass of dealerships simply refuses to accept them.
"Nobody's going to blink given the installed capacity," he said. "It's not part of the automotive DNA."
For reprint and licensing requests for this article, CLICK HERE.