Cars Hit Road With Cheap Leases, Easy Credit
Monday, December 15, 2014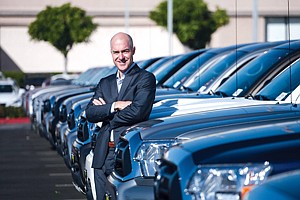 If it seems like everyone you know is getting a new car, it's not your imagination. Cars are selling at a torrid pace and it's not just because of easy financing.
A shortage of late-model used cars on the road has made leasing cheap, and manufacturers are offering aggressive deals to move metal and put to use the factories they've built or expanded recently.
Warren Browne, an automotive industry consultant in Northville, Mich., is projecting total car sales to hit 16.4 million this year. This would be the fourth straight year of growth and highest number since 2006. Since 1960, car sales have never expanded nationally for five consecutive years.
According to data from the Greater Los Angeles New Car Dealers Association, total local sales this year are projected to hit 459,600, which would be the sixth straight year of expansion.
Sales through the first nine months of the year have jumped 10 percent over the same period last year. And luxury makes are setting the pace: BMW sales in Los Angeles County are up 11 percent year over year, Porsche is up 16 percent and Lexus a whopping 39 percent.
With low rates making expensive cars more affordable, manufacturers and dealers are going after new customers who suddenly can get into the BMW or Mercedes they've dreamed about.
"We're able to see people get into brands they've never really had on their shopping list because they were too expensive," said Victoria Rusnak, the president of Rusnak Group, which operates 15 dealerships in the L.A. area.
Brendan Harrington, president of Longo Toyota in El Monte, has seen lots of those dream-car buyers, who have found it's especially attractive these days to lease pricey cars rather than buy.
"It actually is cheaper to lease a car now than it was 10 years ago," said Harrington, whose dealership is the country's largest seller of Toyotas.
Lower leases
Leases have gotten cheaper, dealers say, thanks to both low interest rates and, oddly, a big slowdown in auto sales seen during and after the recession.
Lease payments essentially cover the value a car will lose over the course of the lease, plus interest. But cars are holding their residual value better these days and interest rates are low, meaning customers now have to pay a smaller share of the sticker price than ever before.
Harrington said residual values are higher because the economy is coming out of a trough when fewer customers were leasing cars or buying new and trading in used vehicles, creating a paucity of used cars.
Prev Next
For reprint and licensing requests for this article, CLICK HERE.