'Frozen' Delivers Much Needed Heat for Toymaker
MANUFACTURING: Jakks sales rise but analyst sees sustainability questions.
Monday, December 8, 2014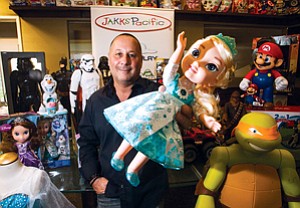 It's been a rough few years for Malibu toymaker Jakks Pacific Inc., but now executives say Jakks is back – back to growing sales, and back to profitability.
The kid-focused manufacturer has operated at a loss the past two years and its sales have dropped every year since 2008. But this year, the company's sales are up, and executives say Jakks will not only make a profit, but be much more profitable and have almost $100 million more in revenue than they'd predicted at the beginning of the year.
Executives have been steadily increasing their earnings guidance for the year, and most recently upped their revenue estimate to as much as $760 million – which would be the company's biggest year since 2009.
The turnaround comes after Jakks, which counts Dr. Patrick Soon-Shiong, the wealthiest man in Los Angeles, as its biggest shareholder, spent the last 18 months cutting costs; picking up new customers; and acquiring product licenses, most notably the rights to make some toys based on Walt Disney Co.'s "Frozen," which have been huge sellers this year.
"A lot of work has been done over the last one to two years to get to where we are," said Stephen Berman, Jakks' chief executive. "We're happy we're back on top."
But analysts who follow the company say it's not all good news. While sales have grown, especially in the third quarter, it looks like the increase has been mostly from "Frozen" merchandise.
Linda Bolton Weiser, senior analyst in the New York office of West L.A. brokerage B. Riley & Co. who follows Jakks, said hot-selling "Frozen" toys help now, but could set the company up for a fall next year, assuming sales of those toys eventually drop off.
"The gangbuster success of the Frozen Snow Glow Elsa doll this holiday season sets the company up for very hard comparisons for next year," Bolton Weiser said.
Shedding costs, increasing sales
Jakks started a companywide restructuring in July of last year that Joel Bennett, the company's chief financial officer, said will save the company $20 million annually.
It closed and consolidated several offices, both domestic and overseas, that it had inherited from buying 22 companies over the past two decades, Berman said.
About 100 people were also laid off, leaving Jakks with about 800 globally. Both actions left the company with less overhead, helping boost the bottom line. Jakks' selling, general and administrative expenses are down 9 percent, or $13.5 million, through the first nine months of the year, compared with the same period last year. That's despite a $5 million increase in advertising spending.
"We increased sales and lowered overhead and became more profitable on those higher sales," Bennett said.
Jakks has also seen strong demand this year for its line of dolls, costumes, outdoor furniture and other products based on "Frozen."
The company secured the rights for those products in a deal that went into effect around the time the movie came out in November 2013, Berman said. Since then, the products' popularity has picked up, especially this fall, contributing to Jakks' return to profitability.
Stephanie Wissink, a managing director and analyst for Piper Jaffray Cos. in Minneapolis who follows Jakks, said the "Frozen" products effectively saved Jakks and explain why the company has been steadily upping its sales and earnings estimates this year.
"The success of that license and demand for the related product that Jakks makes allowed the company to sell a larger amount of goods into retail than had originally been forecast," Wissink said.
Jakks wouldn't release sales figures for the "Frozen" toys or other licensed products, saying that would violate contract agreements. But the company attributed most of its double-digit percentage increase in third-quarter sales to the "Frozen" collection. Jakks' sales hit $349 million in the quarter ended Sept. 30, up 12 percent from the same period a year ago.
The sales increase also came as Jakks started working with additional retailers, including video-game store chain GameStop and girls fashion retailer Justice. The company also expanded the number of products sold through retailers it already worked with.
"It started off last year, but this year we really had amazing traction," Berman said. "We're not just garnering more distribution but also getting more shelf space."
Forecasting profitability
Jakks' financial performance steadily improved all year. By October, executives were so confident they raised guidance figures for the year, forecasting annual sales between $750 million and $760 million, up from the $660 million to $670 million they'd predicted earlier. They also upped earnings estimates for the year to as much as 67 cents a share, up from 20 cents to 30 cents.
That represents earnings for 2014 of more than $15 million – nowhere near the kind of earnings Jakks reported in the years before the recession, when it made more than $70 million annually, but it's still nearly double the profit the company reported in 2011, it's last positive year.
But B. Riley's Bolton Weiser is concerned about Jakks' ability to maintain the third quarter's strong sales going forward, and specifically about the company's ability to sell enough products to meet minimum guarantees made to rights holders. If it doesn't meet those guarantees, Jakks has to pay. In 2013, unmet minimum guarantees cost it $15 million, compounding an already unprofitable year.
"We fear license guarantee shortfalls could plague Jakks on and off in the future," Bolton Weiser said.
For reprint and licensing requests for this article, CLICK HERE.