L.A. Launch List: Dec. 5
Friday, December 5, 2014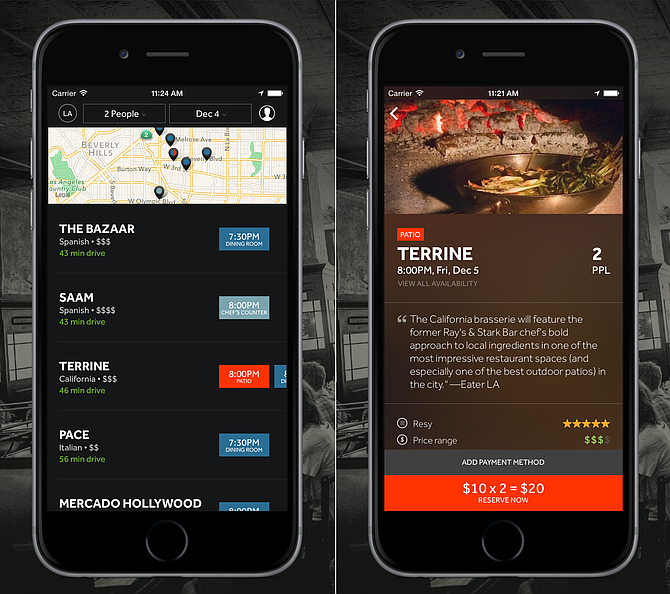 The Los Angeles Business Journal brings you a weekly roundup of L.A. launches.
Grindr: The gay dating app has changed the look of its iOS user profiles. Updated features include more prominent profile photos and estimated travel time before a meet-up. Quicker in-app navigation, previously reserved for paid premium accounts, is now available for all users.
JumpStart: Children's learning game creator JumpStart, a subsidiary of Torrance's education software developer Knowledge Holdings Inc., has revamped its website to house all of its Web and mobile products. The new site includes game collaborations with the NFL and DreamWorks Animation's "Madagascar" film franchise. JumpStart's games reach 7 million active monthly users. Mobile downloads have jumped 500 percent in the last 18 months to hit 14.6 million.
Resy: New York restaurant reservation app Resy is now serving Los Angeles. Users can reserve tables at popular restaurants during busy times by paying a fee through the app. Resy, which launched in June, also shows nearby restaurants with open tables. The app's L.A. partners include Terrine, Saam by Jose Andres, Yellowtail, Pace and Eveleigh. Resy announced $2 million in seed financing in July, a round led by Vayner/RSE and Lerer Hippeau Ventures.
Savings.com: The West L.A. online couponing site has released an iOS app to help holiday shoppers find the lowest price for a product. PriceJump uses real-time pricing data from more than 5,000 online retailers, including Amazon.com, and brick and mortar stores such as Best Buy, Walmart and Target. Savings.com said more than 5 million shoppers rely on its service each month to access its 100,000 deals.
TakeHollywood.com: Aspiring entertainment professionals can go to the Marina del Rey website to gain insight into an actor's creative process as well as learn how to find an agent and make audition reels. TakeHollywood co-founder Edoardo Ponti, son of actress Sophia Loren and film producer Carlo Ponti, wanted to offer an authentic resource for entertainers. The company is backed by $2 million from private investors in Mexico, Switzerland and Los Angeles. Read more here.
Whipclip: The Santa Monica mobile app has launched to give TV fans a legal way to share their favorite clips. ABC, CBS and A&E Networks have agreed to test run their video content during the app's private beta period. It's the first venture for Richard Rosenblatt, founder and former chief executive of Demand Media. Read more here.
Staff reporter Melissah Yang can be reached at MYang@labusinessjournal.com. Follow her on Twitter @MelissahYang for the latest in L.A. tech news.
For reprint and licensing requests for this article, CLICK HERE.