Snapchat's Letting You Create Geofilters
Tuesday, December 2, 2014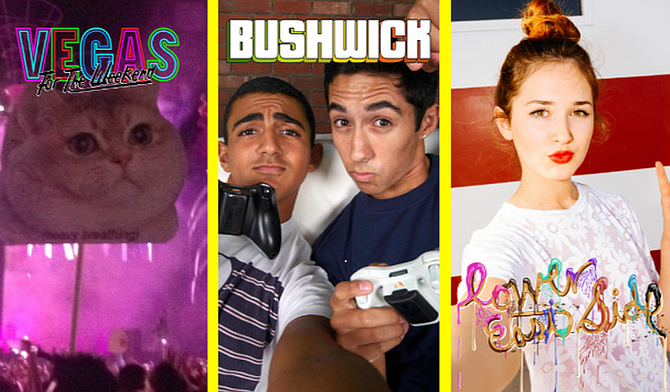 Snapchat has no plans of slowing down for the holiday season.
The disappearing messaging app's latest update is an expansion of its geofilters service, in which small pictures or words appear on top of users' photos and videos. They are geography based, so downtown L.A.'s filter, for example, pops up when the user is there, but it isn't accessible in Santa Monica.
These filters, and the locations that received tags, were solely designed by the app's Venice team. But now Snapchat is letting users create their own.
Snapchat unveiled a community site where users can upload original images and choose where they want their created filters to be available. Filters as well as the app's location services must be enabled in settings to access the new feature.
Once Snapchat approves the image, friends and other users can access the one-of-a-kind geofilter by swiping across the main interface.
"From coffee shops in Venice to coastal towns in Oslo, we hope you've enjoyed discovering each little piece of art!" Snapchat said on its blog. "Now it's easy to draw a little piece of art and put it somewhere meaningful to you and your friends."
When Snapchat first unveiled geofilters, it was easy to see how they could be monetized for brands. Macy's sponsored a filter that was specially created for users attending its Thanksgiving parade in New York City.
Community filters now let local restaurants and other mom-and-pop shops self-advertise by creating special filters for their customers to use. But how that will translate into real dollars is unclear as the service is currently free to use.
Uncertain monetization models have been Snapchat's M.O. since launching in 2011, and the latest update is just another piece of its revenue puzzle. The company released its first ads in October and launched mobile payments service Snapcash last month. Snapchat is said to be currently raising a massive funding round that would value the app at $10 billion.
Staff reporter Melissah Yang can be reached at MYang@labusinessjournal.com. Follow her on Twitter @MelissahYang for the latest in L.A. tech news.
For reprint and licensing requests for this article, CLICK HERE.