Good Deal?
Casinos split over wisdom of no-collection games
Monday, December 1, 2014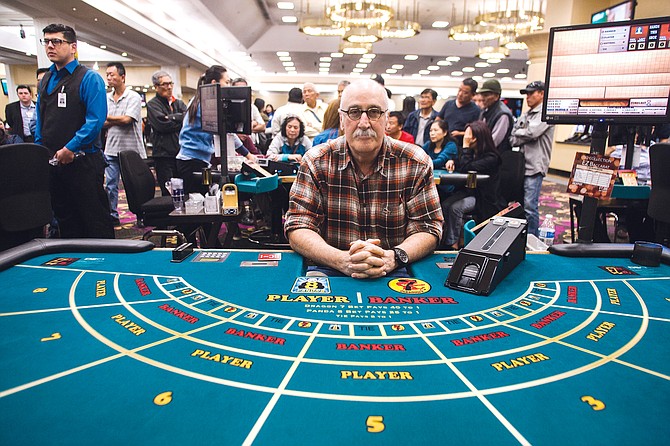 At not quite noon on a recent Friday, about 200 gamblers crowded around tables at Crystal Casino in Compton. Often stacked two and three deep, and reaching over each other to place bets, most are playing what's become a huge draw for local card rooms: no-collection baccarat.
It's the same story 15 miles away at Commerce Casino, where most of the 30 no-collection baccarat tables were full a few hours later.
But there's a stark difference between the two clubs: Crystal has bet its future on this game and others like it; Commerce hopes state regulators will shut the games down for good.
"It's dumb and it's wrong" said Haig Papaian, chief executive of Commerce Casino. "I would have thought the state would say it is."
He's referring to so-called no-collection card games, which are relatively new among L.A.'s card rooms. Until recently, clubs charged players a nominal fee – or collection – to play each hand, separate from their wager. But no-collection games, as the name implies, do not charge players that fee – making them indistinguishable from the games offered by Indian tribes or Las Vegas casinos. Their introduction here has sparked a kind of arms race among local card rooms, and upended an already tenuous relationship between the card rooms and gaming tribes.
Tribal representatives say these games are clearly illegal and tread on their exclusive rights to offer Vegas-style gaming in California. They're pushing the California Attorney General's Office and the state Gambling Control Commission to put an end to them. Regulations could be coming next year.
"The state is allowing something to go on elsewhere that they guaranteed was exclusive to us," Mike Crenshaw, vice president of casino operations at the Pala Band of Mission Indians' Pala Casino in San Diego County, said of the no-collection games. "We understand competition, but this just changed the playing field."
Some casino operators, Papaian in particular, agree. These games, he argues, not only pay much lower margins, but they also put L.A.-area card rooms on the wrong side of the gaming tribes – politically powerful groups he has no interest in provoking.
"There's a right way to do business and a wrong way," he said. "The tribes got what they got. If someone tries to take that away, I'm against it."
It's complicated
Unlike casinos in Vegas or on tribal lands, California card rooms can't make money from actual gambling. They provide dealers and tables, but players bet either against each other – as in the case of poker – or against an outside banking group that sits in on games of blackjack, pai gow and baccarat and plays the dealer's hand.
The card clubs make money by collecting a small fee from players and the third-party bankers at the beginning of each hand. These collections are by far the biggest distinction between California card clubs and typical casinos.
But for nearly two years, some Los Angeles County casinos have found a way around that distinction: no-collection games.
In a no-collection game, players don't pay but the third-party banks do. Although casinos don't make as much money from each hand, they are betting that having someone else foot the bill for each hand – essentially lowering the price of playing at their tables – will bring in more gamblers, which means more tables, which in turn means more bankers paying the collections. Get enough additional tables and the casinos can bring in just as much revenue, or more, without a collection.
For example, at a $10-minimum baccarat table at Commerce Casino, players used to pay $1 a hand, while the bank paid $2. At a full table – seven players and a banker – that's $9 a hand in revenue for the casino. At a no-collection table, the players pay nothing while the banker pays between $2 and $9 a hand, depending on the volume of bets on the table. Most of the time, the banker pays $4.
That means that in order to get the same revenue, Commerce has to have twice as many no-collection baccarat tables as it would have had regular baccarat tables.
Whether collecting $4 a hand or $9, these games bring in big money to the casinos. A no-collection baccarat table goes through about 40 hands an hour. At $4 a hand, that's revenue of $160 an hour. Casinos are open 24 hours a day and 365 days a year, so a single no-collection baccarat table could produce annual revenue of $1.4 million.
And there are lots of tables. On a recent Friday afternoon, 30 no-collection baccarat tables were up and running, some with 10 or more gamblers crowded around. John Griffo, the casino's director of business development, said the gaming floor didn't look like this before Commerce started offering no-collection baccarat a few months ago.
"This looks like a good Saturday night used to look," Griffo said, "maybe a little better."
And the tribal casinos say that gain has come at their expense.
When it cost $1 a hand to play blackjack and baccarat in Commerce or Compton, many L.A. gamblers were willing to drive two or three hours to play the same games for free at Pala. Now that the games cost players the same – nothing – they're staying closer to home, Crenshaw said.
"We had an extraordinarily active business with folks from L.A. and Orange County," he said. "We had enormous baccarat games. By and large, that business has fallen off greater than 50 percent. It's had a huge impact on us."
Low margin
But don't confuse busy with lucrative. Local casinos' no-collection games bring in more gamblers, but they generate lower margins.
Even if the card clubs can match their old collection revenue by having more tables for no-collection games, they need to hire more dealers to work those games. The third-party banks, too, have to hire more bankers and pay higher fees. It's profitable for the card clubs, sure, but it's not like it used to be, said Keith Sharp, an attorney for the Hawaiian Gardens Casino and Metis TPS, the third party that banks games at the Commerce Casino.
"No-collection baccarat brings in hundreds more people a day to the card room," Sharp said. "Is there more play? Sure. But it's a lower-margin business. I guess it can be successful if you're the only one in town who does it, but it becomes a race to the bottom."
And that's how it started out – with just one card room looking for a competitive advantage.
It was late 2012, and Compton's Crystal Casino was struggling, said Haig Kelegian Sr., one of the owners of the casino and a veteran of the local casino business. (He's also a part owner of the Commerce Casino and Bicycle Casino, and his son, Haig Jr., runs Crystal.)
One of the smallest of Los Angeles County's seven card rooms, Crystal didn't have the resources to put on big tournaments or advertise as much as its bigger rivals – chiefly Commerce, Hawaiian Gardens and Bicycle, the three largest card rooms in the state.
"We had no choice but to start no-collection," Kelegian Sr. said. "Every time we had a different avenue of business promotion, the other clubs would go over the top. They'd crush us."
Crystal started by offering no-collection baccarat, hoping to bring in more gamblers. And Kelegian Jr. said it worked. For a while.
Early last year, just a few months after Crystal started offering no-collection baccarat, three more casinos followed suit: Inglewood's Hollywood Park Casino and the Normandie Casino and Hustler Casino, both in Gardena.
That prompted the next step in the no-collection arms race: Crystal stopped collecting player fees on all of its games – pai gow, blackjack, three-card poker. It now bills itself as L.A.'s only no-collection casino. Freeway billboards for the casino ask, "Why pay to play?"
Despite the no-collection games at the smaller casinos, the county's three biggest card rooms continued to charge a collection for all games. But that changed a few months ago.
Commerce, Bicycle and Hawaiian Gardens all started no-collection baccarat games in September, saying they'd lost market share to the smaller clubs.
"Think of me as a 300-pound man," Commerce's Papaian said. "I've got all these little guys taking swings at me. At a certain point, I've got to swing back. We were losing business. Enough is enough."
Fighting back
The big card rooms weren't just holding out. They were actively campaigning against no-collection games.
All three last year supported a bill by Assemblyman Jimmy Gomez, D-Echo Park, that would have prohibited no-collection games for non-Indian casinos. Hustler also supported the bill, despite offering no-collection games itself.
The bill never made it past the state Senate. Now, opponents of no-collection games are pushing for the state's Bureau of Gambling Control, part of the Attorney General's Office, to take action on its own to end no-collection games.
The bureau in October released a set of draft proposals that would place new restrictions on no-collection games. It's not clear it would make them illegal, but Kelegian Jr. said the proposals are a big step in that direction.
The Attorney General's Office did not return calls for comment.
While tribes and big card clubs are in favor of some kind of no-collection ban, smaller clubs, Crystal in particular, plan to fight. Kelegian Sr. said no-collection games are the only reason Crystal has been able to stay in business.
"If Crystal has to go to collection, the big clubs will just bury Crystal with promotions, prizes, jackpots," he said. "They have greater income and can use their strength to crush Crystal."
And if new regulations do come down, he said Crystal will keep its no-collection games going until the bitter end – then likely find a new way around the new regulations.
"We might figure something out," he said. "Maybe collect a nickel a hand or 20 cents a hand. Maybe charge an entry fee and then let you play free. But I'm not doing anything until the state comes down final."
For reprint and licensing requests for this article, CLICK HERE.