Online Shows Tapping TV Talent
internet: YouTube producer channels small-screen vets, sponsor.
Monday, August 25, 2014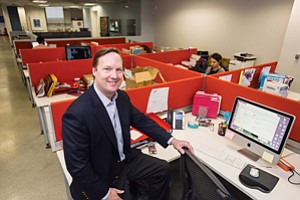 Veteran television writer Douglas Lieblein is no stranger to working with teen pop stars. In the late 2000s, he helped Miley Cyrus become a household name as a writer and co-executive producer on the Disney Channel's "Hannah Montana."
His new show, "Summer With Cimorelli," premiered in June and instead of one teen singer it features six-sister pop a cappella group Cimorelli.
But apart from teen singers, everything's different.
It's being distributed not on a TV network but on YouTube, where the group gained its fame. And it's financed by a fast-food chain, Subway, rather than a studio.
The show's stars and distribution method signal a sign of the times. A survey released earlier this month by entertainment trade publication Variety found that YouTube stars are now more popular than mainstream Hollywood actors among American teens, and brands such as Subway are looking to capitalize on this trend by funding scripted shows online featuring Internet celebrities.
"It's a tipping point," said Dominic Sandifer, president of West Hollywood branded entertainment agency and studio Greenlight Media & Marketing. "For brands that want to reach that 12-to-24-year-old demographic, they're certainly looking to work with this new breed of celebrity and creator."
Even though he had never worked on a Web series before, Lieblein was comfortable with the show's premise.
"Writing a sitcom for a female music star had something to do with why they targeted me," he said.
He also said that he wasn't worried about corporate marketing executives demanding he cram ham sandwiches into every scene. After all, he had already worked for one of the biggest brands of them all – Walt Disney Co., whose suits ensured that "Hannah Montana" episodes adhered closely to its family-friendly image.
"After doing 101 episodes for 'Hannah Montana' on Disney Channel, I'm not afraid of a brand at all," Lieblein quipped.
In fact, he said that Subway offered him more creative freedom than he had ever experienced in his previous two decades or so in the television industry. Subway, a division of Doctor's Associates Inc. in Milford, Conn., even asked him to cut some scenes featuring their sandwiches and stores, fearing audiences would feel like they were watching a commercial.
"They actually asked us to be less heavy-handed," Lieblein said.
Studio for brands
The company that brought Subway and Lieblein together is West L.A.'s Content & Co., headquartered in the Westside Towers office complex on Olympic Boulevard. The company develops and produces original scripted content specifically for brands, pairing top Hollywood creative talent with teen YouTube stars that have established a loyal and enthusiastic fan base of young people about their own age.
"We act very much like a traditional studio," said Stuart McLean, founder and chief executive of Content & Co. "We get scripts written and budgets run."
Branded entertainment itself is not new. Product placement, for instance, has been around for decades, and brands even sponsored entire blocks of television programming as early as the 1950s.
More recently, Pawtucket, R.I., toymaker Hasbro Inc. has spun billions in box office gold by turning its Transformers and G.I. Joe lines into summer movie blockbusters.
What's changing is the migration of advertising dollars to the digital realm. For instance, marketers spent $43 billion on Internet advertising last year, more than any other platform, according to figures from the Internet Advertising Bureau and PricewaterhouseCoopers. That's nearly $3 billion more than broadcast TV and about $9 billion more than cable.
While Content & Co.'s McLean said the amount of Internet ad money going toward original content creation is still small, it's getting bigger.
"It's certainly grown," he said. "You've seen the move from broadcast dollars."
Others have noted the shift as well, including Sarah Penna, co-founder and chief creative officer at Culver City multichannel network Big Frame, which is owned by AwesomenessTV, a DreamWorks Animation subsidiary.
"The majority of our business is focused on brand integration, not Google AdSense," said Penna, whose company creates and markets video content on YouTube. "It used to be brands would give us their experimental marketing budget. Now we're seeing brands and agencies making it a line item in their media buying plan."
Enhanced distribution
Why are brands so interested in putting hundreds of thousands, even millions of dollars toward scripted series on YouTube and other online video outlets such as Hulu?
Doing so enables them to distribute the shows through their own stable of social media outlets and also those of the popular headliners. Cimorelli's YouTube channel, for instance, has about 2.8 million subscribers.
Additionally, social media provides useful analytics into who is watching the content and their other interests. Plus, video players such as YouTube offer brands data about when viewers click the stop button, so executives can see what's not working.
"It allows brands to get into lots of different nooks and crannies that they wouldn't be invited into," said McLean, including Twitter, Facebook, Google Inc.-owned YouTube and even popular entertainment blogs. "Normally that's a very hard place for a brand to have a true reason to be there. This provides natural progression."
Greenlight's Sandifer said the opportunity to release content through a variety of different channels opens the brand up to a far greater number of potential consumers than television. In addition to distribution through social media, Greenlight also aired a recent music documentary it produced for Hyundai Motor Co. called "Re: Generation Music Project" on a screen at the Coachella Valley Music and Arts Festival.
"We were able to contextualize it in all of these places," Sandifer said.
Mutual benefit
After McLean and Content & Co. identified Sacramento sister act Cimorelli as the perfect stars for a new Subway-funded show, they approached Lieblein to write and executive produce the five-episode series.
Lieblein was in between TV jobs when he got the call from his agent, Ian Greenstein of Century City's Resolution Talent & Literary Agency, so the timing was right.
While Content & Co. is a Writers Guild of America signatory, it's common knowledge in the industry that online projects don't pay as much as TV. Also, original shows written for free streaming sites such as YouTube do not have fee minimums under the union's current contract.
Neither McLean nor Lieblein disclosed the writer's fee, but Lieblein described it as comparable with previous jobs. McLean said the show's total budget was on par with the cost of producing reality TV shows for cable. Such programs typically run in the low to midsix figures per episode.
Experienced writers such as Lieblein, who have a history of earning certain rates, would likely have more leverage in negotiations than new scribes.
However, Lieblein said he had other motivations to take the job.
"Every writer wants the freedom that comes from producing content for the Web," he said. "It seemed fun."
Lieblein acknowledged that he didn't know much about Cimorelli, but his two young sons did, which made him optimistic about the show's chances.
Also joining the production team was Melanie Mayron, a television director with nearly 25 years of experience working on shows such as ABC Family's "Pretty Little Liars" and Lifetime's "Army Wives."
The comedy follows the Cimorellis as they try to survive a summer with no parents and no cash. Content & Co. shot it locally over the course of a month this spring at locations including Encino and Venice. The first episode is approaching 1 million views on YouTube, while the later episodes are hovering in the 500,000 to 600,000 range. Each one lasts between five and eight minutes.
The show is not the first Content & Co. effort funded by Subway. A previous effort, "The 4 to 9ers," was created by former "Two and a Half Men" director James Widdoes and aired on Hulu last year.
Lieblein said he, Mayron, and executive producer Peter Isacksen of Content & Co. handled the creative process from concept through delivery.
In Lieblein's view, the project made sense for all parties involved.
"YouTube stars don't really have the dramatic storytelling chops that we do so it's a marriage made in heaven for both us," he said. "We can put their success into a format that can have some form of longevity."
For reprint and licensing requests for this article, CLICK HERE.