Online Shows Tapping TV Talent
internet: YouTube producer channels small-screen vets, sponsor.
Monday, August 25, 2014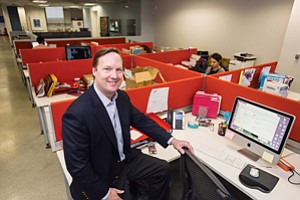 Veteran television writer Douglas Lieblein is no stranger to working with teen pop stars. In the late 2000s, he helped Miley Cyrus become a household name as a writer and co-executive producer on the Disney Channel's "Hannah Montana."
His new show, "Summer With Cimorelli," premiered in June and instead of one teen singer it features six-sister pop a cappella group Cimorelli.
But apart from teen singers, everything's different.
It's being distributed not on a TV network but on YouTube, where the group gained its fame. And it's financed by a fast-food chain, Subway, rather than a studio.
The show's stars and distribution method signal a sign of the times. A survey released earlier this month by entertainment trade publication Variety found that YouTube stars are now more popular than mainstream Hollywood actors among American teens, and brands such as Subway are looking to capitalize on this trend by funding scripted shows online featuring Internet celebrities.
"It's a tipping point," said Dominic Sandifer, president of West Hollywood branded entertainment agency and studio Greenlight Media & Marketing. "For brands that want to reach that 12-to-24-year-old demographic, they're certainly looking to work with this new breed of celebrity and creator."
Even though he had never worked on a Web series before, Lieblein was comfortable with the show's premise.
"Writing a sitcom for a female music star had something to do with why they targeted me," he said.
He also said that he wasn't worried about corporate marketing executives demanding he cram ham sandwiches into every scene. After all, he had already worked for one of the biggest brands of them all – Walt Disney Co., whose suits ensured that "Hannah Montana" episodes adhered closely to its family-friendly image.
"After doing 101 episodes for 'Hannah Montana' on Disney Channel, I'm not afraid of a brand at all," Lieblein quipped.
In fact, he said that Subway offered him more creative freedom than he had ever experienced in his previous two decades or so in the television industry. Subway, a division of Doctor's Associates Inc. in Milford, Conn., even asked him to cut some scenes featuring their sandwiches and stores, fearing audiences would feel like they were watching a commercial.
"They actually asked us to be less heavy-handed," Lieblein said.
Studio for brands
The company that brought Subway and Lieblein together is West L.A.'s Content & Co., headquartered in the Westside Towers office complex on Olympic Boulevard. The company develops and produces original scripted content specifically for brands, pairing top Hollywood creative talent with teen YouTube stars that have established a loyal and enthusiastic fan base of young people about their own age.
For reprint and licensing requests for this article, CLICK HERE.
Prev Next