Clippers Deal Took Six Days of Sleepless Nights
LAW: Dealmaker gives play by play of fast-break NBA team sale.
Monday, August 25, 2014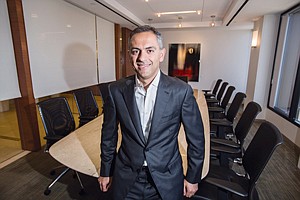 It started with a phone call Friday night at the opening of Memorial Day weekend. It ended with a champagne celebration six days later when the Los Angeles Clippers changed hands. In between there were bids that featured shovelfuls of celebrity names, a speaker phone with Donald Sterling bellowing his defiance and much lost sleep for the chief negotiator in the deal.
Bob Baradaran has spent most of his career as a transactional attorney, so he's no stranger to late nights, aggressive time lines and complicated deals. But 100 years of experience couldn't have prepared him for shepherding the sale of a professional basketball team in less than a week.
Baradaran, managing partner of Century City law firm Greenberg Glusker, was the lead attorney for the $2 billion sale of the Clippers to former Microsoft Corp. Chief Executive Steve Ballmer. The deal moved like lightning from the moment Shelly Sterling decided to sell the team until the documents were signed. A spectacular accomplishment considering the complexity and the scandal that had enveloped the team's ownership.
"You needed to have expertise in multiple disciplines," Baradaran said. "There was litigation that was ongoing. There were trust and estate issues. Then you finally get to the M&A deal, which is buying and selling a sports team. And when you layer all of that, doing it in literally six days, I don't think I'm going to ever see a deal like this again."
Tipoff
Longtime Clippers owner Donald Sterling, who had the team since 1981, was banned by the National Basketball Association after TMZ publicized an audiotape of him making racist comments in late April.
The following month, taking advantage of a provision in the trust that held the team, Sterling's wife, Shelly, gained the right to become sole trustee when two neurologists determined that her husband was mentally incapacitated in a medical examination. That determination proved to be a key factor in the sale process.
Although Donald Sterling made it clear he would vigorously fight to keep the team, Shelly Sterling was the sole trustee, so she could go ahead and cash out instead of battling the league in court.
When Shelly Sterling decided to do just that at the beginning of Memorial Day weekend, she called Baradaran, head of Greenberg's transaction department. She had been a client of the firm's trust and estate practice for about two years.
Baradaran was having Shabbat dinner with his wife while he was talking with NBA officials on the phone.
He knew it was going to be a long weekend.
First half
He woke up at 6 a.m. that Saturday and started fielding calls at 8. The first person to ring: Ballmer.
While many Angelenos were getting some sun on the beach or trying their luck in Las Vegas, Baradaran was glued to his phone all day throughout the three-day weekend, sleeping two or three hours a night. He received between 20 and 30 calls from serious bidders or people connected with them. They included business execs from around the country and even a group out of Dubai.
Baradaran said there were a half- dozen "very serious" bidders and about 12 "qualified bidders." The distinguishing factor between the two groups was pro sports experience.
"The serious bidders already had interest in major league sports, or had made bids on major league sports teams and either had a minority interest or were unsuccessful acquiring a team," he said. "They understood the issues and what drives value for the team."
Baradaran first met Ballmer in the flesh late Sunday. The software mogul had visited with Shelly Sterling at her Malibu home that afternoon, and the two of them then drove to the Four Seasons Los Angeles at Beverly Hills to join Baradaran for drinks. Ballmer made an immediate impression.
"When I met with Steve, I knew he was going to be the buyer," Baradaran said.
Ballmer stood out for three reasons. One, he's a basketball nut. Two, with an estimated net worth of more than $20 billion, he could easily write the check. And, most importantly, he'd bid on two pro basketball teams before, the Seattle SuperSonics in 2008 and the Sacramento Kings in 2013, and was a known quantity to the league, which vets every new owner.
Baradaran also liked the fact that Ballmer did not bring a bloated entourage to the negotiations. While other bidders often interacted with the Greenberg team via bankers and counselors, Ballmer made sure he was personally available to take calls and respond to emails.
Ballmer was holed up at the Peninsula in Beverly Hills all week. He had dinner with Baradaran on Monday, Tuesday and Wednesday, just the two of them. But as well as that courtship was going, the Clippers were still entertaining other suitors.
While Baradaran acknowledged that Donald Sterling knew something about what was going on and remained opposed to the sale, the embattled owner had no involvement in the negotiations. Shelly Sterling was running the show.
Second half
Shelly Sterling and Baradaran hired Bank of America Merrill Lynch on Monday afternoon – Memorial Day – to handle the investment banking side of the deal. On Tuesday morning, Baradaran and his team got in early and set up a war room at Greenberg's Century City office, where they took calls and discussed strategy. They decided to set the parameters for a deal, but let the bidders name their price. So they sent out a term sheet with a blank space to serious prospective buyers.
"Fill in the number and give us your comments," Baradaran said he told them.
By Tuesday afternoon, three bidders had responded to the term sheet.
One was Ballmer, with an offer of $1.93 billion. Another was a group of billionaires including music mogul David Geffen; TV icon Oprah Winfrey; Oracle Corp. Chief Executive Larry Ellison; and Laurene Powell Jobs, wife of late Apple Inc. co-founder Steve Jobs. They offered $1.6 billion. The third was a team led by former NBA all star Grant Hill, Ares Management Chief Executive Tony Ressler and Oaktree Capital Management co-founder Bruce Karsh, who offered $1.2 billion.
Ballmer had the highest offer. But importantly, he was more interested in getting the deal done than in quibbling over line items.
"One of the things that Steve was very good at was to not get lost in the weeds and the details," Baradaran said. "He focused on the most critical, important issues. It obviously was his third time around bidding on a team and he didn't get hung up on stuff that didn't amount to significant dollars. The other bidders were less strategic in their approach."
On Wednesday, Baradaran and his team started parallel negotiations with all three bidding groups. By Thursday afternoon, he and Shelly Sterling locked in on Ballmer. But by then, they only had a few hours to put pen to paper before the midnight deadline they set for themselves. They wanted the deal done so they could have a few days to get everything formalized before the league's hearing Tuesday, June 3, regarding Donald Sterling's appeal of his ban.
The buzzer
Ballmer agreed to raise his price to an even $2 billion, and he brought in his lawyers to work with Baradaran's team and finish the job.
Shelly Sterling headed to Greenberg's office on Avenue of the Stars, while Ballmer stayed in his suite at the Peninsula and hammered out final details over the phone. The Greenberg team late Thursday dialed Donald Sterling as a courtesy. He remained opposed and his displeasure could be heard over the speaker phone. But with Shelly Sterling becoming the sole trustee, they didn't need his approval.
Once all the lawyers on both sides signed off on the final details, Ballmer took the two-minute drive to Century City and made it official shortly before midnight with his signature.
About midnight, Baradaran, Ballmer and some of Ballmer's buddies walked over to the Hyatt Regency Century Plaza and celebrated with a champagne toast. Then, after that run of 20-hour days, Baradaran went home to catch up on lost sleep. He came to work at noon the next day.
On Friday, it was back to business as usual for Baradaran.
But one thing that will change is the color he'll wear to Staples Center this fall.
"Until recently, I was a Lakers fan," Baradaran said. "But I'm turning in my Lakers season tickets and I'm going to be there for Clippers opening night."
For reprint and licensing requests for this article, CLICK HERE.