Clippers Deal Took Six Days of Sleepless Nights
LAW: Dealmaker gives play by play of fast-break NBA team sale.
Monday, August 25, 2014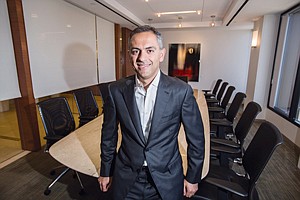 It started with a phone call Friday night at the opening of Memorial Day weekend. It ended with a champagne celebration six days later when the Los Angeles Clippers changed hands. In between there were bids that featured shovelfuls of celebrity names, a speaker phone with Donald Sterling bellowing his defiance and much lost sleep for the chief negotiator in the deal.
Bob Baradaran has spent most of his career as a transactional attorney, so he's no stranger to late nights, aggressive time lines and complicated deals. But 100 years of experience couldn't have prepared him for shepherding the sale of a professional basketball team in less than a week.
Baradaran, managing partner of Century City law firm Greenberg Glusker, was the lead attorney for the $2 billion sale of the Clippers to former Microsoft Corp. Chief Executive Steve Ballmer. The deal moved like lightning from the moment Shelly Sterling decided to sell the team until the documents were signed. A spectacular accomplishment considering the complexity and the scandal that had enveloped the team's ownership.
"You needed to have expertise in multiple disciplines," Baradaran said. "There was litigation that was ongoing. There were trust and estate issues. Then you finally get to the M&A deal, which is buying and selling a sports team. And when you layer all of that, doing it in literally six days, I don't think I'm going to ever see a deal like this again."
Tipoff
Longtime Clippers owner Donald Sterling, who had the team since 1981, was banned by the National Basketball Association after TMZ publicized an audiotape of him making racist comments in late April.
The following month, taking advantage of a provision in the trust that held the team, Sterling's wife, Shelly, gained the right to become sole trustee when two neurologists determined that her husband was mentally incapacitated in a medical examination. That determination proved to be a key factor in the sale process.
Although Donald Sterling made it clear he would vigorously fight to keep the team, Shelly Sterling was the sole trustee, so she could go ahead and cash out instead of battling the league in court.
When Shelly Sterling decided to do just that at the beginning of Memorial Day weekend, she called Baradaran, head of Greenberg's transaction department. She had been a client of the firm's trust and estate practice for about two years.
Baradaran was having Shabbat dinner with his wife while he was talking with NBA officials on the phone.
Prev Next
For reprint and licensing requests for this article, CLICK HERE.