Riding Wave In Men's Grooming
Byrd Hairdo hopes to get surfers on board with pomade line.
Monday, August 18, 2014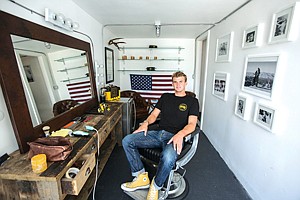 Pro surfer Chase Wilson couldn't find a super-small tin of pomade that he could keep in his pocket for a stylized look that wouldn't wash out of his hair in the waves. So he made it himself.
Now, Wilson said his five-employee Culver City hair-care firm, Byrd Hairdo Products, is doing well enough that he can expand the product line in coming weeks.
He said the venture is about as natural for him as paddling out for a surf session.
"I've always been passionate about hair," Wilson said.
Wilson launched the company in 2012 and moved it to Los Angeles earlier this year from his hometown of Newport Beach. The company's new space is an office with a barber-shop showroom called Byrd's Nest where visitors can get styled.
Wilson said he developed the company's first product, wax-based pomade, with the help of a chemist in Berkeley, using about $50,000 of his savings to get things going. The pomade is manufactured in El Segundo. He named the company in reference to his nickname, "Big Bird."
Byrd has sold thousands of the $15, 1-ounce pomades online and at retailers such as Deus Ex Machina in Venice, Wilson said.
It turns out his timing was good, since the coifs sported in "Endless Summer" have come back in style lately. Byrd's mantra is to make grooming products designed for "today's gentleman surfer."
Wilson said that he recently raised some money from a family friend and invested about $100,000 to bring a new line of products to market. Those will include water-based pomades for a matte or shiny look, T-shirts and travel kits.
Wilson spends much of his time traveling the world to compete in surfing contests, but he also tries to fit in some business on those trips. He also gets promotional help from such pro surfing buddies as Luke Davis and Kolohe Andino.
Wilson's goal is to qualify for the World Championship Tour, where Kelly Slater and other top stars compete.
But he said he's using the rest of his energy to keep building the business.
"My whole time commitment other than surfing is Byrd," he said.
– Jonathan Polakoff
For reprint and licensing requests for this article, CLICK HERE.