Betting on Risk
LENDING: Celtic Capital spins off from bank parent PacWest in order to maintain focus on high-risk asset-based loans.
Monday, August 11, 2014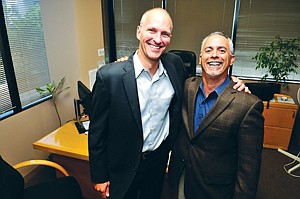 Celtic Capital Corp. was part of Century City's PacWest Bancorp for just two years but that was long enough for Celtic's executives to realize they're lenders, not bankers.
Last month, Celtic, an asset-based lender in Santa Monica, broke off from PacWest. Executives Mark Hafner and Alexander Falo say the move frees Celtic to lend to the troubled companies they have always served, rather than the more stable borrowers preferred by banks.
"Banks look for bigger deals and lower risk, but that didn't fit the space Mark and I grew up in," said Falo, Celtic's chief credit officer. "If you're good in the niche you're in, why change?"
With backing from a private equity group, Hafner and Falo bought the company from PacWest last month. The bank holding company had purchased Celtic in 2012 to help boost its small asset-based lending practice.
But after PacWest's acquisition this spring of downtown L.A. lender CapitalSource, which had more than $1 billion in asset-based loans, Celtic wasn't a priority. The Santa Monica lender has less than $100 million in loans. PacWest executives did not return calls for this article.
Under PacWest's ownership, Celtic and two similar lenders had operated as independent subsidiaries. But now, PacWest has consolidated all its asset-based lending into CapitalSource – something Hafner said doesn't interest him. He's been with Celtic since 1985, three years after his father founded the company.
"We've always been in control of our own destiny," Hafner said. "I've always looked at the business as mine anyway, no matter who owned it."
Troubled assets
Celtic, like other asset-based lenders, offers revolving credit lines backed by a company's equipment or its accounts receivable – that is, money owed by other businesses.
Many commercial banks offer asset-based loans, typically to clients who wouldn't qualify for standard loans, but Celtic specializes in lending to businesses that are too risky even for a bank's asset-based loan division. Its clients are typically losing money or have too much debt but could recover with the help of some extra cash.
"We're looking at a company and asking, have they hit the bottom of the trough and are they on the way back up?" Hafner said.
That business proved riskier than PacWest wanted. Nonbank lenders such as Celtic don't have federal deposit insurance and don't answer to bank regulators, so they can make riskier loans than banks.
Soon after PacWest acquired Celtic in 2012, Falo said that the bank wanted the firm to start working with more-stable clients. But that proved difficult because of Celtic's history.
The firm's business is entirely based on referrals, with most of those coming from commercial bankers who send Celtic troubled clients who can no longer qualify for bank loans. To change direction, Falo said Celtic would have needed to build an entirely new source of referrals. It would also be competing against much larger lenders rather than the other small niche players that also lend to distressed companies.
"We told them, 'If you want us to do those deals, we'll be in the realm of bigger lenders,'" Falo said. "Why do I want to compete against billion-dollar lenders when we can be very profitable doing what we're doing?"
Celtic split off from PacWest last month, with backing from Miami private equity firm Pine Tree Equity. Financial details were not disclosed. Now Pine Tree, Hafner and Falo each have an ownership stake in Celtic.
PacWest seems to have blessed the split, giving Celtic a line of credit that the firm will use to fund its loans. Hafner wouldn't disclose the exact size of Celtic's loan portfolio, but it's likely in the tens of millions – tiny compared with the more than $1.6 billion in asset-based loans PacWest acquired when it bought CapitalSource.
That gave Hafner and Falo a good reason to leave, and gave PacWest no reason to object, said Julianna Balicka, a managing director at San Francisco brokerage and investment bank Keefe Bruyette & Woods who follows PacWest.
"The founders of Celtic found themselves in a position where they were less meaningful to PacWest," she said. "They figured they were better off on their own."
Fourth time around
Leaving PacWest marks the fourth time Celtic has changed hands since 2005. That year, Mark Hafner and his father, Bron, sold the firm to Discovery Bank, a small San Marcos lender.
Discovery, which has since been acquired, later sold Celtic to Pine Tree.
That firm owned Celtic outright from 2008 to 2012. During that time, Celtic nearly tripled the size of its loan portfolio from about $20 million to nearly $60 million.
The recession and credit crisis were a boon to asset-based lenders, which were able to continue lending as banks pulled back. But as the economy recovers, asset-based lending is starting to wane, meaning Celtic's independence comes at a time when growing its business will be difficult.
Hafner acknowledged that challenge, but also said he'd rather be a private entity during tough times than be part of a publicly traded bank.
"When the economy is doing well, our business tends to be slower," Hafner said. "But that's one of the nice things about being private. You don't have the world looking at you saying, 'Why were you flat this quarter?'"
Falo, too, said business might be slower for a few years, but he's confident that the economy will eventually push borrowers back to asset-based lenders.
"We want to stay ready for when the next recession comes," he said.
For reprint and licensing requests for this article, CLICK HERE.