Money Managers Hit Tech Circuit
INVESTMENT: Many cultivate young CEOs before they're rich.
Monday, August 4, 2014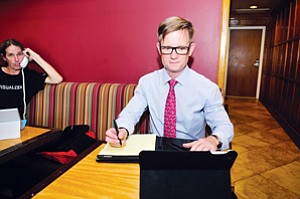 It's become routine for tech investor Mark Mullen: The phone rings and there's a wealth manager on the line.
Looking for clients.
"They say, 'We have a lot of resources. We have tax specialists, retirement specialists. With that newfound money, there are a lot of issues you need to prepare for,'" said Mullen, managing partner at Brentwood venture capital firm Double M Partners, parroting the legion of local money managers he says regularly solicit him and the tech entrepreneurs he knows.
As cash from venture capitalists has flooded into local tech companies in the past few years, wealth managers have followed – sponsoring dinners, schmoozing at tech industry events, and cold-calling investors and entrepreneurs alike, all in the hopes of managing some of the millions of dollars of new tech wealth.
"It's highly competitive," said Darell Krasnoff, senior managing director at Bel Air Investment Advisors, a Century City firm that manages money for tech clients. "It's no secret it's an area where there's a lot of wealth being created."
Money managers have always targeted potential clients in up-and-coming industries, but the tech boom is different. Tech entrepreneurs often are young and have different needs – and they're creating wealth so quickly that wealth managers are changing how they develop new business.
For example, they are sending young associates to networking events, combing through contacts to find ins with tech entrepreneurs and touting their own tech capabilities. And instead of going after established business owners with millions already in the bank, they're targeting founders and early employees of startups, hoping some of them will become multimillionaires, said Bruce Munster, a managing director with Morgan Stanley Wealth Management in Woodland Hills.
"Just like a VC invests in 10 or 12 companies hoping a few will be successful, we invest time and effort into lots of companies," he said. "We know only a handful will become profitable clients."
No minimum
As they compete for young tech money, some wealth managers are reconsidering the types of clients they'll do business with.
For instance, Munster and Eric Johnson, a managing director in Morgan Stanley's Century City office, typically work only with clients who have at least $10 million in investable assets.
But both men are rethinking those minimums, waiving them for clients they believe could hit it big.
"I've probably done accounts under $1 million," Johnson said. "Competition is so fierce now that if we don't work with that guy at that early stage, someone else will establish the relationship. It's forced us all to go downstream."
Prev Next
For reprint and licensing requests for this article, CLICK HERE.