Healthy Votes of Approval for Inhalable Insulin
BIOTECH: MannKind stock rises after its device receives FDA panel's OK.
Monday, April 7, 2014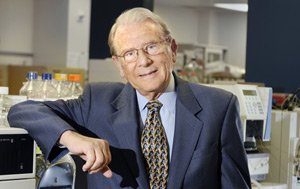 That was one giant leap for MannKind Corp. last week.
Investors jumped on the company's stock after the Valencia biotech's first product, an inhalable insulin dispenser called Afrezza, won a preliminary vote from a Food and Drug Administration advisory panel. It now appears poised for the agency's final approval.
MannKind's stock, which didn't trade April 1, soared 74 percent to close at $6.99 on April 2, finishing the week up 30 percent, making it the biggest gainer on the LABJ Stock Index. (See page 28.)
Simos Simeonidis, an analyst who covers the company for Cowen and Co. in New York, said the vote gave investors confidence that the product will go to market, but he left himself an out, too.
"We view approval as highly likely, but don't consider it a done deal," Simeonidis wrote in a report after the panel's approval.
The panel approved Afrezza 13-1 for treatment of Type 1 diabetes and 14-0 for Type 2.
But Simeonidis noted that the panel raised some serious concerns about the inhaler, mainly focusing on lung function. He also mentioned that the company will likely be required to put labels on Afrezza's packaging that warn smokers or people with asthma not to use it, a potential sales problem.
Graig Suvannavejh, an analyst with MLV & Co. in New York, called the decision a "resounding vote of confidence" and a "significant de-risking event" for the company.
Suvannavejh believes final approval is close to certain, although it might not happen by the first possible date the FDA could take action, April 15, due to time constraints.
"When you have a resounding vote, off the top of my head I'd say there's a greater than 95 percent chance it will get approved," he said.
MannKind is already in talks with companies that can market Afrezza once it gets the green light from the FDA.
"Approval is the next step, so we're not able to speculate on a time line when we would pick a partner," said Matthew J. Pfeffer, MannKind chief financial officer. "But clearly, sooner is better."
MannKind's founder Alfred Mann, 88, is estimated to have invested close to $900 million during the 10-year development of the product. During that time, the FDA delayed approval on three occasions, requesting more information and tests.
When the market closed April 2, Mann's 40 percent stake in the company was valued at about $1 billion.
Elliot Golan, a reporter at the San Fernando Valley Business Journal, contributed to this article.
For reprint and licensing requests for this article, CLICK HERE.