Scoring Points
INTERNET: Startup Scopely shoots for success in mobile game industry by letting others invent apps while it markets them.
Monday, September 23, 2013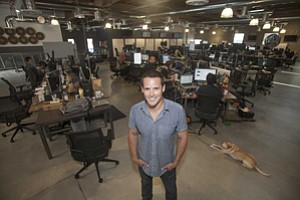 A new iPhone game, Wordly, briefly topped the app download charts early this month.
The game, which can roughly be described as a cross between Boggle and Risk, was developed by Scopely Inc., a mobile games publisher in Culver City.
Outwardly, the game's success was proof that the startup could churn out a hit when it wanted; this was the fourth Scopley-built game to land among the top five most downloaded apps in Apple Inc.'s App Store.
But building games internally is not the company's goal.
Rather, Scopely fashions itself as a gaming network – the HBO of apps. Its gambit is to partner up with makers, let them do the work of inventing an app and then tweak, test and promote the product until it's something that might actually make money.
If that sounds more like marketing than development, that's the point. The App Store is a sprawling flea market of mobile games; trying to get yours to stick out in among the more than 1 million offerings is tough.
"We work with indie developers that don't have financial resources and large gaming companies that don't feel like they're where they want to be," said Walter Driver, Scopely's co-founder and chief executive. "The goal's always the same: How can we make this game bigger?"
Scopely's big pitch for its partners is that it can turn apps into real moneymakers. That means helping them create partnerships with big brands – Scopely has worked with Starbucks Corp., Coca-Cola Co. and Samsung Electronics Co. for in-game advertising. The company offers developers access to its tournament platform, which players have to pay to access. It's also common in mobile games to charge users to buy virtual goods or advance to higher levels – a strategy that Scopely pushes heavily.
Driver claims Scopely is able to consistently double a game's revenue through its monetization tools.
Even though a game maker has to end up sharing that revenue with a publisher (Driver wouldn't say what his company's take is), it might be worth it for a small studio trying to get its new game into people's hands.
"The barrier to entry in the mobile world is extremely low and that makes for a crowded marketplace," said Mike Hickey, a gaming analyst at the Denver office of research firm Benchmark Co. "But once you get on the download charts one way or another, people know who you are. It becomes a self-fulfilling prophecy."
Prev Next
For reprint and licensing requests for this article, CLICK HERE.