Scoring Points
INTERNET: Startup Scopely shoots for success in mobile game industry by letting others invent apps while it markets them.
Monday, September 23, 2013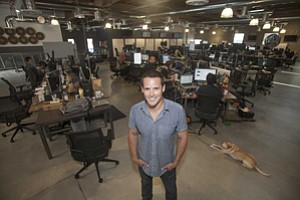 A new iPhone game, Wordly, briefly topped the app download charts early this month.
The game, which can roughly be described as a cross between Boggle and Risk, was developed by Scopely Inc., a mobile games publisher in Culver City.
Outwardly, the game's success was proof that the startup could churn out a hit when it wanted; this was the fourth Scopley-built game to land among the top five most downloaded apps in Apple Inc.'s App Store.
But building games internally is not the company's goal.
Rather, Scopely fashions itself as a gaming network – the HBO of apps. Its gambit is to partner up with makers, let them do the work of inventing an app and then tweak, test and promote the product until it's something that might actually make money.
If that sounds more like marketing than development, that's the point. The App Store is a sprawling flea market of mobile games; trying to get yours to stick out in among the more than 1 million offerings is tough.
"We work with indie developers that don't have financial resources and large gaming companies that don't feel like they're where they want to be," said Walter Driver, Scopely's co-founder and chief executive. "The goal's always the same: How can we make this game bigger?"
Scopely's big pitch for its partners is that it can turn apps into real moneymakers. That means helping them create partnerships with big brands – Scopely has worked with Starbucks Corp., Coca-Cola Co. and Samsung Electronics Co. for in-game advertising. The company offers developers access to its tournament platform, which players have to pay to access. It's also common in mobile games to charge users to buy virtual goods or advance to higher levels – a strategy that Scopely pushes heavily.
Driver claims Scopely is able to consistently double a game's revenue through its monetization tools.
Even though a game maker has to end up sharing that revenue with a publisher (Driver wouldn't say what his company's take is), it might be worth it for a small studio trying to get its new game into people's hands.
"The barrier to entry in the mobile world is extremely low and that makes for a crowded marketplace," said Mike Hickey, a gaming analyst at the Denver office of research firm Benchmark Co. "But once you get on the download charts one way or another, people know who you are. It becomes a self-fulfilling prophecy."
Fast-forward
Scopely was quietly founded in 2011; at launch it had 11 employees, all working from a live-work space in Hollywood.
The company has a diverse collection of co-founders: Some, like Driver, have mobile gaming backgrounds, others come from tech's further reaches.
Among the founding team is Eytan Elbaz, co-founder of Pasadena's Applied Semantics, which was acquired by Google Inc. in 2004 and remains the core of the Mountain View firm's ad tech engine.
Earlier this year, Scopely signed up Chris Ovitz, a co-founder of Venice's Viddy Inc. and son of former Hollywood super agent and Walt Disney Co. President Michael Ovitz. He's been a link to the celebrity promoters that are central to the company's marketing strategy.
The startup has raised only one round of financing – an $8.5 million round last year that was led by Santa Monica's Anthem Venture Partners. Since then, Scopely has grown to 90 employees and recently moved from its overflowing Hollywood office to a space in Culver City off National Boulevard.
Scopely's first hits came last year with its internally developed "… With Buddies" series (Dice With Buddies, Bubble Galaxy With Buddies). The games are unabashed riffs on Zynga Inc.'s "… With Friends" series.
In March, Scopely partnered with New Zealand game maker Rocket Jump to create iPhone game Mini Golf Matchup, which went on to top the App Store charts.
Antony Blackett, managing director of Rocket Jump, described the process with Scopely as "a true collaboration." The game play was largely done by Rocket Jump, but the idea for tournament play, wherein players compete for virtual currency and can double-down with a do-over mode, was from Scopely's engineers.
"When we implemented tournaments, our revenue jumped by 80 percent," Blackett wrote in an email to the Business Journal. "It was incredibly exciting to see how a new social feature could drive retention and monetization to such an extent."
Scopely's quick expansion and promotional mentality has also given the young company a bit of a reputation. In its earliest days, it offered new hires a briefcase full of cash that was wrapped in bacon. Driver said the company moved past that stunt fairly quickly ("The suitcase really began to smell") but it maintains the aggressive tactics.
When Zynga closed its L.A. branch in June, Scopely publicly offered a paid trip to one of the Seven Wonders of the World to anyone who referred a former Zynga employee.
Scopely is also known for bombarding mobile developers with recruitment emails. A form letter that's been sent around entices potential hires by mentioning the company's success in building apps, the strength of its executive team and its "new '(MTV) Cribs' episode-deserving office."
If some recipients might be turned off by the promotion, it doesn't bother Scopely's executives or its backers.
"Some might say it's aggressive, but I always see it as creative," said Bill Woodward, managing director of Anthem. "And you can see that it works. They've got a great team there."
Recently, Scopely has been trumpeting the success of its Wordly game in its emails. One of those messages landed in the hands of Loren Brichter, creator of the mobile game Letterpress.
To any casual observer, Wordly is an eerily close clone of Letterpress' look and game play, and given that Letterpress came first, it raised some hackles in the mobile programming community.
Brichter, who's something of a name in that world for creating the Twitter app Tweetie, was unimpressed. Especially as Wordly went on to bigger success.
"There's a fine line between being inspired and ripping something off," Brichter said. "I don't know if I can define it, but I don't think anyone could argue that Wordly isn't a knockoff."
He said he has no plans of pursuing any legal action and aside from receiving the generic recruitment email has no direct contact with Scopely.
Whether or not Wordly ripped off Letterpress is almost beside the point to Scopely executives. Their developers tweaked the product, including more in-game purchases and a few other competitive features that made it resonate more with audiences.
The game was, in essence, a validation of Scopely's business model.
"We consider dozens of proposals and prototypes from potential partners every month and many of them utilize a game mechanic that riffs off of existing games," Driver wrote in a follow-up email. "I've never had any contact with the developer of Letterpress, but I think it's a great game."
For reprint and licensing requests for this article, CLICK HERE.