Partners Set Stage for TV, Film Industry Coverage
HEALTH CARE: Program aimed at nonunion workers who move from job to job.
Monday, September 23, 2013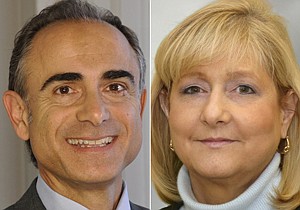 A payroll services company has formed a partnership with an employee benefits consultant and a health insurer to serve a segment of TV and film workers under health care reform.
Entertainment Partners of Burbank said its new EP Cares program is a health plan aimed at tens of thousands nonunion production workers, who typically move from assignment to assignment. While unionized workers in the entertainment industry can rely on their union's health insurance, nonunion workers typically have to buy their own coverage, said Joseph Scudiero, EP's chief labor counsel.
A production company might have 50 to 70 nonunion workers involved with a TV show or movie who may fall through the cracks of the Affordable Care Act, or "Obamacare."
"The Affordable Care Act tends to focus on the needs of full-time employees of a single employer," Scudiero said.
EP Cares is in discussions with several studios and independent production companies about the service, which would handle administration and compliance paperwork as well as the coverage.
Entertainment Partners approached the West Coast office of Lockton Cos., an independent insurance broker in Kansas City, Mo. EP then talked with Anthem Blue Cross, which was looking for opportunities to participate as the exclusive provider in specialty industry-specific plans under Obamacare. Being the exclusive provider would reduce Anthem's risk and allow it to offer more competitive premiums and provider networks because the larger pool would include healthy and less healthy members.
While the federal government has delayed enforcement of the employer mandate to provide coverage until 2015, Lissa Thomson, senior vice president of Lockton's western region operations, said several major and independent production companies have indicated that they will spend next year rolling out expanded insurance coverage to be prepared.
"We've spent a lot of time on actuarial models, developing patterns of business impact for industries under the ACA, but this was a unique need," Thomson said. "Entertainment Partners knew a lot about this (employee) group because of their experience in providing payroll and other services to the studios."
Because the coverage will come through the employer, EP Cares might drop coverage when workers are unemployed for extended periods. But Thomson said they would be able to pick up coverage where they left off once they are employed again.
The plan also would offer the advantage of Anthem's national Blue Cross network and EP's separate arrangements for international coverage. That might appeal to entertainment workers who otherwise might consider the state's California Cares health exchange, since they might often find themselves working on location out of state or in Canada and other countries.
Prev Next
For reprint and licensing requests for this article, CLICK HERE.