Partners Set Stage for TV, Film Industry Coverage
HEALTH CARE: Program aimed at nonunion workers who move from job to job.
Monday, September 23, 2013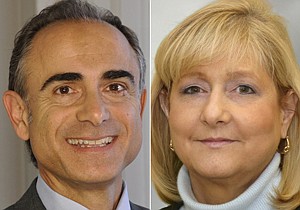 A payroll services company has formed a partnership with an employee benefits consultant and a health insurer to serve a segment of TV and film workers under health care reform.
Entertainment Partners of Burbank said its new EP Cares program is a health plan aimed at tens of thousands nonunion production workers, who typically move from assignment to assignment. While unionized workers in the entertainment industry can rely on their union's health insurance, nonunion workers typically have to buy their own coverage, said Joseph Scudiero, EP's chief labor counsel.
A production company might have 50 to 70 nonunion workers involved with a TV show or movie who may fall through the cracks of the Affordable Care Act, or "Obamacare."
"The Affordable Care Act tends to focus on the needs of full-time employees of a single employer," Scudiero said.
EP Cares is in discussions with several studios and independent production companies about the service, which would handle administration and compliance paperwork as well as the coverage.
Entertainment Partners approached the West Coast office of Lockton Cos., an independent insurance broker in Kansas City, Mo. EP then talked with Anthem Blue Cross, which was looking for opportunities to participate as the exclusive provider in specialty industry-specific plans under Obamacare. Being the exclusive provider would reduce Anthem's risk and allow it to offer more competitive premiums and provider networks because the larger pool would include healthy and less healthy members.
While the federal government has delayed enforcement of the employer mandate to provide coverage until 2015, Lissa Thomson, senior vice president of Lockton's western region operations, said several major and independent production companies have indicated that they will spend next year rolling out expanded insurance coverage to be prepared.
"We've spent a lot of time on actuarial models, developing patterns of business impact for industries under the ACA, but this was a unique need," Thomson said. "Entertainment Partners knew a lot about this (employee) group because of their experience in providing payroll and other services to the studios."
Because the coverage will come through the employer, EP Cares might drop coverage when workers are unemployed for extended periods. But Thomson said they would be able to pick up coverage where they left off once they are employed again.
The plan also would offer the advantage of Anthem's national Blue Cross network and EP's separate arrangements for international coverage. That might appeal to entertainment workers who otherwise might consider the state's California Cares health exchange, since they might often find themselves working on location out of state or in Canada and other countries.
Southwest Expansion
HealthCare Partners, a Torrance-based operator of physician and medical groups, has acquired Arizona Integrated Physicians with more than 700 physicians.
The subsidiary of publicly held DaVita HealthCare Partners Inc. of Denver already has a presence in California, Nevada, New Mexico and Florida. AIP is based in the Phoenix suburb of Peoria.
"AIP is a great addition to the HealthCare Partners family and further expands our geographic coverage to Arizona," said Dr. Robert J. Margolis, HealthCare Partners' chief executive.
DaVita, which used to have its corporate headquarters in Torrance, acquired HealthCare Partners last year.
Business Briefs
Pomona's Inter Valley Health Plan, a non-profit, federally qualified Medicare Advantage health plan, said that it will expand into north Orange County next year. Inter Valley's OC Preferred Plan will serve residents in Santa Ana, Anaheim, Fullerton and La Habra starting Jan. 1. The announcement is timed to attract potential new enrollees, who can enroll or change their Medicare Advantage coverage between Oct. 15 and Dec. 7. Inter Valley has 20,200 members in a region that includes Los Angeles, Riverside and Palm Springs. ... IPC the Hospitalist Co. Inc. in North Hollywood, which employs doctors and other professionals at hospitals, has acquired the hospitalist-related assets of Metropolitan Pulmonary and Hospital Medicine in Kansas City, Mo. …Monarch Medical Group Inc., a Beverly Hills practice management company, said it is expanding its operations in several Southern states, including South Carolina, Florida and Alabama. The company, which already has operations in Georgia, offers urine drug screening and medication dispensing services as well as factoring, acquisition and product development consulting. Monarch said it has plans to expand its presence in the Northeast early next year. ... Corazonas Foods, a Long Beach healthy snack company, announced a collaboration with the Los Angeles County division of the American Heart Association to sponsor its Heart & Stroke Walks in the greater L.A. area this fall. Corazonas gets the opportunity to promote its product line, marketed as "heart healthy," at Los Angeles Heart & Stroke Walk events and Union Bank Wellness Expos.
Staff reporter Deborah Crowe can be reached at dcrowe@labusinessjournal.com or (323) 549-5225, ext. 232.
For reprint and licensing requests for this article, CLICK HERE.