Deadline Nears for L.A. Patch Sites in 'Hyperlocal' Fade
Monday, September 16, 2013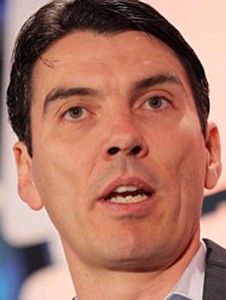 When AOL Inc. planted Patch Media in Los Angeles a few years ago, it gave neighborhoods a fresh community news outlet. But the "hyperlocal" media venture has been a money loser and it's now gone sour.
Many of Patch's L.A. sites are expected to be shut down or merged into other media within the next month.
As part of that transition, dozens of Los Angeles Patch writers and salespeople are being cut. Some were laid off last month, while others were notified they will be let go Oct. 15. AOL announced last month it is cutting as much as half of its 1,000 Patch employees nationwide and either shutting down or trying to sell about a third of its 900 Patch sites.
Of the 34 Patch sites in Los Angeles, a good many are at risk. Michelle Ferrier, an associate dean at the Ohio University Scripps College of Communications who studies hyperlocal media, said many of the sites have not generated enough local advertising revenue for AOL, which has repeatedly promised investors that it would make Patch profitable by the end of this year.
"Some of the sites are in areas where they may never have been able to get enough revenue to run the site," she said. "What we're going to see Oct. 15 is the low-performing sites jettisoned for the higher performing sites."
The endangered sites include Altadena, Pasadena, Baldwin Park, South Gate-Lynwood and Studio City, Ferrier said. Her information comes from confidential e-mails with Patch employees.
Other sites in jeopardy include those in Echo Park-Silver Lake, Eagle Rock, Hollywood, West Hollywood, Sherman Oaks, Woodland Hills, North Hollywood, Northridge, Chatsworth, Brentwood, Culver City and Pacific Palisades, according to a knowledgeable source who spoke on condition of anonymity.
Part of the issue is that Patch debuted during the recession. Each Patch site was to be supported by advertisements from local businesses.
"The local retailers were going out of business. They didn't have extra discretionary income for something they've never heard of before," said one former local Patch editor, who asked to remain anonymous because he still does occasional work for AOL.
The pending cuts have further slashed ad sales at some sites as morale has dropped, according to internal memos posted online. Not only have salespeople been laid off, but at least one local advertiser has declared she will stop buying ads on Patch due to the firing of an editor in Studio City.
Patch employees declined to be quoted on the record for this article because AOL is offering a severance bonus of $3,500 to employees who stay on and do not talk to the press until Oct. 15, according to a Patch employee. Emailed requests for comment from Patch Media were not returned.
Bad news
Patch was founded by Tim Armstrong and partners in 2007 and then sold to AOL for about $7 million in 2009, after Armstrong had become chief executive of AOL. It bought Patch to widen its content business, which also includes Huffington Post.
Many of the Patch sites in Los Angeles were launched in 2010. They span from the San Fernando Valley to the South Bay. The ambitious rollout was welcomed by many journalists since traditional news organizations were downsizing.
The idea behind Patch was to give local communities the news and information that was often overlooked by regional outlets: for example, coverage of neighborhood council and school board meetings. The model was designed to be low-cost – a single editor equipped with a laptop would oversee the coverage of a community and serve as the face of the local site.
But part of the problem has been the costliness of newsgathering. AOL has sunk as much as $120 million a year into the venture since buying it, according to analysts, tweaking the model throughout. For example, Patch began by giving site editors about $2,500 a month to commission freelance stories, but that budget was reduced soon after. The company then began to rely more heavily on hiring full-time assistant local editors to report news.
Another challenge has been applying a national Patch model to individual communities. For example, L.A. Patch sites were mandated by New York headquarters to produce content that would appeal to mothers. Local editors were also told to establish a "moms' council" in their communities. But getting readers to meet up in person was difficult.
"That's where it got frustrating," said a former Patch regional editor in Los Angeles, who spoke on condition of anonymity out of reluctance to criticize a former employer. "In some communities in Los Angeles, where people don't know the people next door, it can be a challenging thing to set up that model."
Local fallout
Some Patch sites have nonetheless won acceptance from communities, especially sites started by known journalists in communities with high levels of civic engagement.
For example, a former Patch worker explained, Malibu Patch, was run at the outset by Jonathan Friedman, a veteran of the Malibu Times. The site was popular as a result and remained so under a new editor, Jessica Davis, who took over when Friedman moved to the East Coast last year. The former worker said the site owed its popularity to the editors and a community that cares deeply about local news.
But another editor who launched and ran a popular Patch site is reportedly facing termination. A recent post from Studio City Patch columnist Susan McMartin reported that her editor, Mike Szymanski, will be cut by the company next month. A separate post on the site announced that Brentwood Patch editor Matt Sanderson is taking on additional duties in Studio City.
Szymanski's departure angered Claudia Wells, an actress who appeared in "Back to the Future." She now owns men's clothing store Armani Wells in Studio City. She said she's withdrawing advertising from the site. She also recently e-mailed Armstrong at AOL and Arianna Huffington at the Huffington Post to express her displeasure.
"If Mike's not going to be a part of it, I'm not going to be a part of it," Wells told the Business Journal.
Patch isn't the only hyperlocal news operation to face financial woes. Earlier this year, NBCUniversal shuttered Chicago's EveryBlock, a hyperlocal news network it had acquired in 2009.
Ferrier at Ohio University said she would like to see some of the Patch sites transition into a non-profit model or enter into partnerships with local universities. She said that might be more sustainable than trying to turn a profit under the scrutiny of investors.
"Hopefully the non-profit model might work for this," she said. "What I would love to be able to see is to have a bulk of sites that we can do some experimentation on."
For reprint and licensing requests for this article, CLICK HERE.