Deadline Nears for L.A. Patch Sites in 'Hyperlocal' Fade
Monday, September 16, 2013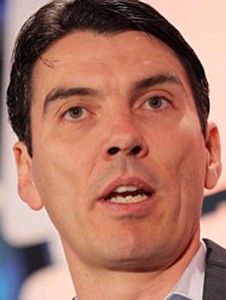 When AOL Inc. planted Patch Media in Los Angeles a few years ago, it gave neighborhoods a fresh community news outlet. But the "hyperlocal" media venture has been a money loser and it's now gone sour.
Many of Patch's L.A. sites are expected to be shut down or merged into other media within the next month.
As part of that transition, dozens of Los Angeles Patch writers and salespeople are being cut. Some were laid off last month, while others were notified they will be let go Oct. 15. AOL announced last month it is cutting as much as half of its 1,000 Patch employees nationwide and either shutting down or trying to sell about a third of its 900 Patch sites.
Of the 34 Patch sites in Los Angeles, a good many are at risk. Michelle Ferrier, an associate dean at the Ohio University Scripps College of Communications who studies hyperlocal media, said many of the sites have not generated enough local advertising revenue for AOL, which has repeatedly promised investors that it would make Patch profitable by the end of this year.
"Some of the sites are in areas where they may never have been able to get enough revenue to run the site," she said. "What we're going to see Oct. 15 is the low-performing sites jettisoned for the higher performing sites."
The endangered sites include Altadena, Pasadena, Baldwin Park, South Gate-Lynwood and Studio City, Ferrier said. Her information comes from confidential e-mails with Patch employees.
Other sites in jeopardy include those in Echo Park-Silver Lake, Eagle Rock, Hollywood, West Hollywood, Sherman Oaks, Woodland Hills, North Hollywood, Northridge, Chatsworth, Brentwood, Culver City and Pacific Palisades, according to a knowledgeable source who spoke on condition of anonymity.
Part of the issue is that Patch debuted during the recession. Each Patch site was to be supported by advertisements from local businesses.
"The local retailers were going out of business. They didn't have extra discretionary income for something they've never heard of before," said one former local Patch editor, who asked to remain anonymous because he still does occasional work for AOL.
The pending cuts have further slashed ad sales at some sites as morale has dropped, according to internal memos posted online. Not only have salespeople been laid off, but at least one local advertiser has declared she will stop buying ads on Patch due to the firing of an editor in Studio City.
Prev Next
For reprint and licensing requests for this article, CLICK HERE.