Horse Park Plans for Long Run
SPORTS: Santa Anita seeks stable relationship with Breeders' Cup.
Monday, October 28, 2013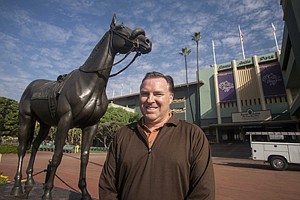 Santa Anita Park wants to get on the fast track to becoming the permanent home to the Breeders' Cup, one of the most prestigious high-stakes events in the horse-racing world.
And event organizers say that's a possibility, although nothing formal has been proposed.
The track has undergone a $15 million renovation, partly in hopes of keeping the annual event in Santa Anita for the long run.
"We've done a major overhaul of the space here," said Tom Ludt, senior vice president of racing and gaming for track owner Stronach Group. "When the staff from Breeders' Cup shows up, we will showcase why they should be here permanently."
Ludt serves on the board of the Breeders' Cup but abstains from voting on the location to avoid a conflict of interest. He said there have been only informal discussions about making Santa Anita a permanent home.
The Breeders' Cup runs this weekend and will bring more than 90,000 pony players and other fans to the Arcadia grounds for the two-day event.
The cup traditionally had moved to a different place each year. But it broke tradition and stayed at Santa Anita in 2008 and '09. Then it spent a two-year span at Churchill Downs, home to the Kentucky Derby, before returning to Santa Anita last year and this year. It will come back to Santa Anita again next year. That means the Arcadia track will have hosted the Breeder's Cup for five out of a seven-year span. No decision has been made for 2015, although Santa Anita plans to bid for it.
As the Breeders' Cup has grown in prominence, there are fewer suitable tracks: The event requires a wider-than-usual track because 14 horses run in the races, more than usual. A Breeders' Cup track also needs enough capacity for the more than 90,000 fans that attend over two days. A permanent home could help create a solid fan base that would return year after year.
This year's cup will be Nov. 1-2 and feature 14 races with a total of $25 million in prize money. For comparison, the Kentucky Derby awards $2 million. At last year's event, a total of $127 million was wagered. Horses come from around the world, and with them come wealthy owners, trainers and visitors who fill hotel rooms, restaurants and shops.
"We like the event and appreciate when it's here in our community," said Maisie Short, chief marketing officer for 300 North Capital, a money management firm in nearby Pasadena. The company has been a sponsor of the event since 2009.
Home-track advantage
The Breeders' Cup board has not decided on whether to choose a permanent home. But event organizers say that it is a possibility that they stay in Santa Anita.
Drew Sheinman, chief marketing officer of the Breeders' Cup organization in New York said that there would be advantages to setting up a permanent home at Santa Anita and compares it to the Triple Crown events, which each have home tracks: Kentucky Derby at Churchill Downs in Louisville, Ky.; Preakness Stakes at Pimlico in Baltimore; and Belmont Stakes in Elmont, N.Y.
"The Triple Crown races are the highlights at their tracks. We want to highlight and distinguish our event as a fourth major horse-racing event," said Sheinman.
He said that the Breeders' Cup has purposely set up corporate sponsorships so that a majority of them end this year. The goal is to revamp the cup with more events the previous week, such as dinners with celebrity chefs, for corporate sponsors and horse owners.
And the L.A. area is a market that can provide talent for those events, although he acknowledged that other cities could, too. The feedback he receives at this year's event will help determine the future home for the Breeders' Cup.
Santa Anita has not made an official pitch to become the cup's permanent site, but officials there have had discussions with the cup organizers.
Another competitor for the event, Del Mar Thoroughbred Club near San Diego, has already made a bid for the 2015 event. Track owners there have also undertaken a multimillion-dollar renovation to expand its turf specifically to accommodate the larger fields in the Breeders' Cup. They've increased the number of gates from 10 to 14.
"We're changing the grass and widening the turf course to 80 feet so that we're eligible to host the Breeders' Cup," said Craig Dato, chief marketing officer at Del Mar. "In June, we had executives go to New York to meet with their board about hosting the event."
Starting in 2014, Del Mar will schedule November races that would have been run at Hollywood Park, which is closing in December. The track could potentially host the Breeders' Cup at the beginning of its fall schedule. In the past, it has only scheduled a summer session.
Santa Anita hosts racing in September and October, and the Breeders' Cup runs during the last weekend of that season. It then closes and reopens in December. Starting next year, the track will add spring dates for races that would have been run at Hollywood Park. Santa Anita's races will continue until June instead of ending in April. The remaining Hollywood Park races were moved to Los Alamitos.
Ludt acknowledged that the track's renovations were made in an effort to keep the Breeders' Cup in Santa Anita, but it also gives added value to what he anticipates will be bigger home crowds once Hollywood Park closes.
"The renovations were made in part for Breeders' Cup and in part to improve the everyday experience for racing fans who have more racing days due to the Hollywood Park closure," Ludt said.
Stronach Group, a racing company in Aurora, Ontario, renovated the premium seating areas of the park. Other changes include new bars and high-definition televisions in the premium seating areas such as the clubhouse and lounges. Menus at the restaurants were expanded and now include salads, smoothies and sushi in addition to traditional track fare such as burgers and fries.
For reprint and licensing requests for this article, CLICK HERE.