Room for Parking Takes Lots of Focus in Projects
REAL ESTATE QUARTERLY
Monday, October 21, 2013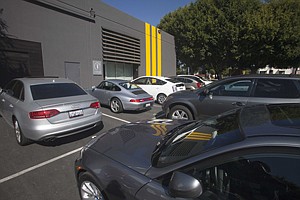 When Culver City officials were embarking on plans to revitalize the city's historic downtown district nearly two decades ago, one of the first things they did was build parking structures.
"The city has been very forward thinking," said Keith Weaver, executive vice president of worldwide government affairs for Sony Pictures Entertainment, which is headquartered in the city. "Even before we had much activity here, they were very thoughtful about parking."
Still, for all the effort city officials put into easing parking needs in the downtown commercial hub, until recently it didn't anticipate the growing need for parking in nearby industrial areas.
That has proved a challenge as the former industrial area has grown, especially as its eclectic stock of warehouses has lured developers eager to accommodate demand for creative office space.
The problem, said Michael Hackman, chief executive of West L.A. real estate company Hackman Capital Partners, is that warehouses are not designed to accommodate as much parking as office buildings. City zoning codes require industrial buildings to have just one parking spot for every 1,000 square feet of space. Office buildings, by contrast, require at least three times as many spaces.
"We really studied the market hard and realized one main deficit to growth … was the lack of parking," Hackman said.
His response was to acquire enough land to build a five-story parking structure with 555 spots and a surface lot with an additional 170 spots.
"All this space for parking gave us a unique competitive advantage," he said.
Still, happening upon industrial property with enough potential parking spots to support creative office space is rare, said Sol Blumenfeld, community development director for Culver City.
"It's basically a geometry problem, trying to fit additional parking on property without demolishing a building," he said. "Most creative office tenants are attracted to these areas precisely because of the building stock, so forfeiting a building for parking really isn't a possibility."
To keep up, the city Planning Commission last month recommended the creation of two parking districts in industrial areas known as the Hayden Tract and the Smiley Blackwelder district. The City Council is expected to approve the zoning amendment next month.
Blumenfeld said the districts will allow property owners more flexibility when it comes to parking. For example, rather than requiring tenants to park within 750 feet of their place of work, landlords can offer spots anywhere inside the larger parking district. They can also offer valet parking in the district or even automated parking, which can in some cases double the amount of parking in an area.
"Automated parking takes up much less space than a traditional parking stall," Blumenfeld said. "You don't need room for the door swing, you don't need the drive aisle and you don't need headroom above the height of the car."
Walter Marks III, whose family-run real estate firm, Walter N. Marks Inc., owns and manages the former industrial Helms Bakery site, said parking problems in the city's old manufacturing regions are exacerbated by creative companies' tendency to cram more employees into smaller spaces.
"It's not uncommon that a tenant leasing 3,000 square feet would want to have more than 24 parking spaces, which is eight spots for every 1,000 square feet," he said. "It's really challenging and it's also taxing on the physical building."
He plans to face that problem by building an underground automated parking structure next year for 200 cars.
"Landlords who can provide additional parking are going to thrive, while those who can't will find themselves on the short end," he said.
For reprint and licensing requests for this article, CLICK HERE.