Culver City Surge
REAL ESTATE QUARTERLY
Monday, October 21, 2013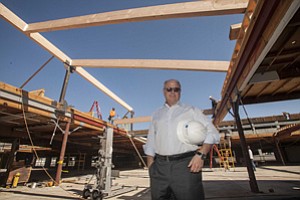 Through most of its first century, Culver City has been the quiet, middle-class town drivers motored through on their way west to Venice or north to Beverly Hills.
Lately, however, the efforts of local planners and developers to capitalize on its central location and make the city of almost 39,000 something more than a place between here and there have been paying off.
A combination of foresight and good timing has put Culver City not just at the nexus of transit – both as a stop on the 10 freeway or the new Metro Expo light-rail line – but helped make it a destination in and of itself. Five major developments, with an aggregate value of more than $350 million, are in various stages of planning or construction on the east end of Culver City, together promising to add about 430,000 square feet of office space, 195,000 square feet of retail, 315 apartment units and 150 hotel rooms.
Many of the projects fan out from the hub created by the Metro station, which opened 16 months ago; others are taking shape on tracts of former industrial land where warehouses are being converted into creative office space, attracting an increasing number of media, entertainment, technology and design industry tenants.
Walter Marks III, whose family-run real estate firm, Walter N. Marks Inc., owns and manages the Helms Bakery site a block east of the Metro station, said developers and businesses are drawn to the area because high-quality space is still relatively affordable, especially compared with pricey Santa Monica property that has been the focus for tech and creative companies.
Marks' firm, which was also involved in redevelopment efforts for the Third Street Promenade in Santa Monica, spent the better part of the last four decades transforming the 11-acre former bakery plant straddling the Culver City-Los Angeles city line into an artsy retail district for furniture dealers and independent eateries.
"Santa Monica is just priced out," he said. "As much as it's highly desired, it's expensive, and Culver City is a wonderful alternative."
Carl Muhlstein, a managing director for Jones Lang LaSalle Inc. who represents Westside landlords, said monthly lease rates for creative office space near downtown Culver City range from $2 to $3.25 a square foot a month. In Santa Monica, rates range from $3.25 to more than $4. Those rates reflect a tightness in the Santa Monica market, which, at 11.5 percent, has the lowest vacancy rate in the region.
For reprint and licensing requests for this article, CLICK HERE.
Prev Next