Fit to Print?
TV Guide owner finds value in PennySaver
Monday, October 7, 2013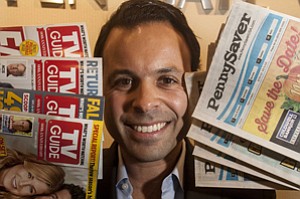 It's free, chock-full of coupons and worth more than 22 million times as much as TV Guide.
It's PennySaver, a free classified-ad rag mailed to millions of California households, and a little more than a week ago it was acquired by Century City buyout firm OpenGate Capital.
That's the same firm that made headlines five years ago when it bought TV Guide Magazine for just $1. It paid much more for PennySaver, shelling out $22.5 million to the publisher's former parent, San Antonio marketing company Harte-Hanks Inc.
PennySaver, in Brea, prints booklets of mostly black-and-white ads for small businesses and customers looking to unload spare car parts, used appliances and such. Issues are distributed weekly through the mail to about 9 million households, all in California.
That might sound like a business that should be dead or at least dying in the age of cheap online advertising and free classifieds provider Craigslist Inc. But Andrew Nikou, OpenGate's chief executive, not only says PennySaver has potential for growth, but notes that it is profitable now. His firm is countering the conventional wisdom that print is dead.
"Let that (perception) continue, because we're definitely enjoying it and definitely capitalizing on it," Nikou said. "Print is relevant."
Filings from publicly traded Harte-Hanks show PennySaver's business has been improving this year, indicating OpenGate bought the business for a song, said Michael Kupinski, an analyst who follows Harte-Hanks for Boca Raton, Fla., investment bank Noble Financial Group Inc.
"It's curious the company decided to sell PennySaver now," Kupinski said. "And it's a fairly low valuation. It could be a pretty good deal for OpenGate if the California economy continues to improve."
Though PennySaver's revenue has steadily dropped over the past few years, the company still brought in $186 million last year. Operating income last year was $4.3 million, excluding a write-down.
OpenGate paid about five times PennySaver's operating income, a multiple Kupinski called low. That's close to the multiple Warren Buffett's Berkshire Hathaway Inc. paid last year when it bought 63 newspapers from Media General Inc. of Richmond, Va. (Berkshire paid about four times the publications' earnings before interest, tax, depreciation and amortization, a figure that is higher than operating income.)
OpenGate executives said they can ramp up profits by cutting costs and making operations more efficient, but also by boosting PennySaver's online ad sales and its Web-hosting program for small businesses.
"When you look under the hood, PennySaver is not just print," said Matthias Gundlach, an OpenGate principal. "There's also a digital angle to it. I think there's a lot of opportunity to this."
Platinum roots
Nikou, 36, founded OpenGate in 2005 after working in the Paris office of Platinum Equity, a Beverly Hills private equity firm run by local billionaire Tom Gores. OpenGate partners Jay Yook and Robert Lezec are also Platinum alumni.
Like Platinum, OpenGate likes to buy small business units that are part of larger companies. The firm picks businesses that have good fundamentals, but aren't the focus of their corporate parent and might be worth more as standalone companies.
"These are good brands. They're purely just not part of the core strategy and therefore get no love," Nikou said. "These businesses have a home. That's our strategy."
For Harte-Hanks, PennySaver was essentially a lower-margin side business compared with its main business lines of direct and digital marketing. Harte-Hanks owned PennySaver and a similar publication in Tampa, Fla., but together those companies were only about one-quarter of Harte-Hanks' revenue. The Florida publication was sold last year to a Tampa firm.
In announcing the sales, Harte-Hanks executives said the publications weren't a good fit for the company anymore, and the company took a $165 million write-down on the value of the publications last year, citing five years of declining revenue.
Though revenue was growing again, analyst Kupinski said PennySaver would have needed at least two years of growth if Harte-Hanks wanted to get a higher price for the publication. Instead, the company opted to sell low.
OpenGate was attracted by more than good terms. While the company has a diverse portfolio that includes a boat manufacturer and a maker of industrial laboratory equipment, it has a soft spot for media and publishing companies.
The firm owns Fleurus Presse, a French publisher of children's books and magazines formerly owned by newspaper Le Monde. In addition, over the past few years, OpenGate bid unsuccessfully for troubled publications including BusinessWeek, Newsweek and Maxim. It also owns specialty paper mills in Connecticut, Finland and France.
OpenGate's most notable deal, though, was its 2008 purchase of TV Guide. It bought the magazine, which was then losing about $20 million a year, for a symbolic $1.
By 2010, the magazine was profitable, thanks to cost-cutting and outsourcing of functions such as circulation and subscription management. OpenGate's Lezec said it was a simple matter of modernizing the magazine's operations.
"There was too much staff relative to the needs of the business," he said. "Operationally and organizationally, it was configured for a different size and a different time. We were running a lot of functions internally that could have been outsourced."
OpenGate has pinched pennies and sought to boost revenue in other ways, too. TV Guide's West Coast editorial staff, once based in a Hollywood Boulevard office across from the Chinese Theater, is now based in one corner of OpenGate's Century City office.
The magazine is also getting into the custom publishing business. Last year, it inked a deal to publish a six-issue lifestyle magazine with Sandra Lee, the host of Food Network's "Semi-Homemade Cooking," and Nikou said he hopes to announce more such deals later this year.
"We're going after TV personalities that want to maintain their intellectual property and their brand," he said. "We're producing and distributing her product using TV Guide infrastructure."
Pennies saved
Nikou isn't the only one who continues to see opportunity in old-school print advertising. Martha de la Torre, chief executive of Spanish-language PennySaver competitor El Clasificado in Norwalk, said print ad revenue accounts for 90 percent of her company's business – and that revenue has grown an average of 7 percent annually for the past five years.
While that's slower than before the recession, she said El Clasificado's continued growth and OpenGate's interest in PennySaver shows there is money to be made.
She said her publication's target audience is increasingly getting connected to the Web, but that many still rely on printed products.
"There are still areas where you can't get Internet access easily and people still want print," de la Torre said. "Everyone sees print has value. You just have to get it to work efficiently."
Nikou said it's too early to talk about specific plans for PennySaver, but one obvious cost cut could be outsourcing or downsizing printing operations.
"I think we're going to bring a set of financial disciplines to the business that's going to create a more profitable product," Nikou said. "The scale of the print operations may change. But whether we produce locally or internally, or whether we produce in a different way, there's always going to be a print presence."
PennySaver leases two production plants, one in Vista and one in Mira Loma, near Riverside. It also owns a 103,000-square-foot plant in Brea. The building alone could sell for upwards of $10 million, according to an analysis of comparable building sales by brokerage firm Cassidy Turley.
The value of El Clasificado and PennySaver is that they are "hyperlocal" – more so than Craigslist and even many community newspapers. Craigslist, for instance, has sites for 36 different cities or regions in California – one for West Los Angeles and the South Bay, one for Imperial County – but PennySaver prints nearly 800 separate editions targeted to markets as small as the east side of Lakewood and the north side of Alhambra. Those tiny zones mean advertisers can pay low rates to reach local customers, instead of spending more on ads seen by customers too far away.
The challenge for OpenGate is to translate that value proposition to the Web. PennySaver sells online ads on PennySaverUSA.com and offers website design and hosting for mom-and-pop businesses, but the biggest part of the company's revenue is from print ads.
Nikou wants to see much more online revenue within three years. To do that, the company will try to sell more online ads to print customers and get sales reps to pitch websites to merchants who don't have them. But beyond that, he acknowledged that he's still brainstorming.
"We're talking to college kids, ex-CEOs, technology guys, who can help us put together a plan to support what we believe is the true value of this business," he said. "It's a work in progress."
For reprint and licensing requests for this article, CLICK HERE.