Petersen Maps New Marketing Drive
NON-PROFIT: Automotive museum taps former Fox executive to steer effort.
Monday, November 25, 2013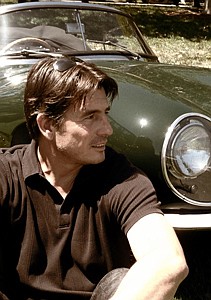 As part of a sweeping modernization program at Petersen Automotive Museum, Adam Langsbard was recently hired as the Miracle Mile museum's first chief marketing officer.
And he's already in high gear, driving deals with manufacturers that will sponsor coming exhibits.
South Korean car maker Kia Motors Corp. and Jaguar North America will have exhibits in December, the first time the companies are sponsoring Petersen events.
Kia's exhibit will feature seven show cars customized to represent DC Entertainment's Justice League characters. The Jaguar exhibit will present five of its iconic sports cars such as the rare 1956 Jaguar XKSS owned by late actor Steve McQueen and its new F-Type sports car.
Terry Karges, executive director at Petersen, said he brought Langsbard on board to strengthen its marketing efforts and build relationships with the automotive industry.
"We are the industry's museum," Karges said. "And yet we don't have a lot of close working relationships, as strange as it might sound, with a lot of the car companies or dealers. So we need a strong marketing presence focused on the automotive industry."
Langsbard will be responsible for the museum's marketing efforts, including advertising, public relations and sponsorships with brands and auto manufacturers.
He said his goal is to bring the museum beyond exhibiting cars to giving visitors an interactive experience inside the museum. One Christmas offering will be a photo op with Santa Claus in a 1956 Chevrolet Bel Air convertible.
"It's about making an exhibit or event look just as appealing and just as fun and entertaining as a movie would," Langsbard said. "One of the things we're looking at is how we can become more engaging and interactive, not just (having visitors) slowly saunter through the exhibit. We want to be able to give people things to do where you touch and feel and see things move and react."
He said another example is a partnership with Ford Motor Co. for Mustang's 50th anniversary. In May, the museum will organize a two-day celebration featuring events, unveiling of a new model and guests famous among Mustang aficionados.
Prior to joining Petersen, Langsbard was director of branded entertainment for Fox Digital Entertainment. He was responsible for creating branded content such as Web videos for Fortune1000 companies and placing them on such sites as Yahoo and Hulu.
His hiring comes as the museum undergoes a $50 million remodeling project. The modernization of the museum made news when Petersen auctioned almost one-third of its inventory earlier this year. The sales drew criticism from auto enthusiasts who said the museum was losing its local flavor, but Karges said the move was designed to widen its appeal.
"We've had some people second-guessing what we were doing, saying we were changing the mission," he said. "We're expanding it … (from) showcasing the automobile and its effect on culture using Los Angeles as an example, into using the world as an example."
The museum opened in 1994 and has a staff of 85. The 300,000-square-foot, two-story building has a collection of more than 300 cars and draws 200,000 visitors a year. Its annual revenue is estimated at $5 million. A large portion of the revenue comes from hosting special events, Karges said.
The renovations are expected to be completed by 2015 and will add 15,000 square feet of display space. The galleries will feature improved lighting, digital displays and interactive learning stations. Karges said money for the renovations will come from individual donors and corporate memberships.

Jackie Frady, executive director of the National Automobile Museum and president of the National Association of Automobile Museums in Reno, Nev., said ramping up marketing efforts with new events and technology is a necessity these days.
"Twenty years ago, a visitor may have been interested in coming to a museum and reading lots of materials," Frady said. "I think today's visitor … wants more control over their experience. Do they want to take the audio tour, the guided tour or use their smartphone? That's what all museums are facing. New technologies that we've all incorporated into our lives, we need to incorporate into our museums."
For reprint and licensing requests for this article, CLICK HERE.