Bank Grabs More Branch Space But Not Deposits
LENDING: Chase No. 1 in number of outposts but its market share declines.
Monday, November 25, 2013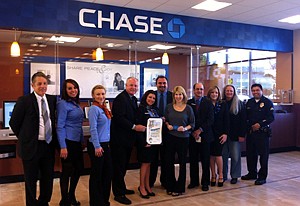 Before JPMorgan Chase Bank took over failed lender Washington Mutual in 2008, it didn't have a single branch in Los Angeles County – or anywhere else in California.
But since then, Chase has gone on a branch-building binge, opening nearly 100 on top of 195 WaMu branches it inherited. Chase now has more county branches than any other bank. The goal, executives say, is to attract local customers by making it the most convenient bank.
So far, though, it hasn't paid off. Chase is still well behind longtime market leaders Bank of America and Wells Fargo in its share of county deposits. (See page 16.)
The latest figures from the Federal Deposit Insurance Corp. show Chase had 287 branches in the county as of June 30, up from 260 last year, but the bank's market share of county deposits shrank from 9.6 percent to 9.2 percent. (The bank's local deposits increased, but at a slower pace than deposits at all banks.)
Shaun McDougall, Chase's market manager for consumer and small-business banking in Los Angeles, said the bank is still building out its branch network and establishing a brand here.
"When we came to Los Angeles, more than half of the state didn't know we were a retail bank," McDougall said. "We're just gettingthat message out there."
As Chase continues to try to build a market in Los Angeles, it must compete with Bank of America, Wells Fargo and Union Bank. The three have established branch networks and roots in California that go back more than a century.
Hence Chase's focus on building branches. Though customers no longer need to go to branches for day-to-day business, most still go to a branch at least a few times a year, McDougall said.
"In key markets, it's important that we're the most convenient," he said. "That's why we've seen such a big push on building branches. We still see that as important in the long term."
So far this year, it has opened 13 county branches, with seven more expected to open before year's end, he said. That's on top of 23 branches opened last year. The pace of branch openings will likely slow next year, though Chase will also move some branches.
"We haven't finalized a list for 2014, but the focus is to continue our No. 1 position in Los Angeles," McDougall said.
Market gains
As Chase adds branches in search of deposits, Union Bank has taken a different approach. The bank is the third largest in Los Angeles, with nearly 12 percent of local deposits, yet it has just 69 branches here – about one-quarter the number of Chase locations.
Prev Next
For reprint and licensing requests for this article, CLICK HERE.