Fuhu: All Grown Up
SPECIAL SECTION: Fastest Growing Private Companies
Monday, November 18, 2013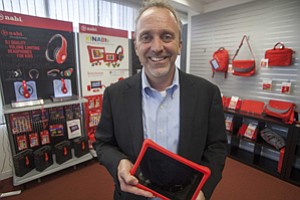 The El Segundo headquarters of Fuhu Inc. – maker of the Nabi tablet for children – are anything but childish.
The company occupies one-and-a-half floors of a nondescript office high-rise near Los Angeles International Airport. Inside, workers huddle over computers that dot Fuhu's open floor plan.
But hidden behind a door in the corner of the office is a child's paradise. This is the Fuhu showroom, where multicolored electronic devices hang from mock-retailer displays next to bright red carrying cases. Disney princesses and Kung-Fu Panda stare out from some of the packages.
The Fuhu offices reflect the strategy that Chief Executive Jim Mitchell believes has helped the company sell thousands of devices and propelled it to the top of the Business Journal's list of Fastest Growing Private Companies in Los Angeles: The company's electronics might have childish appeal, but they're built with serious technology.
"What you have is a tablet hardwarewise made for adults, but experiencewise made for kids," said Mitchell, a father of two young daughters.
Fuhu last year brought in revenue of nearly $118 million, a 96,000 percent increase over 2010. The company's astronomical surge in sales can be attributed to Nabi's growing popularity among children since it hit shelves in 2011.
The Nabi 2 – the second generation of the tablet – is a 7-inch device that runs on the Android operating system and comes preloaded with games, music, e-books and education software for children ages 6 to 10. Parents can log into the Nabi to monitor their kids' progress or use the device as they would any fully functioning tablet.
At $180, the Nabi is $120 cheaper than the lowest-priced model of Apple Inc.'s iPad. And it comes with kid-specific features such as a red bumper designed to withstand a child's rough touch. Nabi's low cost and rugged design are meant to appeal to parents who don't want to buy their children an expensive tablet that they could easily break.
Ross Rubin, a consumer electronics analyst with Reticle Research in New York, said Nabi's success illustrates the market power of kid-friendly products.
"While the iPad and the Kindle Fire have been some of the more popular models, we've really seen a number of different approaches to customizing these products for different audiences," he said. "It's a pretty sure bet these days that a child is going to want to use a tablet."
More products
Fuhu's revenue surge might seem extraordinary, but that's because the company wasn't bringing in much money until it launched Nabi.
The company was founded in 2008 as an application and software developer. Among its various kid-friendly products is Fooz Kids, software that allows children to surf the Internet while blocking age-inappropriate material.
Fuhu didn't enter the hardware manufacturing business until the iPad hit big in 2010. Executives decided to replicate the tablet experience for kids.
"We spent some time thinking through what made one product so successful and what made another product that was so similar a failure," Mitchell said. "Our conclusion was that it was the ecosystem and the environment that was around the iPad."
The company began selling the Nabi tablet at Toys R Us stores in December 2011 and sold out of the devices within weeks. But that partnership quickly soured.
Fuhu is now suing Toys R Us Inc., alleging that the Wayne, N.J., retailer did not order enough of the Nabi tablets to meet demand and then stole trade secrets to create a competitive device called the Tabeo.
Fuhu now sells its devices in about 17,000 Wal-Marts, Best Buys and Targets around the country.
The company has also expanded its product line. In addition to the Nabi 2, Fuhu sells a $100 Nabi Jr. for tots and a $250 Nabi XD for tweens and teens.
Other Fuhu electronics include kid-safe headphones and a small video camera similar to a GoPro that children can attach to their scooters or bikes.
Then there are the accessories, which make up about 25 percent of Fuhu's sales. Children can customize their Nabis with colorful protective cases and small tiles, called Kinabis, that connect to the back of the device to spell out a name or create a design.
As the company has expanded its product lines, it has staffed up significantly. Today, Fuhu has about 230 employees in six offices worldwide. With about 100 employees in Los Angeles, Fuhu recently expanded from one floor to another half-floor at its Sepulveda Boulevard headquarters.
To fuel its growth, Fuhu recently raised $65 million from a cadre of investors that included DreamWorks Animation. Other investors include Nabi's Taiwanese manufacturer FoxConn, Fountain Valley chip maker Kingston Technology and Taiwanese electronics firm Acer.
Tablet competition
Up next for Fuhu is the launch of a new product at the Consumer Electronics Show in Las Vegas early next year.
The company has also started selling Nabis in China and will continue to focus on growing sales in the region. Mitchell said that Chinese sales could eclipse sales in the United States by the end of next year.
But the company has competition in the kid tablet market. In addition to the Toys R Us device, there are the Vinci tablet from Rullingnet Corp. in North Andover, Mass., and the Kurio from France's Cide Group, among others.
Not to mention tech giants Apple, Samsung, Amazon and Microsoft, which all manufacture tablets. Although those devices aren't made specifically for children, many parents use them to entertain their kids.
Apple also sells the iPad to schools as an educational tool. The Cupertino company has said there are more than 10 million iPads in schools around the country including L.A. Unified School District, whose program has generated controversy.
Rhoda Alexander, a tablet analyst for IHS iSuppli in San Francisco, said that it would be difficult for a specialized tablet manufacturer such as Fuhu to compete with the global network of an Apple or Samsung.
"They bring tremendous financial resources to the tablet and they have a sales network that is just very hard to beat," she said. "That's very hard for somebody else to match."
Mitchell said the problems with LAUSD's iPad initiative – which included students hacking into social media apps, missing devices and extra keyboard costs – indicate that Apple might not know how to make devices for kids the way Fuhu does. (Fuhu had bid on the LAUSD contract.)
"When we make the hardware, we make it with kids in mind. When we make the software, we make it with kids in mind," he said. "As long as we keep that focus on amazing experiences for kids and their families, I think we'll always have a step up."
For reprint and licensing requests for this article, CLICK HERE.