New Fashioned
APPAREL: The paper-preferring clothing industry may prove a tough fit for NuOrder's digital ordering and inventory system
Monday, November 11, 2013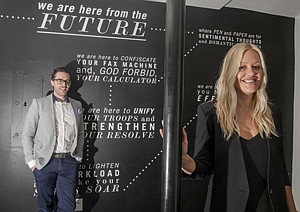 It's hard to find a pen or paper at NuOrder Inc.'s West Hollywood offices. Its co-founders don't want its biggest competitor hanging around.
Heath Wells and his wife, Olivia Skuza, launched NuOrder two years ago with the intention of bringing the hidebound world of apparel retailing into the digital age. Their product, a cloud-based system of digitized order forms and catalogs, is intended to streamline the ordering process between clothing brands and retailers. It also offers sales analytics and the ability for brands and retailers that don't have a relationship to find each other.
"Sales people spend three, four hours a day faxing and making Excel custom line sheets," Wells said. "With NuOrder, sales (people) can focus on sales and have more time to prospect customers. On the flip side, the back house can ship faster and accurately."
That's not to say there aren't challenges. NuOrder faces a strong competitor and many in the apparel industry still love their paper-based ordering system.
But in its first two years, the company saw rapid growth. It opened a branch in New York this summer, doubled its headquarters office space last month and is about to close on a B round of venture capital funding. It now says that it has deals with more than 600 brands, including Hurley, Levi's Vintage Clothing and Helmut Lang. He wouldn't disclose revenue.
Wells said retailers have free access to the platform, but the client brands pay about $200 for each sales rep to access the system, spending an average of about $6,000 to $7,000 on the platform yearly. Once on the platform, retailers can look at a brand's inventory and order items at any hour or when something goes out of stock. The system also allows manufacturers to send photo catalogs and other proposals for prospective retailers to see.
The company raised about $3 million in a series A round led by local venture capital firms Upfront Ventures (formerly GRP Partners) and Greycroft Partners that closed a year ago. Designer Rachel Zoe and Beverly Hills talent agency Creative Artists Agency also participated. Wells said its series B round, which will help the company hire more development staff to further improve products, will close in coming weeks.
The company reported that it processed about $60 million worth of transactions in September and projects that it will process $500 million for this year.
While the business is catching on, NuOrder has two fights.
Prev Next
For reprint and licensing requests for this article, CLICK HERE.