Machinima to Distribute on Twitch
Monday, November 4, 2013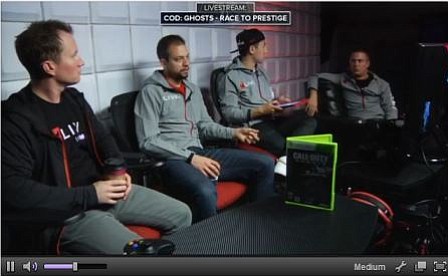 Hollywood video network Machinima is looking to diversify from YouTube through a distribution deal with streaming platform Twitch.
The San Francisco video streaming site, which focuses on the gaming community, will now air Machinima's live, in-house and eSports content. The partnership began Monday, the same day it was announced, with a seven-day marathon of "Call of Duty: Ghosts."
"This partnership is a huge step forward in extending Machinima's reach to other platforms to ensure our audience can consume our programming where and when they want it," Machinima Chief Executive Allen DeBevoise said in a statement. "Machinima and Twitch both have massive, passionate, and engaged audiences, and I'm excited to collaborate with Twitch to evolve and shape the future of live-streaming."
Machinima, which produces video game-centric videos, boasts 2.4 billion views a month and more than 203 million viewers a month on YouTube. Twitch, meanwhile, says it attracts more than 45 million visitors each month.
The distribution deal comes on the heels of DeBevoise's announcement that he will step down as chief executive after the company has found his replacement. DeBevoise, who co-founded the company in 2005, will stay on as chairman, he told tech blog AllThingsD.
Machinima, which has gone through two rounds of layoffs in the last year as part of a company refocusing, is reported to be raising a round of financing worth up to $30 million. The company has already raised $49.6 million from MK Capital, Redpoint Ventures and Google.
For reprint and licensing requests for this article, CLICK HERE.