Video App Lost Facebook, Focus
INTERNET: Viddy retrenching after failing to meet Web hype.
Monday, May 20, 2013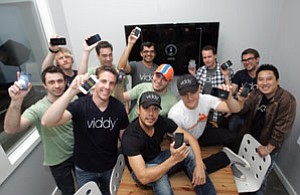 Just over a year ago, Viddy Inc. could hardly have looked healthier.
Traffic to the video shooting and sharing app was surging, thanks largely to a tight integration with Facebook. The company had just raised $30 million in a series B round from a high-profile group of investors, and predictions that Viddy was to be the Instagram of video – a title the Venice company didn't coin, but never discouraged – seemed propitious, especially after Facebook purchased the photo app for almost $1 billion.
Today, the company is viewed through a much different lens. A slew of top executives has departed and almost half the employees have been laid off. Recently, Viddy elected to return $18 million of its series B money to investors.
It's a rarely seen maneuver by a startup, but one that shows how much Viddy has been forced to reinvent itself since the sky-high expectations didn't pan out.
Indeed, Viddy has become a cautionary tale of the 2.0 era, of how viral growth can be illusory and big money can be a burden. When times were good, Viddy sparked a bidding process that saw the firm valued at $370 million – all without bringing in a cent in revenue. But when the social network stopped favoring the app, Viddy fell hard.
"User growth really took off for a time, thanks in part to Facebook and the celebrity relationships Viddy built up," said Jason Rapp, executive chairman of Viddy. "Then Facebook changed the way it interacts with partners and that growth just collapsed."
Rapp, who began advising the company in January, has been part of an effort to turn Viddy around after its co-founder Brett O'Brien was asked to step down as chief executive. Chris Ovitz, also a co-founder and head of business development, is gone as well.
It's now led by J.J. Aguhob, a third co-founder and the force behind the app's product development. The team is almost half the size it was at the beginning of the year, a leaner operation more in line with the maker of a mobile app that no longer has explosive growth.
Viddy has also worked to free itself of that massive valuation that investor Adam Lilling of Santa Monica's Plus Capital said was an albatross around the neck of a young company.
"When it comes to something new like 'Instagram for video' it was hard to warrant the valuation that Viddy got," Lilling said. "The company was doing well, but that money was too far out ahead of where it was."
For reprint and licensing requests for this article, CLICK HERE.
Prev Next