Video App Lost Facebook, Focus
INTERNET: Viddy retrenching after failing to meet Web hype.
Monday, May 20, 2013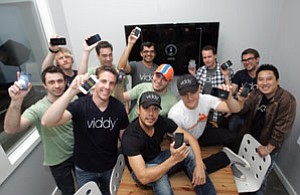 Just over a year ago, Viddy Inc. could hardly have looked healthier.
Traffic to the video shooting and sharing app was surging, thanks largely to a tight integration with Facebook. The company had just raised $30 million in a series B round from a high-profile group of investors, and predictions that Viddy was to be the Instagram of video – a title the Venice company didn't coin, but never discouraged – seemed propitious, especially after Facebook purchased the photo app for almost $1 billion.
Today, the company is viewed through a much different lens. A slew of top executives has departed and almost half the employees have been laid off. Recently, Viddy elected to return $18 million of its series B money to investors.
It's a rarely seen maneuver by a startup, but one that shows how much Viddy has been forced to reinvent itself since the sky-high expectations didn't pan out.
Indeed, Viddy has become a cautionary tale of the 2.0 era, of how viral growth can be illusory and big money can be a burden. When times were good, Viddy sparked a bidding process that saw the firm valued at $370 million – all without bringing in a cent in revenue. But when the social network stopped favoring the app, Viddy fell hard.
"User growth really took off for a time, thanks in part to Facebook and the celebrity relationships Viddy built up," said Jason Rapp, executive chairman of Viddy. "Then Facebook changed the way it interacts with partners and that growth just collapsed."
Rapp, who began advising the company in January, has been part of an effort to turn Viddy around after its co-founder Brett O'Brien was asked to step down as chief executive. Chris Ovitz, also a co-founder and head of business development, is gone as well.
It's now led by J.J. Aguhob, a third co-founder and the force behind the app's product development. The team is almost half the size it was at the beginning of the year, a leaner operation more in line with the maker of a mobile app that no longer has explosive growth.
Viddy has also worked to free itself of that massive valuation that investor Adam Lilling of Santa Monica's Plus Capital said was an albatross around the neck of a young company.
"When it comes to something new like 'Instagram for video' it was hard to warrant the valuation that Viddy got," Lilling said. "The company was doing well, but that money was too far out ahead of where it was."
Facebook giveth
Aguhob and O'Brien co-founded Viddy 2011 with a goal of creating an app that could let people shoot short videos, throw in some effects, and then share them quickly and widely.
Aguhob told the Business Journal last year, "By the time (a video) got shared it was already past the point of relevance. That was kind of the inspiration: How can I make really great short movies of my friends, in that moment, and share it out for everyone to see?"
Growth for the first year was strong by traditional standards. By February 2012, when Viddy raised $6 million in its A round that valued the firm at about $20 million, it was already seeing 60,000 monthly active users.
At that time, Viddy began integrating with Facebook's Open Graph, which allows apps to automatically post updates into a person's time line. For Viddy, that meant any of the videos people uploaded or watched were posted in their newsfeeds for all their friends to see. If friends wanted to view a video, they'd be prompted to download Viddy's app.
That sent the company's metrics skyward. The app began reporting 300,000 new signups a day, then more than 500,000; by early May of last year, Viddy boasted more than 27 million users.
Pop star Justin Bieber signed up for Viddy in May and sent out his first video – a shirtless clip of himself – to his tens of millions of Twitter followers. Even Facebook founder Mark Zuckerberg joined the ranks of "Viddyographers" and began posting (fully shirted) videos to his Facebook page.
A few months after its robust A round, Viddy quickly brought together investors for a series B round last May. The diverse list by then included Silicon Valley venture firm New Enterprise Associates, tech entrepreneur Sky Dayton and singer Shakira.
Viddy took in $30 million in the round and the company was valued at $370 million. In a matter of months, the company's value had jumped 20-fold.
For some, that eye-popping increase was the latest example of a hype-fueled tech market that had just seen Facebook's pricey acquisition of Instagram.
But to Battery Ventures' Brett O'Malley, who serves on Viddy's board and has invested in the company in each of its funding rounds, the biggest worry was that increased traffic would make the company lose focus. It didn't help that the app, he said, simply wasn't ready for all the attention.
"I think it raised expectations on a relatively early stage company," O'Malley said. "That made them think about the sheer number of users rather than giving the users a great experience."
Facebook taketh away
Another entrant into the short video category, San Francisco's SocialCam, was seeing similar growth on the back of Open Graph. That app, which was even more aggressive than Viddy in posting video updates onto people's time lines, eventually rankled the social network. SocialCam's content, some of which was pirated material, looked like spam; Facebook rejiggered its algorithm to make updates from SocialCam less visible on users' time lines. But the change affected Viddy as well, slowing its once-explosive growth immediately.
"SocialCam really was spamming the Facebook time line, while Viddy was talking with Facebook at the highest levels trying to do it legitimately," said a source close to Viddy. "Facebook had a larger issue and Viddy got sucked into it."
With the app less visible in Facebook's newsfeed, activity took a dive. The number of daily active users fell to 1 million at the end of May 2012 from 5 million a month earlier, according to Appdata.com.
Then, in mid-July, SocialCam was acquired by software firm Autodesk Inc. for $60 million – a far cry from the giddy valuation that Viddy saw only months earlier.
There have been reports Viddy was itself involved in acquisition talks with Twitter Inc. and that O'Brien turned down the offer. Rapp, Viddy's current chairman, and O'Malley, the director, both confirm there were indeed conversations about a strategic partnership with Twitter that touched on the possibility of being bought. But they insist it all happened in the months leading to last May's series B round. Ultimately, there was no formal offer to be accepted or rejected.
Perhaps more damaging to Viddy was Twitter's acquisition in October of a different short-form video app, Vine. It debuted in January and has since rocketed to the top of the iPhone and Android download charts.
In short, the category Viddy helped create was dominated by a different company.
Smaller team
This February, O'Brien, who had been concurrently running a PR firm while serving as Viddy's chief executive, was replaced by Aguhob. Ovitz left and joined Hollywood mobile gaming company Scopely Inc.
The decision, said board members, came down to a shifting priority in the company as it tried to overcome its early rise and fall.
"Brett is strong on building value, but he's not a product guy by trade," O'Malley said. "J.J. is strong on product and that's what the company needs going forward."
Going forward also meant shrinking down the size of the team. Viddy whittled its staff to 16 from 30, most of whom are dedicated to product development rather than marketing. The smaller company also needed less money, which is why executives made the seldom-seen choice to give back $18 million.
O'Malley said the remaining money should last the company for two years – enough time to figure out what real, lasting success can be outside the boom-and-bust nature of Facebook.
And Rapp pointed to the ongoing rebound in users during the first months of 2013 as a sign Viddy was moving in the right direction. He said the app's new sing-ups are in the thousands and the videos are getting 20 million views a month, double what the company was getting three months ago, though still below its peak.
Viddy also has two new apps related to social media in development.
The bigger question to investors and observers of the social video category is where Viddy might fit in. Vine, for the moment, is the more downloaded app by far and is beginning to establish itself as the brand name in short-form video.
Rapp countered that the category is so new it's too early to say whether a single company has won or lost.
"We got a lot of exposure last time through and learned a lot about how people can react to that," Rapp said. "The nice thing is now we have the right amount of money to last for a while to let us see how things play out."
For reprint and licensing requests for this article, CLICK HERE.