Room Service
Hotelier now puts focus on management
Monday, March 25, 2013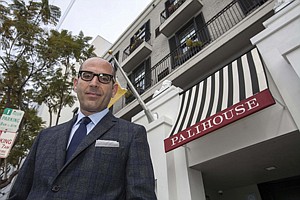 Avi Brosh was hit hard by the recession.
The developer of hip boutique hotels lost millions of dollars – and took a knock to his pride – when a bank foreclosed on one of his marquee projects in 2010. A rival scooped it up for a fraction of the cost.
"'Downturn' is not really a strong enough word for it," he said.
But now, Brosh is riding the recovery. This time, he's focusing on managing and operating hotels rather than developing them.
His West Hollywood company, Paligroup Management LLC, has resumed the big expansion plans it put on hold during the recession. Brosh opened a hotel last year and is working to open two more in the next year. The most imminent, Palihouse Santa Monica, will open in June after completing a remodel.
A long-anticipated companion hotel to the popular Palihouse West Hollywood, the suite hotel will open its doors two blocks from Third Street Promenade and two blocks from the beach. Most of its 36 large rooms, like its West Hollywood counterpart, will be outfitted with a kitchen.
For Brosh, the expansion represents a return of sorts to local hospitality prominence. Known for creating expensive and trendy boutique hotels, he at one time planned to have five hotels but retrenched during the recession.
Today, Paligroup operates two L.A. hotels, including Palihouse West Hollywood on Holloway Drive and Palihotel on Melrose Avenue. The latter opened in early 2012.
The new Santa Monica hotel will fall under the Palihouse extended-stay brand. Brosh also plans to expand his more traditional-stay hotel brand, Palihotel, to Miami next year.
Jim Butler, a partner and chairman of the global hospitality group at Century City law firm Jeffer Mangels Butler & Mitchell LLP, said he thinks Paligroup's troubles were a product of the market, not the result of its business strategy.
"If you were doing development when the great recession hit, you were highly leveraged and in an unsustainable position when the bank panic hit and all financing evaporated," he said. "Paligroup just got caught in that vortex that took virtually everyone down."
Recession repercussions
Brosh is an East Coast transplant who came to California in 1988. He worked a short stint in the mailroom of the William Morris Agency before he committed his career to real estate. He started his development company, then called Palisades Development Group, in 1998.
Before he got into the hotel business, his company focused on developing urban residential and mixed-use properties. He and his team worked on dozens of small loft-style condo buildings in Los Angeles, including the Lofts at Hollywood & Vine.
"In 2005, I decided I wanted to get into the hotel business to complement that business," Brosh said. "I didn't exactly know what that meant, but it sounded good."
For a little while, it was very good. Brosh and his team mapped out plans to open five hotels, and two of them – Palihouse West Hollywood and Custom Hotel, a 250-room traditional-stay hotel near Los Angeles International Airport – opened in early 2008. The Palihouse concept quickly became a hit.
But in 2009, Brosh – like many developers at the time – ran into financial trouble. After he had completed most of the construction on what was supposed to be a second Palihouse property on Vine Street north of Hollywood Boulevard, he ran out of money, defaulted on a $27 million project loan and lost the property in 2010. The development was estimated to have cost him $50 million.
Hollywood real estate investment firm CIM Group Inc. bought the unfinished hotel for $16.8 million and brought in Sam Nazarian's SBE Entertainment LLC to complete the project and operate the hotel and affiliated restaurants. The development, renamed Redbury, opened at 1717 Vine in 2010.
Around the same time, Brosh also sold his Custom Hotel to Marathon Asset Management LP for $20 million. Today, San Francisco boutique hotel management company Joie de Vivre Hospitality Inc. operates it.
The losses would have been a big blow to any developer, but Brosh is an optimistic guy. He said the troubles he had during the recession allowed him to turn his focus to building areas of his business unrelated to development, particularly hotel operations.
"We drastically stripped down the company – to the bare essentials – so we could focus heavily during that time on expanding and improving our operations, our protocol, our systems," he said. "We just generally tried to be patient."
Brosh and his team stopped developing condos after completing a project in San Francisco in 2010, though he said that he is actively looking to get back into it.
The company, once headquartered in Santa Monica, is now run out of the Palihouse West Hollywood hotel and employs 118 people. Twenty-five employees were added to the roster in the last year.
Last year, Brosh renamed his company Paligroup Management to emphasize his new focus. He declined to give specifics on ownership of the hotels, other than to say that in most instances, he is a part of the ownership groups.
Sunny Santa Monica
Brosh, who had mentioned in the past that he wanted to open a Palihouse in Venice and in Palm Springs someday, settled on Santa Monica as the next locale for his extended-stay brand because he saw an opportunity there first.
Last summer, Ramin Kolahi, principal at Lighthouse Investments LLC, asked Brosh to walk through the old family-run Embassy Hotel Apartments with him because it recently went up for sale. Brosh decided he wanted to go into partnership with Kolahi on the project.
"When I toured the property with him, I knew instantly that it was perfect for the Palihouse brand," he said. "The rooms were large, most of them had kitchens, and it's really an iconic building."
Lighthouse spearheaded the $18 million purchase of the 30,000-square-foot apartment-style hotel and brought in Paligroup to redesign, brand and operate it.
Brosh said introductory room rates at Palihouse Santa Monica will start at $299 a night for "classic" rooms and run up to $579 for one-bedrooms. Rates for long stays are determined on a sliding scale.
Robert Feist, vice president of consulting firm Atlas Hospitality Group in Irvine, said Paligroup's timing this go-around is much better.
In 2008, revenue per available hotel room in Santa Monica and Marina del Rey was at about $172. In 2009, it fell more than 20 percent to $136. In 2012, it rebounded to $193.
"Santa Monica is one of the strongest hotel markets in California and the fundamental business numbers are strong," he said. "It's a good place to be."
Hospitality attorney Butler said he thinks the hotel will find the market it needs in Santa Monica.
"There's a definite niche market for this kind of hip style, clean design and spacious product for people who want more space and self-sufficiency," he said.
Brosh said he's confident, too. After all, he didn't survive the disaster of the recession by luck alone.
"Development business, hotel business, it was very challenging for everyone across the board," he said. "I think that some people were able to navigate through it better than others, I just feel fortunate to be able to have this conversation now. We're still here."
For reprint and licensing requests for this article, CLICK HERE.