Internet Friend
Former Myspace exec Michael Jones still clicks with tech scene through his incubator, Science.
Monday, March 18, 2013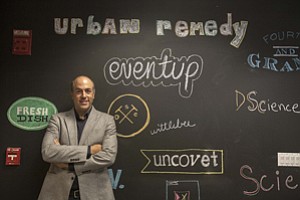 Michael Jones moved from Eugene, Ore., to Los Angeles when the local tech scene was little more than Idealab in Pasadena. Since then, Jones has been part of the area's rise into tech relevance, beginning in 2006 when he sold his small online-messaging service, Userplane, to AOL Inc. He was with AOL during the tumultuous years as the Internet company was falling out with Time Warner Inc. Jones left AOL in 2009 and got firsthand experience with another mismatched tech and media relationship, Myspace Inc., which News Corp. had acquired in 2005. He held a number of top positions at Myspace, including chief executive officer, at a time when the social media site had long been abandoned in favor of Facebook. He helped sell Myspace in 2011 and quickly started Science Inc. a Santa Monica incubator that has been one of the most active players in the Westside tech scene. Science has a heavy emphasis on subscription e-commerce companies and spun out startups such as Dollar Shave Club and Ellie. Just as the center of L.A.'s tech scene has migrated from Pasadena to the Westside, Jones too has steadily made his way from living in Silver Lake to taking up residence by the beach. He lives in Malibu with his wife and two children and soon plans on taking his 8-year-old daughter surfing for the first time. Jones recently sat down with the Business Journal to talk about the troubles among tech and media companies, the reason he's so fascinated by e-commerce and his family's long history of entrepreneurs.
Question: Do you remember the first business you ever started?
Answer: I had a really entrepreneurial principal in high school and on the side of being principal he was in the business of buying overstock goods. He made a deal with me that he would sell me lots of books at his cost. He evidently had warehouses of these things. I was a freshman and conned a junior to drive me around and I started selling books and walking into bookstores with stacks of tourism books and selling big boxes to local bookstores and made a bunch of money. I think I sold thousands and thousands of dollars worth.
What do your parents do?
They're both entrepreneurs. My dad built up a series of different businesses and later in life went into financial planning. My mom was a really strong Realtor and owned a series of real estate businesses.
So there's been business and entrepreneurship in your family?
Going back a lot of generations. My great-grandfather started a company called the Shuttle Paper Box Co., which was one of these paper-box manufacturers way back in the day back when it was a big deal.
That was probably tech back then.
There's a lot of true innovators in the family.
What was your first Internet-related business?
I built a Web development agency in college. I moved down to L.A. (in 1998) because my wife got into grad school down here. There were a series of early adopters in business who realized the Web was a great platform and they got excited about it. Whether they knew what it was going to do to their business I can't say, but they wanted to be involved.
What was L.A.'s tech scene like at the time?
It was a tiny field and there wasn't a formal venture capital community. Venture was very Silicon Valley based at that point. But we bumped into bankers coming out of Goldman Sachs and they invested early stage with us. The original investors were very seasoned older bankers in real estate and that was L.A. There wasn't a big community for us to tie into.
When the Internet bubble burst, did that hit you guys?
I had ended up in a difficult partnership. I chose to sell my equity in the business and within 90 days the market fell out. The company imploded really quickly.
Was there one day when you realized it wasn't working anymore?
I watched from afar as things started imploding. Then I set up a new company, it was a little agency that later became Userplane, a company that I built and later sold to AOL. Userplane is still at AOL and some of my core team still is there running the business. I would be first to admit it never became an explosive business, but it's still around. I'm baffled on how it's survived.
You were at AOL after the merger with Time Warner in 2000. What were things like during that period?
You have to remember when that deal happened the thought was AOL is buying Time Warner. It was called AOL Time Warner. But I would say Time Warner was not happy with the way AOL impacted their top line.
Did that deal sour the relationship between media and tech?
There's been a culture clash between media and tech. I think we all know how to dance with each other now, but that's taken a long time. At the end of the day, the digital industry is a media business and it's very disruptive. Whenever you have these transitions happening they're rarely smooth because you're taking something that's really big and built on a lot of structure that's very mature and you're having a disruptive force come in and break up a lot of the structural elements of those historic businesses. I'm not sure the record business will ever be the same.
When did Myspace come into the picture?
I got to Myspace as a client of Userplane, when Myspace was in its really early days and just getting going so I was familiar with the business. Jon Miller (former head of AOL) took the role of the head digital officer at News Corp. and reached out and said I'm interested in figuring out what we want to do with the site.
Did you have a Myspace profile?
Sure.
How many friends did you have?
I had a lot when I left. (Note: according to Jones' still existing profile, he has 24,788 friends.)
Myspace is mocked for how much users could customize their profiles.
For the community that used Myspace as a platform of expression, it was such an amazing component to that experience. As an advertiser looking at Myspace, it was very difficult to work around. It's black text on black backgrounds, pictures that are all over the place and friends lists that are all over the place. It was a very difficult feature for them to work through.
Was Myspace always doomed to lose to Facebook?
It opened the gateway for Facebook to exist. Remember, when Myspace came into existence people never would have considered a real-world identity inside a digital system. I think Myspace built a basketball court and everyone started playing basketball but then they eventually wanted to play soccer. Playing soccer on a basketball court isn't that great. But someone created a soccer field there and now it made a lot more sense.
Is Myspace destined to be remembered as the company that led to Facebook?
I would love to think that, but that's probably not the consumer's view on it. There's certainly an industry perspective and an L.A. perspective. But there's a lot more happening there than just the face story.
Was it a mistake for News Corp. to buy Myspace?
I don't think so. There was a lot of money that moved between Myspace and News Corp. It's hard to state the final financial impact on News Corp. That book is not necessarily closed for them.
People talk a lot about the "Myspace mafia" in L.A. tech. How important is the company to what's happening here now?
It's seeped into the L.A. startup community. It's also made investors feel more comfortable putting money into L.A. Whether you're looking at L.A. and Myspace or Chicago and Groupon or New York and Tumblr or Foursquare, any big city with success like ours has really big echoes in the creative space and really does lay a lot of that ground work. For L.A., that really was that story. As we build companies that have multibillion-dollar valuations and great outcomes, I think you'll continue to see that. Every success and, typically, every failure builds more and more successes on top of it.
Why did you jump from Myspace into Science and e-commerce?
A double-digit percentage of ad spending has moved online. A much smaller percentage of commerce – general spending – has moved online, and I believe there's longer-term growth to be had. And after my time at Myspace, I said I want to take a breather from big-brand ad sales deals and look at commerce with credit cards coming from customers.
Is there any product you would try to sell through an e-commerce model?
Generally the world buys through Amazon. I don't want to be in a pricing battle with Amazon. If it feels like someone's going to go to Amazon and buy our product quicker, I don't want to touch it.
What about "stuff of the month" e-commerce subscriptions? Why are you so interested in that?
We love repeat transactions from customers. If we can work with them through subscription-oriented transactions or promotions or sales or discounts, it's a great relationship to have. I don't think businesses can sustain themselves on subscription alone. I think businesses that don't offer enough value to the customer to warrant a subscription need to complement a product offering. There's no one-size-fits-all business model.
What about food?
We love food. We've got Fresh Dish (which ships meal ingredients in a box) and Urban Remedy, the juice cleanse company. Our team felt like the experience of grocery shopping was a laborious experience and even if people find time to go grocery shopping, I feel like the majority of the people I talk to say I just spent $200 at the grocery store and I still had quesadillas for dinner.
That's an area marked by failures like Webvan and Pop-up Pantry. How do you expect to make it work?
It's a logistical problem. The joke around here is "How hard is it to get raw chicken into a box delivered to your home?" It's really hard. We spent a lot of money figuring that out.
Your wife has a Ph.D. in psychology. What's that like?
She's on TV and radio talking about love and sex. When crazy stuff happens they seem to call her up; she's becoming a bit less enamored with becoming that person who's like, "You're right. This person's crazy."
Do your careers ever cross paths?
She frequently goes to tech conferences with me and last year she was asked to run a love and sex seminar with all the CEOs. It's one of the optional curriculum pieces to a conference. Of course, I wouldn't possibly want to be in that room so I 100 percent wasn't there.
Probably the right choice. How did it go?
My friend said it was a very educational session.
Have you always been a Westside guy?
No. When I first moved to L.A. I bought my first house in Silver Lake and at that point Silver Lake wasn't necessarily the Silver Lake of today. It was a bit rougher. I had a nice pink hacienda that was up on Occidental Avenue and eventually redid it and sold it. At that point, I was really into surfing, so we moved to Manhattan Beach. When we started wanting room and space for the kids and more nature and outdoors, we moved up to Malibu.
You've got two kids. Between family and heading Science, do you have any time for hobbies?
We do a lot of ceramics. It's all at home. My wife's a pretty avid painter, too. We want to give our kids very tactile experiences through art.
Do you ever give it away as gifts?
As much of it as I can possibly give away. If you can imagine it made out of clay, it's probably somewhere around the house.
For reprint and licensing requests for this article, CLICK HERE.