Internet Friend
Former Myspace exec Michael Jones still clicks with tech scene through his incubator, Science.
Monday, March 18, 2013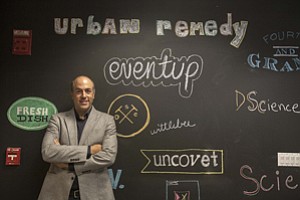 Michael Jones moved from Eugene, Ore., to Los Angeles when the local tech scene was little more than Idealab in Pasadena. Since then, Jones has been part of the area's rise into tech relevance, beginning in 2006 when he sold his small online-messaging service, Userplane, to AOL Inc. He was with AOL during the tumultuous years as the Internet company was falling out with Time Warner Inc. Jones left AOL in 2009 and got firsthand experience with another mismatched tech and media relationship, Myspace Inc., which News Corp. had acquired in 2005. He held a number of top positions at Myspace, including chief executive officer, at a time when the social media site had long been abandoned in favor of Facebook. He helped sell Myspace in 2011 and quickly started Science Inc. a Santa Monica incubator that has been one of the most active players in the Westside tech scene. Science has a heavy emphasis on subscription e-commerce companies and spun out startups such as Dollar Shave Club and Ellie. Just as the center of L.A.'s tech scene has migrated from Pasadena to the Westside, Jones too has steadily made his way from living in Silver Lake to taking up residence by the beach. He lives in Malibu with his wife and two children and soon plans on taking his 8-year-old daughter surfing for the first time. Jones recently sat down with the Business Journal to talk about the troubles among tech and media companies, the reason he's so fascinated by e-commerce and his family's long history of entrepreneurs.
Question: Do you remember the first business you ever started?
Answer: I had a really entrepreneurial principal in high school and on the side of being principal he was in the business of buying overstock goods. He made a deal with me that he would sell me lots of books at his cost. He evidently had warehouses of these things. I was a freshman and conned a junior to drive me around and I started selling books and walking into bookstores with stacks of tourism books and selling big boxes to local bookstores and made a bunch of money. I think I sold thousands and thousands of dollars worth.
What do your parents do?
They're both entrepreneurs. My dad built up a series of different businesses and later in life went into financial planning. My mom was a really strong Realtor and owned a series of real estate businesses.
Prev Next
For reprint and licensing requests for this article, CLICK HERE.