Not All Campaign Ad Buys Translate for KMEX
TV: Station sees little spending from candidates despite leading ratings.
Monday, March 11, 2013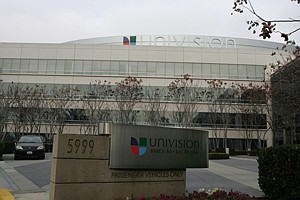 As last week's mayoral primary election neared, the two best-funded campaigns each spent a small fortune to run TV advertisements on local stations.
But the campaigns of Eric Garcetti and Wendy Greuel took altogether different approaches to advertising on L.A.'s most viewed station – Univision-owned and -operated KMEX (Channel 34).
While the Garcetti campaign spent $292,000 to advertise on KMEX in the month preceding the March 5 primary, the Greuel campaign spent no money at all.
It was a key tactical decision about allocating resources in a city where nearly half of residents and almost one-third of registered voters are of Latino descent.
KMEX General Manager Alberto Mier y Terán acknowledged there is still a gap between the size of his audience and how much attention it receives from political candidates in general.
"It's an issue we've been dealing with for a long time," he said. "It's getting better, but we have a ways to go."
The discrepancy is part of a broader national trend; even as candidates acknowledge the growing importance of winning the Latino vote, steps to reach out to that vast demographic have been incremental, at best. Last year's presidential campaigns spent only about 5 percent of their TV ad dollars on Spanish-language stations in 10 key states, including California, according to the United States Hispanic Chamber of Commerce.
As the manager of the widest-reaching broadcast outlet in Los Angeles, Mier y Terán is acutely aware of the advertising windfall elections can produce. His advertising salespeople pitched campaign managers and ad agencies from all of the mayoral campaigns. Aside from Garcetti, the only other candidate to advertise on the station was long-shot Emanuel Pleitez, who spent $40,000 on KMEX ads.
In the eight days leading up to the primary, the Greuel campaign spent at least $262,000 to buy ads on KCBS (Channel 2), KNBC (Channel 4), KABC (Channel 7) and KTTV (Channel 11), according to public records. The Garcetti campaign spent at least $524,000 on those same stations in that period and an additional $71,000 for ads on KMEX. (Ad spending figures at KMEX were provided by the station.)
High stakes
The Garcetti and Greuel campaigns each spent about $5 million to earn the right to face each other in the May election. A detailed breakdown of the spending is not yet available, so it is not possible to determine how that money was allocated among TV and radio ads, mailers and other expenses such as campaign consultants.
The absence of spending on Spanish-language outlets by the Greuel campaign appears to have been a strategic decision, not a reflection of its attitude toward a particular demographic; it produced a number of Spanish-language mailers touting endorsements from Latino leaders.
A spokesman for Greuel confirmed the campaign spent nothing at KMEX but otherwise declined to comment on the spending other than to say it was looking at ways to reach Latino voters.
Fernando Guerra, a professor of Chicano studies and director of the Leavey Center for the Study of Los Angeles at Loyola Marymount University, said the Garcetti campaign is far more reliant on the Latino vote than the Greuel campaign.
"She's not as dependent on it," he said. "Her floor is 30 percent (of the Latino vote) and target is 40 percent."
Producing TV spots and buying airtime is far pricier than sending out mailers, which Guerra said are also a good way to reach Spanish-speaking voters.
"The majority can be communicated to without TV," he said.
Language barrier
One apparent advantage for Garcetti is that he speaks Spanish. His 15 second Spanish-language ads began airing in the middle of last month, and the spots feature the city councilman addressing the camera directly, discussing job creation and other plans for economic growth.
But language skills – or the lack of them – should not preclude a candidate from addressing the Spanish-speaking market, said Rochelle Newman-Carrasco, executive vice president of Hispanic marketing and media at Culver City-based ad agency Walton Isaacson. There are other ways for a candidate to communicate a message, for example, by using a narrator.
"If you have a story to tell, there are creative, genuine ways to do it," she said. "I'm not a big Univision-or-die type of person, but in this case it is a big miss."
KMEX's programming mix includes news and telenovelas, including "Amores Verdaderos," frequently the most watched program in Los Angeles.
In February's prime-time sweeps, KMEX averaged a 3.2 rating for adults 18-49 in Los Angeles. The next best-rated station was KCBS, with a 2.1 rating for adults 18-49. Each rating point reflects 1 percent of households with TVs in the market. Telemundo station KVEA (Channel 52), which competes with KMEX, did not place in the top five.
With Greuel and Garcetti unable to secure 50 percent of the primary vote last week, more spending is sure to come in the weeks before the May 21 runoff election, and local TV viewers can expect another bombardment.
The Greuel campaign had $327,000 cash on hand as of Feb. 27, while the Garcetti campaign had $250,000 cash on hand, according to the Los Angeles City Ethics Commission.
More money will certainly pour into their campaigns and decisions will have to be made on how to spend it.
Regardless of whether Greuel decides to buy his airtime, Mier y Terán said there is a growing awareness from not just political candidates, but all advertisers looking to tap into Latino audiences. The effort to grow that awareness was helped hugely by recent reports that Univision's ratings surpassed those of NBC in the national sweeps last month for the first time.
"Things like that showcase the power of the Hispanic market," he said. "We have a growing community that is more engaged than ever before with politics. It's an ethnic group that's growing leaps and bounds and you cannot afford not to talk to this market."
For reprint and licensing requests for this article, CLICK HERE.