New Hospital Turns Animal Care Into Pet Project
HEALTH CARE: West L.A. facility of VCA Antech offers high-tech treatment.
Monday, March 11, 2013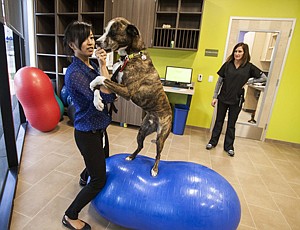 Aside from the dogs on leashes and cats in carriers in the upscale reception area, it's hard to tell at first glance that the newest hospital on Sepulveda Boulevard is for four-legged patients.
The new VCA West Los Angeles Animal Hospital, which opened last month, aims to attract Westside residents who take their pets' health as seriously as their own.
VCA Antech Inc.'s new 42,000-square-foot flagship hospital is near the first veterinary clinic that Chief Executive Robert Antin and his partners bought when they started the L.A. company in 1986. Today, VCA Antech operates more than 600 small-animal hospitals, imaging centers and laboratories in the United States and Canada.
"The old hospital was state of the art when we bought it, and now this one is probably one of the most technologically advanced in the world," Antin said. VCA Antech has a long-term lease from the Automobile Club of California on the building, which is at 1900 S. Sepulveda Blvd. and four times the size of the first clinic.
It also has arrangements with the Los Angeles Zoo and Moorpark College in Ventura County to treat their smaller exotic animals.
The facility includes a digital medical imaging facility, cancer treatment equipment, a physical therapy center with hydrotherapy pool, a bone-marrow transplant unit, pituitary tumor surgery facilities, alternative and holistic medicine specialists, and office space for nearly 50 general practice and specialist vets.
It is also a teaching hospital, with several interns and residents on staff at any one time. If you didn't take note of the cages and pet-size examination tables in the ICU and the Fit-Fur-Life treadmill in the rehab unit, "this could be a human hospital – a very nice human hospital," said Dr. David Bruyette, its medical director. "We have just about every toy you can imagine to provide the best treatment for our patients."
An open house for the facility is scheduled for March 16.
Rice Is Nice
Whey has long reigned supreme among body builders and other athletes as a nutritional supplement that both builds muscle and helps prevent muscle breakdown as the body recovers from strenuous exercise.
Now, a new clinical study indicates that rice protein can do the job just as well, and without the potential of allergic reaction. A West L.A. company that is considered the world's largest wholesale supplier of brown rice protein for human consumption is using the findings to expand its market.
Axiom Foods Inc. notes that one of its products was used in the double-blind independent study. (Axiom did not pay for the study.)
While most of its production is bought by other companies, including Santa Monica-based BeachBody LLC for its Shakeology line, Axiom recently introduced its own retail line, Growing Naturals.
"Rice protein is a complete protein that can be used anywhere whey or soy protein can," said Chief Executive David Janow. "This is huge news for the food industry and something I've always suspected, but it's great to have outside verification."
Southern Expansion
Children's Hospital Los Angeles has opened an outpatient center in Torrance, the third such ambulatory care facility for the internationally known Los Feliz medical institution.
Children's Hospital Los Angeles-South Bay opened last month at 3440 Torrance Blvd. It's staffed by 14 physicians with expertise in 10 pediatric specialties, including cardiology, endocrinology and orthopedics.
Children's Hospital Chief Executive Richard Cordova said the expansion was long anticipated.
"Each year, about 6,000 inpatients and outpatients from the South Bay come to our main hospital campus … totaling about 36,000 visits in 2011," he said in a statement. "It makes a lot of sense for us to locate in this community."
Children's Hospital also operates outpatient centers in Arcadia and Valencia, and earlier this year signed an agreement with Providence Tarzana Medical Center to jointly operate Providence Tarzana's pediatric and pediatric intensive care units.
Staff reporter Deborah Crowe can be reached at dcrowe@labusinessjournal.com or (323) 549-5225, ext. 232.
For reprint and licensing requests for this article, CLICK HERE.