Modest Practice, Flashy Growth
LAW: Low-key Lewis Brisbois becomes largest firm in L.A.
Monday, March 11, 2013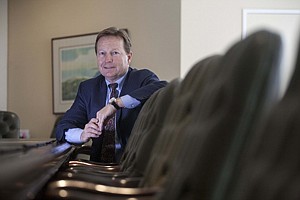 The firm's success further signals the shift in the L.A. legal market toward middle-market work, said Peter Zeughauser, a legal consultant in Newport Beach. Firms seeking higher-margin work from large corporations have turned their attention away from Los Angeles.
"Right now L.A. is not a hotbed of high-rate work," said Zeughauser. "All those other firms have put an emphasis on growing in higher-rate markets, particularly New York and D.C."
The firm was co-founded as Lewis D'Amata Brisbois & Bisgaard in downtown Los Angeles in 1979 by seven lawyers, many of them litigators specializing in medical and legal malpractice who left Overton Lyman & Prince, one of the oldest firms in Los Angeles.
The firm found an initial niche defending insurance companies against medical and legal malpractice claims. Many traditional firms at the time did not get involved in insurance defense, while many insurance defense firms didn't have attorneys with broad litigation experience to handle malpractice claims.
It charged rates lower than large firms, and many attorneys reportedly earned just 50 percent to 80 percent of the income commanded by their counterparts in the city's premier firms. It also became known in the 1980s for aggressive insurance defense.
The firm grew beyond malpractice into general insurance defense, representing insurance companies in connection with failed savings and loan associations and toxic waste lawsuits. It reportedly grew its attorney count faster than any L.A. firm through the 1980s on a percentage basis. By 1991, it had grown to 199 attorneys, a number that had jumped to 365 by 2002. That year, it opened an office in New York, the first of many outside California. Today, the firm has more than 20 offices in 12 states and close to 870 lawyers firmwide.
'Under the radar'
The L.A. office has also grown over that time, from 99 attorneys in 1999 to 271 today.
"It's flown under the radar," said Lechtick, who has recruited attorneys for the firm. "But it's clearly the 800-pound gorilla in its space."
As it has grown, Lewis Brisbois has branched outside of its insurance roots into practice areas including some corporate and real estate work. But insurance defense still accounts for more than half of its business, Graves said, with clients including American International Group Inc., Farmers Insurance Group and Travelers Cos.
Firms heavy in insurance defense have fared well as insurance litigation increased during the economic downturn. Competitors such as Gordon & Rees LLP in San Francisco and New York's Wilson Elser Moskowitz Edelman & Dicker LLP also grew their firmwide attorney counts in recent years.
Graves declined to discuss finances, but Lewis Brisbois is known in the legal community for charging lower rates, and taking in lower profits, than other large firms. American Lawyer magazine estimated the firm's 2011 profits-per-partner at $620,000, much lower than L.A.'s other major law firms. O'Melveny, Gibson Dunn and Latham & Watkins LLP each reported profits per partner of more than $2 million last year to the Business Journal.
Lewis Brisbois isn't done growing. Its plans include opening offices in Oregon and Missouri in the next six months. It will also continue expanding and cross-marketing its other practice areas; for example, it wants to handle more employment issues for health care providers.
"We'll continue to grow into different locales and we'll we want to expand some of our practice areas," Graves said. "We're going to keep doing what we're doing."
Prev Next
For reprint and licensing requests for this article, CLICK HERE.