Fresh Script
Talent agency CAA tries role of tech startup investor
Monday, March 11, 2013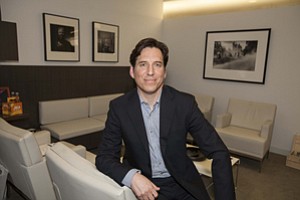 Hollywood talent agencies, forever gunning for the next project for their clients, have been eyeing a once unlikely star: tech.
Creative Artists Agency, the über-celebrity representation firm, recently stepped up its involvement with a new venture capital fund. It isn't huge – $20 million, according to a filing with the Securities and Exchange Commission – but to the local tech community, the signal it sends about increased engagement from Hollywood is oversized.
Representatives of CAA declined to comment on the new fund. But given the interests of past agency-led venture capital funds, and the continued melding of Hollywood and tech, it appears the agency's new venture is for startup investments.
For an agency, the benefit is twofold: taking equity in the white-hot tech industry adds a potential revenue source, and there is the traditional business of taking a 10 percent commission on brokered deals.
And as celebrities have taken a growing interest in tech, being a conduit to this industry provides another service for clients.
For example, if a musician wants to get involved in a music startup, the tools to fund and develop this business might be available in-house.
Nearly all of the top talent agencies – including United Talent Agency, William Morris Endeavor and Paradigm – in recent years have vastly expanded departments that deal specifically with tech ventures.
The shift to becoming a stronger player in tech has come at a time when Hollywood's wheelers and dealers are re-examining their roles.
CAA has been particularly active, having co-founded business such as comedy video site Funny or Die and celebrity social media platform WhoSay. The agency last year co-founded Moonshark, a mobile-game maker that partners apps with high-profile agency clients.
"As we were diversifying the agency's business, we needed to start thinking about ourselves as principals as well as agents," said Michael Yanover, who heads CAA's business development division. "Tech plays a big part in that."
The transition hasn't been smooth.
There are essential differences between the two camps: Entertainment is a cash-driven industry, where funders like to see a quick, definitive return on an upfront investment. Tech companies take a longer view and are comfortable burning through cash for the promise of future profit. Also, Hollywood is by nature risk-averse; the technology community embraces disruptive, cutting-edge ideas nearly to a fault.
Talent agencies have a complicated history with funds – some were touted but failed to materialize, while others were promising for a time and then abandoned.
For reprint and licensing requests for this article, CLICK HERE.
Prev Next