Online Fee For All
INTERNET: MediaPass' paywall services help publishers put price on content.
Monday, March 4, 2013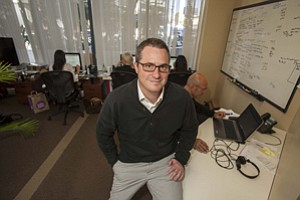 The Internet isn't the free-for-all it once was.
As news organizations realize that online ad revenue alone is not enough to support news-gathering operations, many have begun imposing so-called paywalls.
From community newspapers to online radio shows and blogs, publishers large and small are now charging for their content, a trend West L.A. startup MediaPass LLC is trying to capitalize on.
MediaPass, founded in 2010, designs and manages paywall systems for content providers and already this year has announced deals to process subscription services for the online sites of tabloid Weekly World News and conservative radio talk show "Right Wisconsin." The site of CBS Sports radio personality Jim Rome is now also using MediaPass to charge its subscribers.
What links these disparate content sites is a desire to increase revenue beyond advertising.
"We wanted (content providers) to try it and get addicted to the money and that's what happened," said Matthew Mitchell, a co-founder of MediaPass. "We had to make it so easy that a publisher would say, 'Why wouldn't I try this?' "
The company has 15 employees in its West L.A. offices, developing software for processing log-in information and payments, as well as designing the appearance and features of the paywall.
The company does not charge an upfront fee for developing the payment system, taking instead a split of subscription revenue ranging from 16 percent to 30 percent.
MediaPass won't disclose its revenue, which is tied both to the percentage it charges as well as the ability of its clients to convert readers to the pay model. The Rome show, for instance, has an annual subscription rate of $39.95 a year while Weekly World News has a base online subscription rate of $19.95 a year. The number of paying subscribers for those sites was not available.
The challenge, however, is clear, since many readers still scoff at the thought of paying for online news and entertainment.
Many newspapers are happy to convert just 4 percent of their unique online visitors – the number of people who visit a webpage, not counting repeat visitors – to paying subscribers, said Joshua Benton, director of the Nieman Journalism Lab at Harvard University.
Still, certain features, like a "leaky" paywall that allows visitors to read a handful of articles before paying, show promise.
The preference for a nuanced, rather than brick-wall, approach could add up to more business for MediaPass and other service firms, he said.
For reprint and licensing requests for this article, CLICK HERE.
Prev Next