New Execs Bank on Broader Bases
LENDING: Wells Fargo, Hanmi look beyond Koreatown market.
Monday, June 24, 2013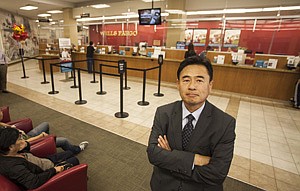 Separated by just two blocks in the center of Koreatown, two longtime bankers have new jobs and a shared goal: bringing in a new kind of Korean customer.
C.G. Kum, recently hired to lead Hanmi Financial Corp., wants to expand the bank's business beyond its traditional clientele of mom-and-pop merchants to big Korean-American firms. Down the street, Sungsoo Han of Wells Fargo & Co. is trying to woo the American subsidiaries of big South Korean conglomerates.
The hiring of Kum and Han represents a serious drive by the banks to attract new customers as they face stiff competition, thin margins and weak demand for loans.
Kum, hired three weeks ago as Hanmi's new chief executive, was an unexpected choice. Unlike most executives at L.A.'s Korean-American banks, Kum is a Koreatown outsider, having spent his career with nonethnic community banks. He wants Hanmi to focus less on real estate loans to gas station owners and small landlords and switch to bigger Korean-American businesses that need other types of loans and services.
It's a different story for Han. Before joining Wells Fargo early this year as a senior vice president, he spent more than 20 years as an executive at Korean-American banks, including Hanmi and Wilshire Bancorp. He plans to use his cultural know-how and his Koreatown contacts to get business from the subsidiaries of companies such as Seoul, South Korea's Samsung Group and Hanjin Group, which have ramped up their American operations over the past few years.
Timothy Coffey, an analyst who follows Hanmi and other L.A. banks for San Francisco brokerage FIG Partners, said the different strategies share the same motivation: increased competition for high-quality borrowers and loans.
He said Hanmi especially needs the new strategy to pay off as it faces fierce competition from both Korean-American and mainstream banks in commercial real estate lending, which has long been the bank's main business line.
"Industrywide, loan demand is really weak, so the mainstream banks like Wells Fargo are forced to search out opportunities wherever they can find them," he said. "And Korean-American banks are forced to offer different products. It's almost a necessity for them to expand the market."
New loans
For Kum, formerly chief executive at Westlake Village bank holding company First California Financial Group, diversifying Hanmi's business is a top priority.
Koreatown banks have long focused on commercial real estate lending, and Hanmi had the most among them. At the end of March, loans for commercial properties and apartment buildings made up 84 percent of its loans, a much higher percentage than at Koreatown competitors BBCN Bank and Wilshire Bancorp's Wilshire State Bank.
Prev Next
For reprint and licensing requests for this article, CLICK HERE.