New Execs Bank on Broader Bases
LENDING: Wells Fargo, Hanmi look beyond Koreatown market.
Monday, June 24, 2013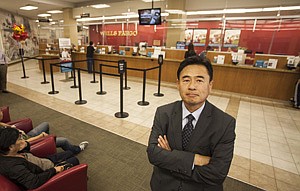 Separated by just two blocks in the center of Koreatown, two longtime bankers have new jobs and a shared goal: bringing in a new kind of Korean customer.
C.G. Kum, recently hired to lead Hanmi Financial Corp., wants to expand the bank's business beyond its traditional clientele of mom-and-pop merchants to big Korean-American firms. Down the street, Sungsoo Han of Wells Fargo & Co. is trying to woo the American subsidiaries of big South Korean conglomerates.
The hiring of Kum and Han represents a serious drive by the banks to attract new customers as they face stiff competition, thin margins and weak demand for loans.
Kum, hired three weeks ago as Hanmi's new chief executive, was an unexpected choice. Unlike most executives at L.A.'s Korean-American banks, Kum is a Koreatown outsider, having spent his career with nonethnic community banks. He wants Hanmi to focus less on real estate loans to gas station owners and small landlords and switch to bigger Korean-American businesses that need other types of loans and services.
It's a different story for Han. Before joining Wells Fargo early this year as a senior vice president, he spent more than 20 years as an executive at Korean-American banks, including Hanmi and Wilshire Bancorp. He plans to use his cultural know-how and his Koreatown contacts to get business from the subsidiaries of companies such as Seoul, South Korea's Samsung Group and Hanjin Group, which have ramped up their American operations over the past few years.
Timothy Coffey, an analyst who follows Hanmi and other L.A. banks for San Francisco brokerage FIG Partners, said the different strategies share the same motivation: increased competition for high-quality borrowers and loans.
He said Hanmi especially needs the new strategy to pay off as it faces fierce competition from both Korean-American and mainstream banks in commercial real estate lending, which has long been the bank's main business line.
"Industrywide, loan demand is really weak, so the mainstream banks like Wells Fargo are forced to search out opportunities wherever they can find them," he said. "And Korean-American banks are forced to offer different products. It's almost a necessity for them to expand the market."
New loans
For Kum, formerly chief executive at Westlake Village bank holding company First California Financial Group, diversifying Hanmi's business is a top priority.
Koreatown banks have long focused on commercial real estate lending, and Hanmi had the most among them. At the end of March, loans for commercial properties and apartment buildings made up 84 percent of its loans, a much higher percentage than at Koreatown competitors BBCN Bank and Wilshire Bancorp's Wilshire State Bank.
At First California, they made up just 62 percent at the end of March, according to the Federal Deposit Insurance Corp. (First California was acquired in May by Century City's PacWest Bancorp.)
Kum wants to reduce the bank's concentration in real estate lending while increasing commercial and industrial lending – that is, offering lines of credit, equipment financing and other types of loans that businesses use to manage cash flow and grow. That type of lending is now less than 10 percent of Hanmi's portfolio.
In part, that's because the bank works mostly with small businesses. Most of the bank's commercial and industrial loans are worth less than $1 million. Kum wants to do more loans in the $3 million-$5 million range, so he's looking for larger customers – companies with revenue of as much as $50 million annually.
Those are the same-size businesses Kum targeted at First California. That bank had a more diverse loan portfolio than Hanmi, with more commercial and industrial loans and fewer real estate loans.
"We want to become a regional commercial bank," he said.
The larger customers Kum wants now work with either national banks such as Bank of America or nonethnic community banks similar to First California, he said. To lure them to Hanmi, the bank needs to promote services it already offers, such as cash management and payroll, and hire more bankers focused on commercial and industrial lending as well as on middle-market clients.
He said Hanmi hasn't done more commercial and industrial lending because it's more difficult and because the bank's core Korean-American clients have always been mostly interested in acquiring real estate.
"It's easier to cultivate real estate opportunities," he said. "Commercial and industrial lending takes more skilled bankers. It's much more taxing as far as bank resources."
FIG's Coffey agreed that type of lending is more complicated than commercial real estate lending. With a commercial real estate loan, the property itself serves as collateral, but with a line of credit or other loans, the collateral might be in the form of inventory or other assets.
But moving into that type of lending is key for Hanmi, Coffey said, because the market for commercial real estate loans is so competitive.
"I think having C.G. with the company will be helpful for Hanmi to diversify its loan portfolio," he said. "C.G. is used to managing a much more diversified portfolio."
Han at Wells Fargo wants to attract the same middle-market clients Kum is after. He said there are many more Korean-American companies of that size today than just a decade ago, presenting an attractive opportunity for his employer.
But Han is also after Korean firms that have operations in the United States, especially the subsidiaries of the country's massive conglomerates, or chaebols. Those companies have increasingly large and diverse operations in Los Angeles.
Korean Air, a subsidiary of Hanjin, is demolishing the Wilshire Grand in downtown Los Angeles and replacing it with what will be the West Coast's tallest building. Samsung in 2011 opened a North American branch of its engineering and construction division in Long Beach. CJ America, part of chaebol CJ Group, runs restaurants and a food distribution business around Los Angeles and has plans to open as many as 200 movie theaters in the United States.
As those businesses continue to grow, Han said they will need the services offered only by the biggest banks, such as investment banking and insurance.
"These businesses have evolved in size and complexity," he said. "Many of them started banking with Korean banks, but now they've grown. They need more services."
Han said he is about to close deals with several such subsidiaries, though he declined to name them. His main competitors for such companies are the American outposts of Korean banks, such as Woori America Bank and Shinhan Bank America, both based in New York.
Coffey noted local Korean-American banks also do business with big Korean firms.
"That's a core customer for the Korean-American banks," he said. "They speak the language, they understand the protocol."
So does Han. Born in Korean, he came to the United States in his 20s and spent more than two decades with Koreatown banks. He was Wilshire State Bank's chief lending officer until he left in 2011.
He said he knows how to approach local Korean-owned subsidiaries, many of which are led by Korean executives, not Korean-Americans. While his focus is on firms in the L.A. area, Han also advises Wells Fargo bankers in other regions, helping them understand how they should go about introducing themselves to Korean executives.
For instance, rather than cold-calling an executive, Han said he tries to find someone he knows who can introduce him. When he sets up an initial meeting, usually over lunch or a round of golf, that third party is there and business is not the main point of conversation.
"Korean executives, they expect to develop a level of comfort first," he said. "It's a little different. It's very delicate."
Coffey said mainstream banks have some experience working with Korean firms, but those customers haven't been a focus for major banks. It's rare, he said, for a major bank to hire someone with Han's level of experience.
"It really behooves you to understand the protocol from a Korean standpoint," he said. "Mainstream banks have never had people who really understood that dynamic, which makes the gentleman at Wells Fargo so interesting."
For reprint and licensing requests for this article, CLICK HERE.