Turning Page
Shopping network suits up as magazine maker
Monday, June 10, 2013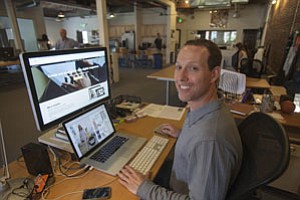 When Matt Edelman took the reins of ThisNext Inc. in 2010, the business was stalled.
The Santa Monica company, which operated a portfolio of fashion and shopping websites, relied on out-of-date technology that limited its potential to grow.
After a year trying to fix ThisNext's business, Edelman realized there wasn't a long-term solution. So he changed direction and decided to turn the company into one focused on new technology.
The result is Glossi, a publishing platform for digital magazines that launched in December.
Glossi allows people to create and publish online magazines. Anyone from fashionistas to real magazine publishers to brand marketers can use Glossi's drag-and-drop tools to add text, photos, videos and links to design digital 'zines.
"Everybody is extremely excited about where this company is headed," Edelman said. "And for all intents and purposes, it was a company that wasn't going anywhere before this."
In the last three years, Edelman and his team built Glossi from the ashes of ThisNext. The reorganized company continues to operate ThisNext websites, which still bring in a steady but waning revenue stream.
Glossi last week announced a series of updated features – including distribution and monetization tools – that set the stage for the company to sell its services to paying customers.
With touch-screen capabilities and horizontal scrolling, the digital magazines created using Glossi are designed to be read on mobile devices, not desktop or laptop computers.
Glossi board member William Woodward said the company's potential has reignited his excitement.
"Mobile computing sort of reinventing multimedia was really compelling to me," said Woodward, who invested in Glossi through Santa Monica's Anthem Venture Partners. "ThisNext had a fair amount of just-missed opportunities. We're asking, Are we going to get it right this time?"
Early challenges
ThisNext launched in 2006 as an updated iteration of the shopping websites that put Los Angeles on the e-commerce map during the first dot-com boom.
Much like West L.A.'s Shopzilla or Ladera Height's PriceGrabber, ThisNext makes money by sending people to e-commerce sites and earning a commission – called an affiliate fee – for driving a sale. These companies depend heavily on traffic from Google to send shoppers to their sites.
Many of those shopping sites act like a search engine, but ThisNext lays out its website more like a fashion magazine. Editors compile a selection of their favorite summer dresses, for example, to inspire shoppers.
By early 2010, ThisNext had raised close to $9 million in funding from investors that included Anthem and Santa Monica's Clearstone Venture Partners.
Even so, when Edelman joined ThisNext, shopping sites were beginning to incorporate social media by allowing people to view their friends' favorite looks or share their own purchases on Facebook. ThisNext allowed for some social interaction but it was out of date.
Sucharita Mulpuru, an e-commerce analyst at Cambridge, Mass., research firm Forrester, said ThisNext needed to keep up with social innovation in order to keep pace with competitors. Instead, the company lagged.
"If they'd played their cards right and engaged in social early on, they could have been one of the companies that was in the best position to benefit from it," she said.

The company tried to update social components of ThisNext.com and StyleHive.com – a San Francisco shopping wish-list website that the company acquired two months before Edelman arrived.
At first, it looked like the strategy was working. The Business Journal reported in 2010 that traffic to ThisNext.com grew by 250 percent during Edelman's first seven months. At the time, the site claimed 6.5 million members. ThisNext logged its first profitable quarter at the end of 2011.
But audience growth and profitability belied a larger problem.
The technology platforms keeping ThisNext.com and StyleHive.com humming were designed in the mid-2000s when Facebook was only for students and Twitter didn't exist. So they were not built to handle the social integration.
"The more changes we made to the user experiences in order to connect to the social web, the more something broke," Edelman said. "We found ourselves taking one step forward and two steps back."
Making changes
To make matters worse, Google changed its search algorithms in 2011 to steer traffic away from what the search giant considered low-quality sites. Those that were deemed "content mills" or others that relied on affiliate fees and had limited social integration, such as ThisNext, were shoved to the bottom of the search results.
It was while trying to integrate social components and recover from the Google update in 2011 that Edelman realized there wasn't much he could do to turn ThisNext into a long-term success. ThisNext's revenue was stable and it was a profitable business, but the company wouldn't be able to grow without gutting its technology and starting fresh.
"I didn't believe that the way ThisNext made money and generated traffic was a viable way for a company to grow and expand without a significant war chest of capital," Edelman said. "I just didn't want to build something for ThisNext around a concept that I didn't believe in."
That's when the company began to test new business opportunities and landed on the idea for Glossi. Allowing people to create their own fashion magazines didn't seem like that big of a stretch from ThisNext's fashion sites, Edelman said.

He presented the idea to the board and was given approval to develop a prototype. By February of last year, his 12-person team had developed an early version of Glossi. It looked like a winning play.
"We probably could have sold the company and investors would have gotten their money back," Edelman said. "But investors aren't interested in that. ThisNext had effectively become a zero, but Glossi represented the opportunity to turn their investment into a one."
By October, ThisNext had raised additional capital from its existing investors, officially changed its name to Glossi and rebooted the business.
Signing Brands
Since launching to the public six months ago, Glossi magazines have surpassed 100,000 views per month and 1 million page views per month.
That's still only a fraction of the traffic that competitor Flipboard sees. The Palo Alto company, which offers digital magazine design tools in addition to its popular news aggregation app, reported 20 million users after its first two years on the market.

Glossi said people can use the publishing tool, say, to create a photo journal of their recent vacation to Greece. The company has also started to sign professional magazine publishers and media brands that are creating magazines featuring digital content.
Hearst Corp.-owned women's magazine Cosmopolitan, for example, recently published a 14-page Glossi titled "Sexiest. Summer. Ever." that featured photo spreads of swimsuits and makeup tips with links to full articles on Cosmopolitan.com.
Tim Hanlon, founder and chief executive of Chicago media consulting firm Vertere Group, said Glossi is tapping into a growing trend.
"Brands and advertisers increasingly fancy themselves as storytellers, as content creators and distributors," he said. "In the digital world, the ability to become a taste maker and become a storyteller is easier than ever before."
With the latest update, Glossi now allows people to display their magazines through its iPad app. The company also launched a feature called a "digital magazine stand," which allows them to showcase a collection of Glossies on their Facebook page or blog. Previously they would have had to link to each Glossi individually.
The company now allows people to monetize their magazines by embedding links to e-commerce sites. (A publisher will make a commission if someone goes to that link and then buys a product.)
By adding these features, Glossi is prepping to begin charging a subscription fee. The company plans to keep a basic version of Glossi free but will charge for use of the professional tools such as monetization and distribution.
In the meantime, the company continues to operate ThisNext.com and StyleHive.com as almost an afterthought, using the dwindling revenue from the sites to help retain top engineers and build Glossi's publishing platform.
Anthem partner Woodward said there are no regrets pivoting the company away from its out-of-date websites.
"The actuality is that things don't always go as planned; in fact, they seldom do," he said. "ThisNext was a good business, but we wanted to swing for it."
For reprint and licensing requests for this article, CLICK HERE.