Razor Vendor Takes Swipe at Wipes
INTERNET: Dollar Shave Club seeks to mirror bathroom success.
Monday, June 10, 2013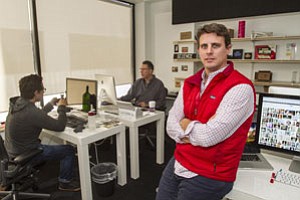 Michael Dubin isn't shy about his ambitions for Dollar Shave Club. Launching the company last year as a mail-order razor service was fine, but to put it in his words, "We want to own the bathroom."
Recently, Dollar Shave Club launched its second major product, one that the Venice company looks to ride toward the hallowed grounds of bathroom mavens.
The offering: a wipe for men.
To be specific, One Wipe Charlies, a durable, flushable wet nap, moistened with aloe vera and other salves that Dubin and company insist make it superior to the toilet paper of yore. Yes, even two-ply. It costs $4 for a pack of 40, but is only available to those on the razor plan.
Dollar Shave Club's first venture beyond the face is also the official start of its second act – an act in which it needs to become the company investors think it can be.
During the rest of this year, the e-commerce site will release four or five more items, all in the male grooming category. Even for a startup that was able to sign up 200,000 subscribers, who pay $1 to $9 a month to get four or five razor heads, the pressure is on to churn out a new big thing.
"A company like that has to continually check the pulse of customers and make changes to keep them in the fold," said Ira Kalb, a marketing professor at USC's Marshall School of Business. "It's not easy to get people to think about your other products, especially when your name is Dollar Shave Club."
Dubin admitted that selling shaving gear alone isn't enough. Among its subscribers, the largest chunk pays for the midrange option of $6 a month. Spread over an entire year, that amounts to just over $14 million in revenue, hardly a nick in the $6 billion men's shaving and grooming industry. That will need to change for Dubin, 34, to reach his stated goal of making the company a powerful name in consumer products.
And as Dollar Shave Club reaches the upper limits of where razors can take it, the company begins the process of establishing a larger brand, the center of which is Dubin himself.
He launched Dollar Shave Club into prominence by starring in a humorous introductory video that became a viral hit. The company has refrained from any follow-ups until now, with his new spot introducing One Wipe Charlies.
Prev Next
For reprint and licensing requests for this article, CLICK HERE.