Amazon Raising Stakes in L.A. With Delivery Service
GROCERY: Meat vendor makes the cut as one of first clients.
Monday, June 3, 2013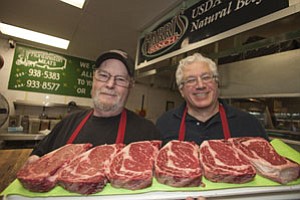 If you wanted alligator andouille or wild boar sausage from Huntington Meats, you had to drive to the Fairfax Farmers Market.
But starting as soon as this week, Angelenos will be able to order online and get their sausages delivered to their doorstep – not by Huntington Meats or even FedEx, but by e-commerce giant Amazon.com Inc.
Amazon is about to launch a grocery delivery service, AmazonFresh, in Los Angeles, the first expansion of the service outside of the company's native Seattle.
For Huntington and a few other local retailers, the service could help boost sales. But for Amazon, it's part of a plan to give customers fewer reasons to shop anywhere else by selling just about everything and offering quick delivery.
The company has been tight-lipped about AmazonFresh's arrival in Los Angeles and executives did not return calls for comment. But Jim Cascone and Dan Vance, co-owners of Huntington Meats, said they expect a soft launch in Los Angeles on Wednesday or Thursday.
Their shop is one of a handful of L.A. merchants hand-picked for sale by AmazonFresh. Another is Rancho Dominguez seafood retailer and wholesaler Santa Monica Seafood Co. That company declined to comment.
AmazonFresh has similar relationships with merchants and restaurants in Seattle, advertising their products for sale on the AmazonFresh website.
Cascone said he thinks selling through AmazonFresh should expand his customer base well beyond folks who live near Farmers Market or are willing to drive there.
"There are a lot of Hollywood writers I know who don't even leave their house," he said. "This is more convenient. In Los Angeles, the convenience is more important than cost."
Groceries and books
AmazonFresh has been testing in Seattle since 2007, slowly spreading grocery delivery to more ZIP codes in the region during that time. Analysts expect AmazonFresh will have a similar type of roll-out in Los Angeles.
Customers in eligible ZIP codes will be able to buy groceries on AmazonFresh's site in much the same way they pick books, electronics or other items on Amazon.com.
Once groceries are selected, customers choose a delivery time – either a three-hour window when groceries can be dropped off on a doorstep or a one-hour window when a customer can accept a delivery in person.
In Seattle, the most popular option is predawn delivery, with groceries dropped off before 6 a.m. Groceries come in temperature-controlled tote bags.
Orders of more than $100 have no delivery fee. AmazonFresh charges buyers $7.99 for orders between $50 and $100 and a $9.99 for smaller orders.
The packages are put together at an Amazon distribution center then delivered by an Amazon driver in an AmazonFresh truck – not by the post office, UPS or FedEx.
In delivering groceries, AmazonFresh isn't much different from other services, including what's offered by Safeway Inc.'s Vons chain in Southern California. But while Vons sells and delivers groceries, Amazon sells and delivers just about anything to AmazonFresh customers: spinach, eggs and a copy of "Moby Dick" or a pair of jeans, all ordered today and delivered to your doorstep tomorrow morning, and all for the same delivery fee.
Scott Tilghman, an analyst who follows Amazon for Westwood stock brokerage B. Riley & Co. LLC, said that's how Amazon will make its money – not by selling groceries.
"If they make a 1 or 2 percent margin on groceries, but they're able to get a few hundred extra dollars from those same customers buying other products, it's more than covered the cost of that venture," he said.
Other analysts say Amazon would be happy making no margin on the grocery business. If it can sell enough groceries to cover the cost of delivery and local distribution centers, it can bring in more customers and sell more products thanks to the quick shipping opportunity that the grocery infrastructure creates, said Keith Anderson, a consultant at RetailNetGroup of Waltham, Mass.
"I think they would be comfortable breaking even," he said. "If you don't have to pay to get stuff the same day, that will just be another hook to shift more spending to Amazon."
Lower margins
Even if grocery delivery serves as a loss leader, the company demands big discounts from Huntington Meats and other local merchants in exchange for the exposure and larger customer base Amazon aims to provide.
Huntington Meats' products will cost the same whether purchased at the Farmers Market store or through AmazonFresh, but Huntington Meats will sell to Amazon at a 25 percent discount below retail.
"They're giving us the orders," Cascone said. "You get your order from Amazon and they take their cut. We get whatever's left."
But Cascone said that's still a good deal for Huntington Meats. Meat is a volume business, so more sales, even at that discount, should still improve the company's bottom line. He thinks AmazonFresh will sell his sausages to many customers who likely wouldn't drive to the Farmers Market.
"I think it's going to expand our business and our clients," he said.
Ryan Reese, a fishmonger at Seattle's iconic Pike Place Fish Market, said working with AmazonFresh has boosted sales by 5 percent to 10 percent. Like the Farmers Market, Pike Place can be seen as a tourist destination and many Seattle-area residents visit infrequently.
"It's a difficult place to go for locals unless they live nearby," Reese said. "Now we're getting a whole new customer. I see the ZIP codes where people are ordering from and it's customers who would never come down here. Every single order, I believe, is money in our pocket."
But some merchants haven't been quick to jump on board. Last year, AmazonFresh approached Coolhaus, a Culver City company that makes ice-cream sandwiches.
Natasha Case, Coolhaus chief executive, said she was interested, but the price Amazon wanted for her treats was too low.
"They wanted us to come down 30 or 40 percent from wholesale," she said. "It was hard to make the numbers work."
But that was a year ago, and Coolhaus has since scaled up its production. Its ice-cream sandwiches are now available in most Whole Foods Markets around Los Angeles.
If AmazonFresh comes calling again, Case said her answer might be different. Even though her products are more widely available, she said home delivery is a tempting opportunity.
"We're definitely revisiting this," she said. "I think direct to consumer is always going to be an advantage no matter how available you are."
For reprint and licensing requests for this article, CLICK HERE.