Amazon Deal Big Production
Real Estate: Online giant to open studio on Westside.
Monday, July 29, 2013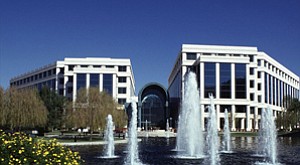 It just doesn't stop: Yet another tech giant is moving into Santa Monica.
Seattle online retailer Amazon Inc. is negotiating a lease of at least 75,000 square feet in the beachside city for its online entertainment production division and other corporate uses, according to sources familiar with the size requirement.
It would be the latest in a long roster of tech industry behemoths to take a significant amount of space in the Westside's growing Silicon Beach area, now bursting with startups and established firms such as Google Inc., Facebook Inc. and Microsoft Corp.
"Amazon is trying to grow their entertainment production business," said Andrew Jennison, partner at Santa Monica real estate brokerage Industry Partners who is familiar with Amazon and creative space on the Westside. "They are growing that piece of the business fairly rapidly so they need to accommodate that growth and they want to be on this side of town because of the talent and resources."
Amazon is close to inking the deal at the Water Garden, a 1.2 million-square-foot office complex at Colorado Avenue and 26th Street, with landlord JP Morgan Chase & Co. Terms of the deal could not be determined, but real estate data provider CoStar Group Inc. reported asking rates at the complex of $3.85 a square foot. That would value the deal at about $3.5 million a year.
IA Interior Architects, which has designed Amazon's offices nationwide, was said to be designing the Water Garden space.
Representatives of Amazon and JP Morgan did not return requests for comment.
The lure of the Westside, from Santa Monica south to Playa Vista, has been in large part due to the flood of development of original online content as tech firms build off the existing Hollywood infrastructure and talent in Los Angeles.
Microsoft, Netflix Inc. and YouTube LLC have all opened Westside offices as they aggressively pursue the production of original content. Netflix's quarterly revenue eclipsed $1 billion for the first time in the period ended March 31, a milestone attributed at least in part to the success of its original online drama "House of Cards," starring Kevin Spacey. The critically acclaimed series has been credited with bringing more subscribers to the service.
Earlier this year, Amazon Studios Inc., the entertainment unit of the online retailer run by former Walt Disney Co. executive Roy Price, began streaming 14 original comedy and children's pilots through its website. It is turning five of those programs into series starring familiar actors such as John Goodman and Ed Begley Jr. Several of the shows, including comedy "Betas," were filmed locally.
For reprint and licensing requests for this article, CLICK HERE.
Prev Next