UPDATED: L.A. Entertainment Company to Bring Back Classic Video Games
Originally published July 9, 2013 at 2:49 p.m., updated July 10, 2013 at 2:59 p.m.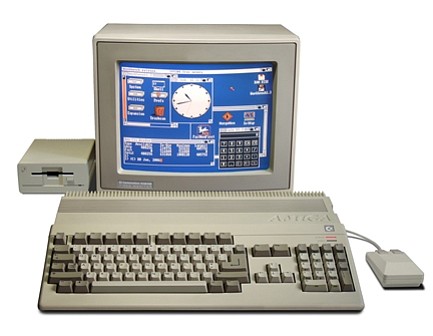 An L.A. company is looking to publish classic video games of the 1980s on modern-day devices.
Mid-Wilshire publishing company Writers' Group Film Corp. announced Tuesday that it will acquire Amiga Games Inc., which licenses and republishes video games originally created for Commodore PCs.
Writers' Group, a penny stock company that trades over the counter under the ticker symbol WRIT, will buy all of Amiga's common stock in exchange for Writers' Group common stock and cash valued at about $500,000. Writers' Group stock is currently trading at less than 1 cent per share.
Writers' Group operates primarily through subsidiary Front Row Networks, which produces and acquires live 3-D concert productions and broadcasts them in theaters.
A Front Row spokesman said the company is interested in Amiga's content.
"We're looking to leverage content," said spokesman Russell Carrens, a marketing manager for FrontRow. "The goal is to acquire different properties like Amiga to expand Front Row's base."
Carrens said Amiga licenses the publishing rights to more than 200 video game titles from publishers such as EA. Writers' Group plans to acquire those publishing rights. Some of the more popular classics on Amiga's list include "Overdrive," "Defender of the Crown" and the "Alien Breed" franchise.
The company plans to announce more details about the acquisition and distribution deals with smartphone and tablet manufacturers within the next month.
"We are pleased to be working with this well-managed game developer and distributor, and we are excited that we are participating in their growth story through this acquisition," Eric Mitchell, Chairman and chief executive of Writers' Group and Front Row said in a statement. "We believe Amiga Games has an established value proposition that can enhance both revenues and returns to our bottom line."
UPDATE:
Amiga Games Inc. on Wednesday announced that it will publish more than 65 classic Amiga titles on BlackBerry phones and tablets.
The company has published 44 titles for BlackBerry devices since September last year. The new titles will be available through the BlackBerry World digital storefront for BlackBerry Q10 and Z10 smartphones and the PlayBook tablet.
Amiga Games works with Amiga Inc., which owns the Amiga trademark, to license these games.
"We"re delighted to see Amiga Games partake in the distribution of additional Amiga titles on BlackBerry platforms," Eric Mitchell, chief executive of Writers' Group, said in a statement on Wednesday. "Gamers will be able to pull up any of their favorite classic Amiga titles and play each day during their commute or coffee break. We look forward to supporting AGI with the necessary resources to distribute all of their most popular games through BlackBerry World in the near future."
For reprint and licensing requests for this article, CLICK HERE.