True Grit
Tech firms connect with downtown Arts District
Originally published July 1, 2013 at midnight, updated July 18, 2013 at 4:57 p.m.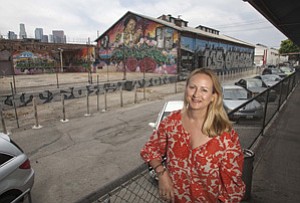 EDITOR'S NOTE: This story has been corrected to note that a Los Angeles County Superior Court judge ordered downtown L.A.'s Arts District Business Improvement District to dissolve because the BID's renewal process was constitutionally flawed.
When Oblong Industries Inc. set up shop in a downtown L.A. warehouse just a few blocks from the Los Angeles River in 2007, the old brick building might have seemed a strange location for a company building technology straight out of futuristic film "Minority Report."
At the time, Oblong's new home – dubbed the Arts District – was a gritty industrial neighborhood defined by its crumbling buildings and proximity to railroad tracks and Skid Row.
But as Oblong has grown from a small team of MIT graduates to a bustling 65-person company, the Arts District has evolved, too.
Today, the neighborhood is brimming with local denizens who shop at hip boutiques and dine at trendy restaurants. The activity has attracted a cluster of technology companies looking for a less polished alternative to Silicon Beach.
"We felt it was a good location for us because we liked the centrality of downtown," said Mary Ann de Lares Norris, chief operating officer at Oblong. "We think it's a great place to do business."
The Arts District is bordered by the Los Angeles River, and Alameda, First and Seventh streets. It got its name some 20 years ago as a nod to the artists who began to live and work in the area's former industrial buildings.
In the last two years, a number of tech companies have also begun to call the Arts District home. But they aren't the mobile app or e-commerce startups of the Westside.
Instead, many of these firms are developing environmental technology or addressing social issues.
Blue Marble Game Co., for example, moved into an office at the Factory Place Arts Complex in 2011 to develop therapeutic video games that help stimulate the brain. The 15-peson company now contracts with the Pentagon to make games that help veterans with memory impairment.
Last year, communal work space Hub LA opened its doors to entrepreneurs looking to make a social impact. With more than 200 members, it has a wide range of tenants, but more than a half-dozen of them have the trappings of tech startups.
Another contributor to the district's growing tech landscape is the L.A. Cleantech Incubator, which has been mentoring startups focused on renewable energy technology out of a temporary office on Hewitt Street. The city-sponsored non-profit broke ground earlier this month on a permanent home, the La Kretz Innovation Campus, a block from its current site.
Prev Next
For reprint and licensing requests for this article, CLICK HERE.