Ride-Share Services Hit City of L.A. Roadblock
TRANSPORTATION: Trio of companies accused of operating bandit taxis.
Monday, July 1, 2013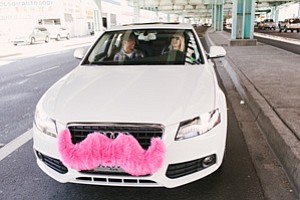 Smartphone-driven ride-sharing services operating in the city of Los Angeles slammed into a bureaucratic brick wall last week.
The city's Department of Transportation sent cease-and-desist letters to Uber Technologies Inc., Lyft Inc. and Side.cr LLC, three ride-sharing companies that have been operating in Los Angeles for several months – in Uber's case more than a year.
These services, which have become increasingly popular across the country, allow users to prearrange a ride using a smartphone app. In the case of Lyft and Side.cr, or Sidecar, the drivers use their private automobiles; Uber has several offerings, though it's mostly known as a service that arranges car service and taxicab rides.
Tom Drischler, the city's taxicab administrator and the author of the letters, said the companies are, in essence, running bandit taxicab operations. As a result, his letters said, anyone caught driving for one of these services is subject to misdemeanor arrest and a fine.
"We cannot verify that these companies are properly insuring the drivers or that the cars have been inspected," Drischler said. "In our mind that poses a risk. Our top priority is public safety, and we can't guarantee to the public these operations are running thorough criminal history background checks of the drivers."
Representatives of the three companies defended the insurance and safety practices of their services, saying some of their vetting is more stringent than those of taxicab companies.
All three promised to continue operating in Los Angeles despite orders from city officials.
John Zimmer, co-founder and chief operating officer at Lyft (whose drivers' cars have a pink moustache attached to the grille), contended the city's taxicab regulations do not have jurisdiction over his company. He said ride-sharing, as a prearranged vehicle pickup, differs from the regulated car-hailing business. Lyft and the two other companies have already received clearances from the state's Public Utility Commission to operate.
"Background checks and insurance is part of our agreement with the PUC," Zimmer said. "Not only have we always been doing them, it makes it official for us to legally operate."
The city's move to ban the services came as a bit of a surprise. Though they had each faced regulatory fights with Austin, Texas; New York; and San Francisco, Los Angeles had been laissez faire about the services until now.
Drischler explained that the department had been monitoring the companies for some time, but did not consider taking action until recently, when the services began ramping up operations. Uber has been in Los Angeles since March 2012, Lyft began operating locally in January, Sidecar in February.
Prev Next
For reprint and licensing requests for this article, CLICK HERE.