Ex-Search Engine Finds Way to Video
INTERNET: Mahalo to produce YouTube channels as Inside.com.
Monday, January 7, 2013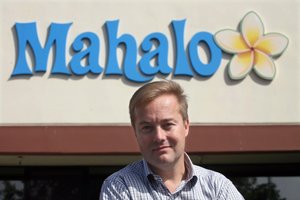 Mahalo was once the "human-powered search engine." Then it dropped the search dreams and became a how-to site with articles and videos. Then it dropped the articles and focused on apps.
Now, in its fourth iteration, Mahalo is becoming a network that produces original channels for YouTube. Oh, and it's saying aloha to the Mahalo moniker. Its new name will be Inside.com.
Culver City's Mahalo was the creation of Jason Calacanis, a well-connected and boisterous tech entrepreneur. He denies his latest pivot is a concession of failure for the site's erstwhile goals. Instead he's jumping into an arena he said appeals to his tastes as a high-tech power hitter.
"Mahalo was a solid success – a double but not a home run," he said during a wide-ranging interview at his company's office. "But I'm trying to hit home runs, and Inside.com is a home run."
Right now, visitors to the Inside website don't see much – the landing page shows the site's domain name over a black background and a prompt to sign up for a forthcoming email newsletter. Calacanis said he expects the page to be up and running midway through the year.
Behind the scenes, however, the team of 35 employees is on its way to repurposing the company for video production. Mahalo has nine channels all or partly funded by YouTube through the video website's $100 million original content initiative. They include MMA Surge, a channel about mixed martial arts; Inside My Kitchen, a cooking channel; and Being Fat Sucks, a weight-loss show fashioned after NBC's "Biggest Loser."
So far, the company boasts 900,000 total subscribers, though more than one-third of those come from the Mahalo channel.
The currently popular, if perhaps trendy, video market might be a better move for Mahalo, say competitors. While in the how-to space, Mahalo tried to compete with companies such as Santa Monica's Demand Media Inc. But Shawn Colo, Demand's co-founder, never took Mahalo as a serious threat, and thinks the switch to video is a smarter play for a site that's still finding its way.
"Jason tried to compete on the web and it didn't work," Colo said. "Right now, YouTube is a good market with a lot of investor enthusiasm."
With Calacanis' sights set beyond the fences, his company is in an arena that features some established players with big backers. West Hollywood's Machinima runs a top-ranked YouTube channel that had 26 million unique views in December. Maker Studios, whose office happens to be across the street from Mahalo, is coming off a $36 million investment round led by Time Warner Inc. that valued the company at more than $200 million.
While those two channels largely show videos that are developed by outside talent, Inside will be sticking to internally developed content. Much of it is filmed inside the company's high-ceilinged industrial office, which is already tricked out with sets for the cooking and MMA shows.
There's also a focus on cranking out videos with high production values —expensive digital cameras and dolly shots that aim for TV-level quality. The goal is to tap into what Calacanis sees as a coming cash windfall as advertisers buy into the web.
"Two percent of ad dollars from TV have moved to online, but 40 percent of viewing minutes have moved," Calacanis said. "There's a 38 percent tsunami of revenue about to come online."
According to a recent report from Forrester Research, advertising on online videos will increase 217 percent over the next five years.
'Race to the bottom'
Five years and three pivots ago, Mahalo was supposed to upend the search engine market. The service gave users results from a human-sourced set of pages for 10,000 different search terms, rather than Google's computer-driven algorithm.
In 2011, the site abandoned the attempt, with Calacanis telling the Business Journal at the time that Google's footprint in the search world was an indelible obstacle to anyone trying to make a mark.
Mahalo's switch to a site of how-to articles pitted it against Demand Media, which was able to turn its network of sites into a publicly traded company. Mahalo never reached those heights.
Calacanis, who made a name for himself in 2005 when he sold his blog network Weblogs Inc. to AOL for around $30 million, slammed the common practice of how-to sites hiring freelancers to pump out content as a "race to the bottom."
If it was a race, Mahalo was as complicit as any for running in it. Eventually, that entire industry took a hit February 2011 when Google shook up its algorithm to disfavor sites it deemed content farms.
By that time, Mahalo had changed again, becoming a teaching site with videos and apps.
Recent speculation that more changes at Mahalo were coming started when Calacanis bought the Inside.com domain a few months ago (he also owns the "@Inside" Twitter handle). When Mahalo President Jason Rapp stepped down last fall, he mentioned in a companywide letter a coming new name and direction for the site.
Then in mid-December, Calacanis sent an email to the subscribers of his podcast network (and separate company) This Week In saying he was winding down its series of shows. Although some of them had been popular, including his own show, "This Week in Startups," and a celebrity interview show hosted by actor Kevin Pollack, he felt that industry couldn't scale to be the size of business he envisioned.
"I was looking for a business that would have ($30 million or $40 million) in revenue. That wasn't podcasting," said Calacanis, who will continue producing his show along with Pollack's for the coming year. "It's very interesting medium and I enjoy it a lot. But there's a bigger medium in video going on."
App driven
Phasing out the name of a five-year-old site and becoming a YouTube channel might not actually be as great a leap as some of the earlier moves. Mahalo has already posted thousands of videos to YouTube through the how-to efforts. And it has developed 30 apps for mobile platforms, including ones for each of the original channels.
The apps are part of Inside's strategy for standing out in the crowd of YouTube content creators. Calacanis said all future channels will also have apps, which will feature the YouTube content and some exclusive material.
Apps give YouTube channels more ways to reach fans and advertise to them, said Sam Rogoway, whose new company, Touchframe, creates apps for YouTube channels. Touchframe is part of the current startup class in Santa Monica tech accelerator MuckerLab.
"There's a huge opportunity there because the demand for ads in mobile is already there and the rates are higher," Rogoway said. "It's a very good thing for content creators."
Inside also plans to create a slate of new shows each year; Calacanis said he wants to make 15 YouTube channels each year, meaning 75 over the next five years. Depending on how many channels get funding from YouTube, Inside will hire up to 50 more full-time employees.
Like a traditional TV network, Inside will keep the ones that have the most subscribers, with hopes that this front-loaded tactic will create a few massive hits. It's similar to what worked for Calacanis at Weblogs, where popular sites such as Engadget and Autoblog powered the blog network's success.
But Demand's Colo worries that churning out that much video content, especially with high aims for production value, would be expensive.
"The profit margins in video are currently not great," said Colo, whose company has three YouTube-funded channels. "Great entrepreneurs always find a way to make things happen. I wouldn't underestimate Jason."
Calacanis said Mahalo breaks even on an operating basis. Since 2007, Mahalo raised $20 million from investors and Calacanis said it still has millions in the bank. The company has no plans to raise any more money during the transition.
Raising funds, however, was never the difficult part for Calacanis. Instead, he and the coming Inside will face the challenge of, for once, becoming the site and success he's been expecting.
"I started Mahalo five years ago and did fine, but I'm looking for tremendous success," Calacanis said. "Starting is the easy part; finishing is hard."
For reprint and licensing requests for this article, CLICK HERE.