Ex-Search Engine Finds Way to Video
INTERNET: Mahalo to produce YouTube channels as Inside.com.
Monday, January 7, 2013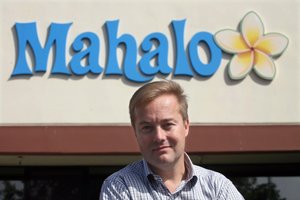 Mahalo was once the "human-powered search engine." Then it dropped the search dreams and became a how-to site with articles and videos. Then it dropped the articles and focused on apps.
Now, in its fourth iteration, Mahalo is becoming a network that produces original channels for YouTube. Oh, and it's saying aloha to the Mahalo moniker. Its new name will be Inside.com.
Culver City's Mahalo was the creation of Jason Calacanis, a well-connected and boisterous tech entrepreneur. He denies his latest pivot is a concession of failure for the site's erstwhile goals. Instead he's jumping into an arena he said appeals to his tastes as a high-tech power hitter.
"Mahalo was a solid success – a double but not a home run," he said during a wide-ranging interview at his company's office. "But I'm trying to hit home runs, and Inside.com is a home run."
Right now, visitors to the Inside website don't see much – the landing page shows the site's domain name over a black background and a prompt to sign up for a forthcoming email newsletter. Calacanis said he expects the page to be up and running midway through the year.
Behind the scenes, however, the team of 35 employees is on its way to repurposing the company for video production. Mahalo has nine channels all or partly funded by YouTube through the video website's $100 million original content initiative. They include MMA Surge, a channel about mixed martial arts; Inside My Kitchen, a cooking channel; and Being Fat Sucks, a weight-loss show fashioned after NBC's "Biggest Loser."
So far, the company boasts 900,000 total subscribers, though more than one-third of those come from the Mahalo channel.
The currently popular, if perhaps trendy, video market might be a better move for Mahalo, say competitors. While in the how-to space, Mahalo tried to compete with companies such as Santa Monica's Demand Media Inc. But Shawn Colo, Demand's co-founder, never took Mahalo as a serious threat, and thinks the switch to video is a smarter play for a site that's still finding its way.
"Jason tried to compete on the web and it didn't work," Colo said. "Right now, YouTube is a good market with a lot of investor enthusiasm."
With Calacanis' sights set beyond the fences, his company is in an arena that features some established players with big backers. West Hollywood's Machinima runs a top-ranked YouTube channel that had 26 million unique views in December. Maker Studios, whose office happens to be across the street from Mahalo, is coming off a $36 million investment round led by Time Warner Inc. that valued the company at more than $200 million.
Prev Next
For reprint and licensing requests for this article, CLICK HERE.