Patched In
YouTube among tech giants moving into Silicon Beach
Monday, February 25, 2013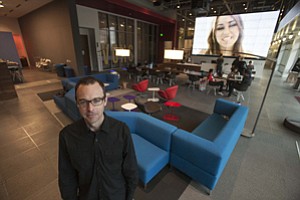 "Ten years ago there was buying and putting on the shelf," Levin said. "Today there's more understanding on both sides and smart people making bigger decisions."
Those smart people that the tech companies have hired to run these original content initiatives have tended to be former top executives from the entertainment industry. Microsoft brought Nancy Tellem, formerly the president at CBS Television Studios, to head the Xbox entertainment project. Amazon Studios is headed by Roy Price, once a top programming executive at Disney.
Tellem was not available to comment for this story, but she previously said that she has long been fascinated by the improvements technology can make to the inefficiencies of broadcast television.
"When I worked in traditional TV, we would find ourselves saying things like, 'Wouldn't it be cool if we could add an interactive aspect directly into the show and engage directly with the viewers?' " Tellem said during a recent media panel hosted by tech blog All Things Digital. "With Xbox, that is possible today."
Microsoft has already used the console as a hub for streaming video events, such as the presidential debates. And the game console's motion-detecting Kinect device has been integrated into interactive children's shows.
A Microsoft spokesman declined to reveal specifics of what kind of content Xbox Entertainment Studio will be producing or what new technology it will involve. Release of the newest version of the Xbox console is expected sometime during the year.
Netflix might provide an indication of what Microsoft's plans are, and the kind of money it might need to spend in order to produce high-quality content. For its new TV series "House of Cards," developed by Century City production house Media Rights Capital, Netflix reportedly spent $100 million for two 12-episode seasons. Although that cost is meager compared with the more than $2 billion Netflix paid the studios to license and distribute their TV shows and movies in 2012.
The new methods of transmitting video might not require high-cost production values at all. YouTube content creators have traditionally favored an inexpensive lo-fi aesthetic for their videos. But the company has outfitted its local space with a fully furnished sound stage, green-screen rooms and rows of editing bays to produce videos with serious production value.
Hollywood executives have noticed the success some YouTube channels have had bringing in viewers without enormous production and marketing budgets. YouTube's Collins said he's been in contact with Sony Studios in nearby Culver City to perhaps build bridges between the site and studio.
For reprint and licensing requests for this article, CLICK HERE.