Shoo-In
Honest Co. Chief Executive Brian Lee doubled up on duties by stepping back into the top position at ShoeDazzle.
Monday, February 11, 2013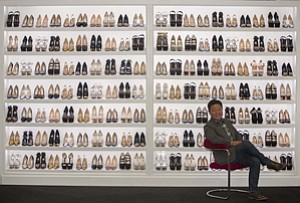 Brian Lee heads both ShoeDazzle.com Inc., a subscription e-commerce company he co-founded in 2009, and Honest Co., an online retailer that sells nontoxic baby products. Lee is back at ShoeDazzle after a year's hiatus and has reinstated the company's subscription model, which was eliminated during his absence. Although Lee is now one of the most prominent tech entrepreneurs in Los Angeles, he started out as a lawyer. He made the switch to tech in 1999 when he co-founded LegalZoom.com Inc., which lets people create their own legal documents online. With LegalZoom, Lee hit upon a successful business model: find a famous co-founder to help market the brand. His first partnership was with famed attorney Robert Shapiro. Lee has also formed partnerships with TV personality Kim Kardashian for ShoeDazzle and actress Jessica Alba for Honest Co. He recently sat down with the Business Journal at ShoeDazzle's design offices in Santa Monica to discuss the challenges of running two companies at once and how his father inspired his entrepreneurial career – which began when he turned his Halloween trick-or-treat candy into a commodity.
Question: Why did you start your career as a lawyer?
Answer: I went to law school because I didn't know what I wanted to do yet. I always call myself the accidental lawyer. I figured law school would give me three more years to decide my career path. And what happened was after graduating law school, I ended up working for law firms and accounting firms. It was then that I decided that I truly wanted to start my own company.
What made you decide that?
I always sat across the street with my best friend. His name is also Brian, Brian Liu. We were roommates in law school, too. Every day we were, like, there's got to be something else that we can do besides working at these firms. I truly enjoyed working for the partners at the firms but I wanted to control my own destiny.
Did you always know you wanted to be an entrepreneur?
I think I was always meant to be an entrepreneur. My father was an entrepreneur. I'd go to his office and watch him work. I think I learned a lot from watching my father grow his business. Even as a child I always had that hustle. I was always dreaming up ways to sell something. My first entrepreneurial venture happened when I was 8 years old.
For reprint and licensing requests for this article, CLICK HERE.
Prev Next
Stories You May Also Be Interested In