Date App Makes Move on Friends
Internet: Tinder gets serious about moving beyond romance.
Monday, December 9, 2013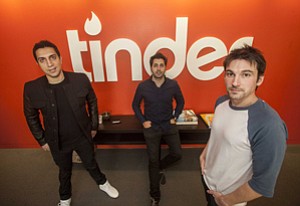 When it launched last year, Tinder Inc. was just another dating app trying to score at local college campuses. But since then, the West Hollywood startup has vaulted into the pop culture lexicon.
People who have used the free app include Lindsay Lohan and a former Miss USA. You'd be hard pressed to find someone under 35 who hasn't heard of the app, let alone given it a try.
Tinder co-founders Sean Rad and Justin Mateen won't disclose just how big Tinder's membership base has grown, but they said that each day the app sees 350 million profile ratings and makes 4 million matches. (One person can rate multiple profiles and receive multiple matches.)
The duo believes, however, that the app can be bigger than just a service for hookups. Last month, they released an update to Tinder that sets the stage for future expansion into platonic relationships, not just romantic ones.
"It's a universal problem," said Rad, the company's chief executive. "It doesn't matter if you're a celebrity or an average Joe, everyone experiences the desire and need to form new relationships and everyone finds it a daunting task."
Setting up a profile on the app, which is free, takes seconds because it syncs with a person's Facebook profile to pull photos and information on interests and friends. A person can select gender, age range and location of preferred matches.
The app then shows pictures of people in the same city, organizing them based on proximity (accurate within one mile), mutual friends and common interests. When someone looks appealing, the person needs only swipe right to show interest. Not attracted? Swipe left.
If both people indicate that they're interested, they get an alert and are directed to text message through a private chat room.
That simplicity makes Tinder, a unit of Barry Diller's New York media conglomerate IAC/InterActiveCorp., easy and addicting to use, leading to unprecedented growth, said several people in the online dating industry.
"I've been in the industry for 11 years and I've never seen this before," said Sam Yagan, who oversees Tinder as chief executive of IAC's Match Inc. in Dallas. "It's unequivocal that they've had the best first year of any dating product in the world. I don't think anyone could possible make a counterclaim."
Platonic push
Tinder was first born out of Hatch Labs, a now-defunct startup incubator controlled by Diller's IAC. Rad, who co-founded Beverly Hills advertising startup Ad.ly, was brought into the incubator to develop ideas with Hatch. He co-founded Tinder with Mateen and engineer Jonathan Badeen. It eventually was spun out of Hatch into IAC's Match division, which also includes free dating service OkCupid.
Yagan said IAC has been Tinder's only source of capital, adding that the media conglomerate does not plan to raise outside funding for the startup, which does not generate revenue.
Though Tinder has all the hallmarks of a dating app, Rad and Mateen object to labeling it that way.
"People are using it primarily in the context of dating right now," said Mateen, the company's chief marketing officer. "But as we evolve the product, it's going to be more about social discovery in general."
The company took its first step toward expanding beyond romance with its latest update, which allows people to categorize their conversations based on the nature of their relationship. Rad alluded to future updates that would further expand on that idea.
Justin Caldbeck, a partner at Menlo Park investor Lightspeed Venture Partners, which funds many consumer apps, is bullish on Tinder's future as a broader social tool.
"I think it's often miscategorized as a hookup app," he said. "The reality is that I think it's got the opportunity to be much bigger than even a dating app."
While IAC is fully behind the company, Yagan said Tinder's legacy as a dating app could make it difficult to transition.
"There's always going to be tension between how much do you push the thing that you're clearly one of the best at versus expanding into something that would be totally new to you," he said.
Tinder isn't the first dating service to look for alternate audiences. EHarmony founder Neil Clark Warren has said that he wants to add employee- and friend-matching services to his Santa Monica dating site. Meanwhile, New York matching site HowAboutWe has added a membership service to help couples plan interesting dates.
Laurie Davis, founder of New York online dating consultancy eFlirt Expert, said dating services have long had concerns about losing customers.
"The problem with online dating sites or apps from a business model perspective is that once someone finds love or finds a fling, you lose a user," she said. "That's always been an issue in the industry and something that companies are trying to find a way around."
Tinder claims that people are already staying on their site after making successful matches and it is updating the app to reflect that behavior.
If Tinder can successfully broaden its focus, it could be primed to introduce its first revenue stream. Rad said the plan is to add in-app purchases while keeping the app free. For example, a guy could send a gal a bouquet of flowers via the app.
But as long as the company has the financial support of IAC, it appears in no hurry to add a transactional component.
"We're in a very healthy place financially," he said. "We have the runway we need to experiment and take risks and land on a stable long-term plan around monetization."
International growth
When Tinder launched in September of last year, the team initially focused its outreach to sororities and fraternities at L.A. universities.
"At that time there were a lot of social networks out there that really did a good job of connecting you to people you already know, but there wasn't a platform that was dedicated to effectively helping you meet new people," said Mateen. "Tinder is all about facilitating introductions to help you meet new people or people you don't know that well."
The app soon caught on across the United States and reached about 35,000 users within four months, according to Mateen. Since then, it has taken off in the United Kingdom, Canada, Australia and Brazil. Usage is also picking up in the Netherlands and France.
Tinder employs a similar word-of-mouth strategy for growing internationally as it did to establish its early user base in Los Angeles. The company recruits and pays ambassadors in targeted countries to spread the word. It currently employs 30 such ambassadors.
As membership has grown, Tinder has also expanded from eight employees last December working out of IAC's Sunset Boulevard offices to a team of 28. It is planning a move into a larger space.
Tinder has spawned imitators. Davis pointed to services such as Hinge out of Washington, D.C., and San Francisco's Swoon as examples of competitors that have recently emerged. In addition, many of the most popular online dating sites have app versions of their services.
But Rad said he doesn't consider dating apps – or dating websites, for that matter – true Tinder competitors. He noted that a company survey found 95 percent of its users had not used another online- or app-based dating service.
"If you look at traditional dating apps or companies, they're solving the problem of helping you understand who you are compatible with," he said. "We believe we're not the experts at that. But we do believe that if we can help you solve a bigger problem of how to get over that awkwardness of meeting new people, you can figure out for yourself what is a meaningful relationship."
For reprint and licensing requests for this article, CLICK HERE.