Date App Makes Move on Friends
Internet: Tinder gets serious about moving beyond romance.
Monday, December 9, 2013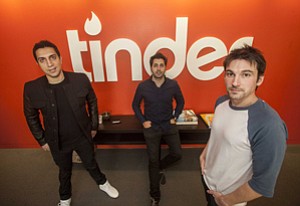 When it launched last year, Tinder Inc. was just another dating app trying to score at local college campuses. But since then, the West Hollywood startup has vaulted into the pop culture lexicon.
People who have used the free app include Lindsay Lohan and a former Miss USA. You'd be hard pressed to find someone under 35 who hasn't heard of the app, let alone given it a try.
Tinder co-founders Sean Rad and Justin Mateen won't disclose just how big Tinder's membership base has grown, but they said that each day the app sees 350 million profile ratings and makes 4 million matches. (One person can rate multiple profiles and receive multiple matches.)
The duo believes, however, that the app can be bigger than just a service for hookups. Last month, they released an update to Tinder that sets the stage for future expansion into platonic relationships, not just romantic ones.
"It's a universal problem," said Rad, the company's chief executive. "It doesn't matter if you're a celebrity or an average Joe, everyone experiences the desire and need to form new relationships and everyone finds it a daunting task."
Setting up a profile on the app, which is free, takes seconds because it syncs with a person's Facebook profile to pull photos and information on interests and friends. A person can select gender, age range and location of preferred matches.
The app then shows pictures of people in the same city, organizing them based on proximity (accurate within one mile), mutual friends and common interests. When someone looks appealing, the person needs only swipe right to show interest. Not attracted? Swipe left.
If both people indicate that they're interested, they get an alert and are directed to text message through a private chat room.
That simplicity makes Tinder, a unit of Barry Diller's New York media conglomerate IAC/InterActiveCorp., easy and addicting to use, leading to unprecedented growth, said several people in the online dating industry.
"I've been in the industry for 11 years and I've never seen this before," said Sam Yagan, who oversees Tinder as chief executive of IAC's Match Inc. in Dallas. "It's unequivocal that they've had the best first year of any dating product in the world. I don't think anyone could possible make a counterclaim."
Platonic push
Tinder was first born out of Hatch Labs, a now-defunct startup incubator controlled by Diller's IAC. Rad, who co-founded Beverly Hills advertising startup Ad.ly, was brought into the incubator to develop ideas with Hatch. He co-founded Tinder with Mateen and engineer Jonathan Badeen. It eventually was spun out of Hatch into IAC's Match division, which also includes free dating service OkCupid.
Prev Next
For reprint and licensing requests for this article, CLICK HERE.